Vauxhall Crossland X SE 1.2T Ecotec
Practical interior and great for urban driving
September 2017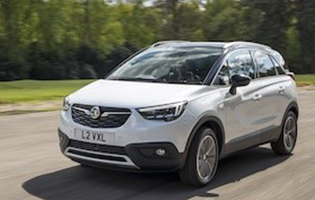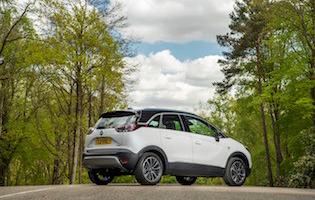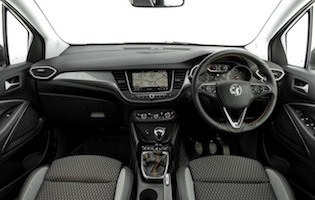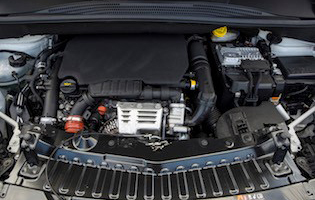 Overall rating

Likes:
Extrovert styling makes it looks like a race car
Uprated parts are all very high-spec and do a fantastic job
Addresses all of the standard car's grip issues
A worthy addition to BMW's lightweight track car legacy
Gripes:
Strange styling
Poor interior quality
Overly-soft suspension
Lack of driving feel
Remember the Vauxhall Meriva, the original small MPV? This is its replacement, the Crossland X.
It sits just below the Zafira (as well as the upcoming Grandland X) in Vauxhall's range, giving the manufacturer a fresh contender in the competitive small SUV market.
Lining up alongside the Mokka X, the Crossland X offers function-over-form for buyers not fussed on visuals.
The Crossland X is a totally new car to the Vauxhall line-up. Not only does it have a fresh model name, it's the first PSA-based car from the brand since it was bought by the French giant, sitting on a modified version of the PF1 platform that currently underpins the Citroen C3 Picasso and Peugeot 2008.
The engine we tested was a 108bhp, 205Nm of torque, petrol option. It takes the car from 0-60mph in 10.4 seconds and up to a top speed of 116mph. As for economy, 57.6mpg is claimed with CO2 emissions of 111g/km. As it sits in the middle of the range, it's likely to be the most popular.
Although the Crossland X is fairly capable while driving around town and in a supermarket car park — thanks to ultra-light steering and great visibility — it doesn't inspire great amounts of confidence when you're really pressing on. It's not particularly comfortable, either. The suspension is overly soft, even for an MPV, and the seats provide little support, so you're likely to find yourself bouncing about on any kind of bumpy road.
It's hard to expect luxury on a £20k car, but the Crossland X's interior quality is sub-par. Hard plastics feature throughout, perhaps ideal if you're lugging kids and their McDonald's about, but up-front there's little comfort. The cloth seats are a little firm after a while and for whatever reason, there's an armrest for the driver but not the passenger.
Our verdict on the Vauxhall Crossland X SE 1.2T Ecotec
Objectively, the Vauxhall Crossland X is a solid choice if you simply want something to throw your shopping and children in, with enough equipment to keep you and your passengers entertained if you get stuck in traffic.
If you want more style and perhaps better driving dynamics though, its rivals would be more suitable choices. The Crossland X is by no means a bad car, but it's far from a class leader.
---
Costs
Running costs on the Crossland X will be relatively low. With small-sized engines, parts readily available and Vauxhall providing a three-year warranty, insurance costs should be low. Later in the car's life, parts should also continue to be easy to find, especially as it shares many mechanical components with PSA's cars such as the Citroen C3 and Peugeot 3008.
Space and practicality
Practicality is the biggest selling point of the Crossland X. It comfortably seats five occupants and has plenty of luggage space to spare. With the rear seats up, 520 litres of boot space is available — increasing to 1,255 litres with the rear seats folded to a ¾ position. The rear seats can also slide, allowing rear passengers more leg room should they need it.
Controls and display
Drivers will find the Crossland X's controls are all laid out in a functional manner, with all main switchgear within easy reach of the driver. The instruments are clear and easy to read, as is the colour-screen infotainment system.
Comfort
The Crossland X's comfort is disappointing from a driver's perspective. The cheap cabin and soft suspension result in a bouncy ride and firm seating, not ideal for less smooth roads. It is however, very spacious, which is great for other occupants. We managed to fit two large adults in the back with plenty of room left to spare. There is the confusing lack of a front passenger's armrest, though, as the driver's side seat has one.
Car security
Thanks to Vauxhall's OnStar connectivity, the Crossland X is one of the most theft-proof cars on the market. It allows for remote locking of the vehicle, in case you have misplaced the keys or had them taken, as well as tracking the car. OnStar's phone service can also report vehicle information to local authorities.
Car safety
The Crossland X comes packed with safety assists. A front camera system allows for automatic traffic recognition and lane departure warning. A forward collision alert with pedestrian detection and autonomous emergency braking also features. A panoramic rear-view camera and parking assist aids parking. In the event of a collision, Vauxhall's OnStar connectivity also immediately reports the incident to local authorities.
Driver appeal
The Crossland X's driving appeal is about as low as it could get. Although it's absolutely fine around town and for parking, take the Crossland X out onto a country road and it's a poor experience. First of all, there's almost zero steering feedback. The best comparison would be to a hovercraft rather than any other, with the Crossland X requiring a large amount of steering input for very little turn in response. Combined with overly soft suspension, you're in something with no hope of tearing up a B-road.
Family car appeal
The Crossland X could quite possibly be the perfect car if you're simply looking for something to run the family around in. It comfortably seats five and comes with plenty of luggage space for shopping and school bags. With on-board wi-fi as well, kids can bring their tablets and phones for longer journeys, allowing them to stream videos and play games, rather than distract the driver.
First car appeal
Although running costs are low, the Crossland X is far from an ideal first car. First is its size. With most drivers learning in a hatchback, going straight into a mid-size MPV may be too big a step, in terms of knowing the proportions of a vehicle. First time buyers looking for a Vauxhall would be better off with a Corsa unless the extra space was absolutely needed.
Quality and image
The Crossland X is obviously built to a price. Interior quality is cheap, with hard plastics throughout the cabin and low-rent seats. The car's general build isn't much better. Twice during our time with it, the daylight running lights broke and it also had a strange seal on the frame next to the spare wheel. It's also not going to carry much street cred. It is, after all, a plain Vauxhall MPV.
Accessibility
As you should expect for a multi-purpose vehicle, the Crossland X excels when it comes to accessibility. The spacious interior allows for easy entrance and exit of the vehicle, whilst a low boot floor makes putting cargo into the car a breeze.
Stereo and ICE (In car entertainment)
The Crossland X comes with a full-colour infotainment system, featuring DAB radio and Bluetooth, as well as support for both Apple CarPlay and Android Auto. The standard system works rather well, with easy-to-use controls and a simple to navigate interface. If you prefer to plug your phone in though, Android Auto works seamlessly. The stereo system in the Crossland X is poor in quality, becoming tinny with the volume anything above 75 per cent of maximum.
Colours and trim
The Crossland X is available in 11 main body colours, and can also have a different colour selection for the roof.
Available colours range from some quite grey and white tones, to more colourful options, such as the eye-catching Amber Orange.
Five trim options are available, too: SE, SE Nav, Techline Nav, Elite and Elite Nav. Each trim has progressively more equipment and are available on all engine options.
Parking
Parking the Crossland X is a very easy experience. Despite its size, visibility is fantastic with a wide fron windscreen, relatively narrow A-pillars and flat shape meaning a near-arrow straight view out of the back. A high driving position also makes it easy to see the front end of the car. Aiding all of this is a 360-degree reverse camera, making it easy to avoid nearby obstacles when parking.
Spare wheel
Emergency tyre repair kit supplied as standard.
Range information
Petrol engine options: 1.2-litre 79bhp, 1.2-litre turbo (108bhp, 128bhp). Diesel engine options: 1.6-litre (98bhp, 118bhp). Transmission options: Five-speed manual, six-speed manual, six-speed automatic. Trim levels: SE, SE Nav, Techline Nav, Elite, Elite Nav.
---
Alternative cars