September 2009
Vauxhall Corsa VXR 888
Corsa VXR 888 rides lower and firmer than standard models
September 2009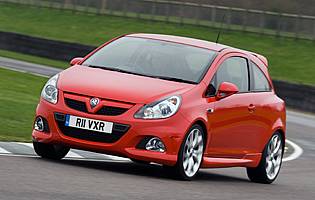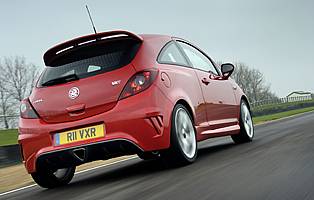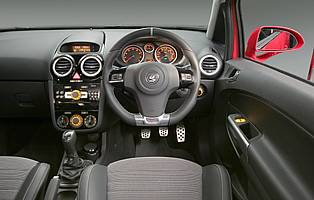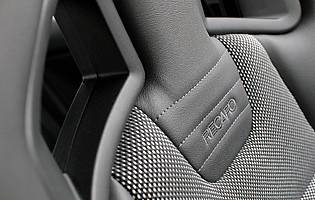 Overall rating

Likes:
Very distinctive styling
Spacious feel to interior
Responsive chassis rewards enthusiastic driving
Retains Corsa practicality
Gripes:
Torque steer and wheel spin can be over-bearing
Very expensive for the segment
Exhaust is extremely intrusive
Hard ride and bucket seats combo not for all
When Vauxhall introduced the Corsa VXR much emphasis was placed on the B-segment hot hatche's powerful and high torque 1.6-litre turbocharged engine. For drivers that require even more performance from the baby VXR, an upgrade is available courtesy of Vauxhall's official race engineers, Triple Eight Engineering.
Since 1996, Triple Eight engineering has been responsible for building fast Vauxhalls for the Luton based company to race. Its high performance variants have been regular competitors in the British Touring Car Championship and the company has produced a number of special edition road cars for keen Vauxhall drivers. The Corsa VXR 888 is one such model.
Starting with a standard, 189bhp Vauxhall Corsa VXR, Triple Eight makes a number of improvements to the engine and chassis to create a more focussed performance car. The engine's electronic control unit is remapped to offer 217bhp and a Remus sports exhaust is fitted, helping to liberate more power and providing the enthusiastic soundtrack that accompanies the model whether at tick over or delivering maximum power at nearly 6000rpm.
Lowering springs are also fitted, firming up the suspension and further limiting body roll through corners, allowing the Corsa VXR 888 to corner at greater speed. Stopping power is also increased courtesy of a bespoke racing brake kit developed by specialists AP Racing. Larger diameter discs and four pot callipers make them extremely efficient. The large callipers are visible behind the 18 inch heat treated alloy wheels shod with grippy Toyo Proxes tyres.
Inside, the Corsa VXR 888 retains the standard Corsa VXR configuration, meaning shell-backed Recaro bucket seats in the front and a spacious rear. Boot space remains unhindered and standard stereo equipment is also present, with no extreme weight saving having taken place.
Our verdict on the Vauxhall Corsa VXR 888
The Triple Eight engineering Modifications are not cheap, pushing the total price beyond what many would consider acceptable for a car in the Corsa's class, but the changes do make for a much more focussed and charismatic driving experience. The increased performance is immediately evident, not only in terms of speed and acceleration but also braking, cornering and the sharpness of the models responses and handling. Its appeal will be lost on many, but VXR fans will be enthused by the performance and exclusivity.
Costs
Fuel consumption is perfectly acceptable when driven sensibly, but exploiting the Corsa VXR 888's performance will quickly see economy suffer. Insurance costs are likely to be higher than a typical Corsa VXR due to the performance upgrades and front tyres may suffer from the powerful delivery. With the 888 additions, the cost of the Corsa VXR model is also quite high - enough to buy a larger C-segment hatchback in many cases - making the 888 model an investment for hardcore Vauxhall enthusiasts more than anyone.
Space and practicality
The Corsa's body can be extremely accommodating and folding the rear seats flat, a fairly simple operation, offers up an impressive amount of load space. The boot floor is a two-tier affair with secure storage under the removable panel. With the seats in place the boot is more than adequate for a car of this size.
Controls and display
The Corsa VXR 888's interior remains unchanged from the standard Corsa VXR, meaning a well laid out centre console with large, easy to find knobs and buttons. Audio controls can also be found on the wheel with cruise control, where specified, featuring basic stalk incorporated controls. The driving position is quite low and shorter drivers may find the steering wheel cannot be lowered far enough, but reach adjustment makes up for that to a degree. Switch gear feels solid and dependable and the orange lit dials are clear, if a little gaudy.
Comfort
The 888 tuned Corsa VXR's tuned chassis and suspension combined with the low profile tyres on large alloy wheels mean the ride can be quite harsh and picks out imperfections in the road surface that a less performance orientated Corsa would be adept at ironing out. The Recaro bucket seats are padded enough to absorb the worst, but they're not the most adjustable and can still be unforgiving over longer journeys. The rear seats feature a two-stage adjustable backrest, which is useful. Rear occupants will experience the worst of the loud exhaust, however, which penetrates the cabin even at low rpm. Although distinctive it can be tiresomely loud, although the crackle and pop on the over-run remain entertaining when exploiting the performance.
Car security
An alarm and immobiliser setup is standard for the Corsa VXR and remains on the 888 tuned version. Naturally, remote central locking is present.
Car safety
Because of its increased performance, drivers will be thankful that the VXR 88 retains Corsa VXR's active safety systems, including a full ESP programme with traction control. It's also well bolstered with airbags. Brave drivers or track day enthusiasts can also switch off the traction control if required.
Driver appeal
An engine remap by the team that develops Vauxhall's race cars sees power raised to an impressive 217bhp, a considerable amount more than the already potent standard VXR. This results in even greater torque steer under hard acceleration, particularly as the turbocharger kicks in, which remains off-putting when overtaking. There's also a degree of wheel spin to be countered when accelerating from low speed. However, the 888 tuned chassis makes the model a delight to drive at speed and keeping the revs high and the turbo on boost proves very rewarding. The additional power is noticeable and the sharper chassis and even sharper brakes contribute to an extremely responsive and entertaining package.
Family car appeal
The VXR 888's three-door format and restricted access to the rear seats means it's not the finest choice of family car. A five-door version from the comprehensive range would be more suitable.
First car appeal
The Corsa is a good choice for a first car; however, the VXR version may not be the best choice for novice drivers and the 888 version an even less sensible proposition in terms of performance. As an occasionally unruly and quick car it is probably better suited to those with a little experience behind the wheel. Regardless, its distinctive looks and performance will appeal strongly to first time buyers.
Quality and image
Thanks to the success of Vauxhall's VXR performance range the Corsa VXR ranks as highly desirable among hot-hatch fans and, in particular, younger drivers. The 888 tuned version boasts even greater appeal for VXR fans thanks to its additional power and exclusivity, however, the bold appearance and even bolder exhaust mean it may be a little too much for some. Build quality is very good, but the firmer suspension and harsher ride does stimulate the odd rattle and creak in the cabin.
Accessibility
Accessing the front of the Corsa VXR 888 is relatively simple despite the lipped seats that are positioned quite low and long doors that require room to open fully. The rear is considerably more difficult to get into because of the bulky front seats and a release mechanism with a mind of its own. The boot is easy to get to though, with a neat but sizable hatch.
Stereo and ICE (In car entertainment)
The model's system is more than capable of filling the cabin with decent quality sound and the CD-changer and radio system is neatly incorporated into upper portion of the large centre console. The menu based system take some getting used to, but once familiar makes a lot of sense and is easily navigated. Turn-by-turn navigation is basic but functional and, where specified, a bonus in a car in this class.
Colours and trim
The Vauxhall Corsa VXR is only available in three colours (with the exception of the white, limited edition Arctic Edition); red, blue or black. To get to the 888 stage, buyers first need to invest in a Corsa VXR, meaning selecting from those three. Inside, comfy Recaro bucket seats are standard and the VXR's piano black finish to the centre console remains, but there are changes to the exterior in the shape of heat treated 18-inch VXRacing wheels. A central exhaust exit and aggressive bumper, side-skirt and spoiler arrangement is, of course, standard.
Parking
The Corsa's compact size makes it reasonably easy to park, although rear visibility is not the best in class. The turning circle is good, but the large alloys are easily scratched and require caution near kerbs. Electric power steering is light at low speed.
Spare wheel
Emergency tyre inflation kit as standard.
Range information
Petrol engine options - 1.0-litre (59bhp); 1.2-litre (79bhp); 1.4-litre (89bhp); 1.6-litre (148bhp); 1.6-litre (189bhp); 1.6-litre (204bhp). Diesel engine options - 1.3-litre (74bhp); 1.3-litre (89bhp); 1.7-litre (123bhp). Transmission options: five-speed manual gearbox, six-speed manual gearbox, four-speed automatic gearbox, five-speed 'Easytronic' automated manual gearbox. Trim levels: Expression, Life, Club, Design, SXi, SRi, Ecoflex, VXR, VXR Arctic Edition, VXR 888.
Alternative cars
Renault Clio 200 Cup deals with the power more efficiently
Seat Ibiza Bocanegra version is quick and limited edition
Mini Cooper S JCW is the performance range-topper
Fiat Grande Punto Abarth Esseesse version is tuned for ultimate power