Vauxhall Astra SRi 1.0 Ecoflex
Comfortable and refined
December 2016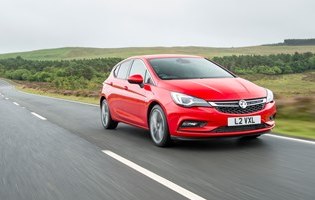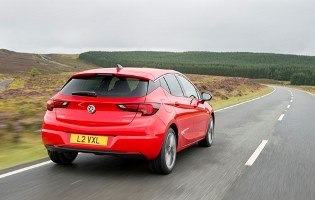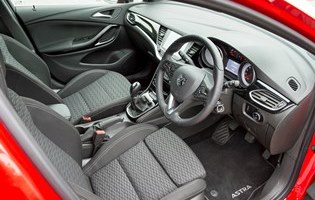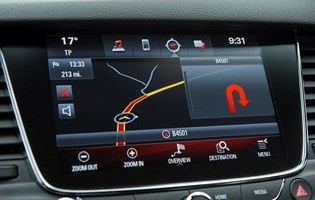 Overall rating

Likes:
Spacious cabin
Well priced
Characterful engine
Comfortable and refined
Gripes:
Engine lacks a little punch at speed
Handling isn't quite up to the standard set by rivals
Unlikely to achieve claimed economy figures
Five-speed gearbox could do with an extra ratio
Downsizing is something of a trend in the modern automotive industry, and nowhere is it more evident than in the uptake of 1.0-litre three-cylinder petrol engines in family cars. One of the pioneers of this is the Vauxhall Astra, which uses the innovation to provide a roomy runabout for those doing low mileages.
From the outside, you won't find much in the way of clues to the Astra's tiny powerplant. There's no 1.0 badging to give the game away, and even the EcoFLEX moniker is so well used elsewhere in the range that not even anoraks will glean much from that.
It's the same story inside, where there's no badging or special colour scheme. Instead, you get a comfortable and spacious cabin boasting solid build quality, a decent feel to the plastics and a large central touchscreen. It's a good infotainment system, and it includes Vauxhall's OnStar concierge service, which allows you to call Vauxhall and have navigation instructions sent to the car.
The engine's performance belies its proportions, and though you'll probably struggle to hit the official economy figures as you search for a little more speed off the mark, it doesn't feel especially slow or sluggish. In fact, with its characterful noise and eagerness to work, it actually feels fairly lively.
The Astra's road manners, however, are better suited to a more relaxed approach. It rides well and it's refined, too, with little engine noise seeping into the cabin. And because of the powerplant's off-beat thrum, any noise that does permeate into the cockpit is not unpleasant.
Our verdict on the Vauxhall Astra SRi 1.0 ecoFLEX
The 1.0-litre Astra is not the pick of the Vauxhall range, but it does serve a purpose. Those who don't do especially high mileages and generally stick to urban driving will enjoy the peppy engine, while those doing the school run will appreciate the Astra's family car appeal. It won't be for everyone, but there's certainly a market for such a car.
---
Costs
Astra prices start from £16,375, and for that you get alloy wheels, a touchscreen infotainment system and air conditioning, as well as goodies such as cruise control and audio controls on the steering wheel. Top-of-the-range models, meanwhile, offer climate control, satellite navigation and leather seats, but cost more than £20,000.
Space and practicality
The Astra's 370-litre boot makes it competitive in its class, but it is nowhere near the top. It's more room than you'll get in a Ford Focus, and it's more or less on par with the VW Golf, but rivals such as the Honda Civic will provide much more space. It's the same story inside, where there's enough space to transport four adults in comfort, but the likes of the Nissan Pulsar are roomier.
Controls and display
The Astra's controls are generally conventional, with everything falling pretty much where you'd expect it to be. The digital displays that supplement the dials, meanwhile, are clear and logically laid out, with intuitive controls on the steering wheel and touchscreen.
Comfort
Ride comfort is where the Astra takes the lead from its rivals. It's smoother and more refined than the Ford Focus, and every bit as composed as the Volkswagen Golf. Of course, some of this country's less well maintained roads still jar a little bit, but generally speaking it's very good. The refinement of the 1.0-litre engine helps its cause, too.
Car security
The Astra will be as secure as anything on the market, thanks to its central locking, alarm and immobiliser. The sheer number of Astras on the road should also make it less of a target for thieves. If you are concerned, though, you could always fit a tracker to make sure that if it is stolen, the vehicle can be recovered quickly.
Car safety
The latest Astra received a five-star safety rating from Euro NCAP, with a strong showing in every area. Scores of more than 80 per cent were awarded for adult occupant protection, child occupant protection and pedestrian protection. Only the safety assistance systems returned a score lower than 80 per cent, but still achieved a highly credible 75 per cent.
Driver appeal
The Astra has not been tuned with outright performance in mind, but it does still handle well. It feels light on its feet, particularly with the smaller 1.0-litre engine under the bonnet, but the lack of true performance prevents it from being fun. It's an easy car to drive, though, thanks to light yet precise controls and quick responses to the helm.
Family car appeal
With decent practicality, the Astra makes a strong case for itself as a family car. It's comfortable enough for long journeys, children will enjoy the amount of space in the rear and there's enough room in the boot for weekend luggage. If you're planning on going touring, though, it's probably best to opt for the estate version with a more frugal diesel engine.
First car appeal
Although the Corsa has long been the Vauxhall of choice for first-time drivers, the Astra has a good go at taking that mantle away. It's larger, which means there's more space for carting friends around, and it's more expensive, so it comes with a touch more street cred. However, these factors also mean it's costlier in terms of fuel and insurance, which are key considerations.
Quality and image
The Astra has always been a hugely popular car, and this generation is no different. As a result, the Vauxhall has a solid reputation and comes without the baggage of a pigeon-holed badge. The reputation isn't the only solid thing about the car though. The Astra's interior quality is not exceptional, but it's up where it needs to be, competing with the likes of the Ford Focus and Mazda3.
Accessibility
With sensibly sized doors and a relatively high roofline, the Astra is an easy car to get into and out of. It doesn't sit too low, so getting out won't involve much climbing, but it's low enough to make sure the boot floor isn't far off the ground, making loading heavier items much easier.
Stereo and ICE (In car entertainment)
Vauxhall is very proud of its latest infotainment system, and rightly so. The screen itself looks smart, and the displays are clear and logical to navigate. It also has the luxury of the OnStar concierge service, which allows you to ring up Vauxhall and have satellite navigation instructions sent straight to the car. It'll also call the emergency services in the event of an accident.
Colours and trim
Unlike so many car manufacturers these days, Vauxhall has a habit of offering a wide range of colours for its models, and though the Astra doesn't quite have the varied palette of the Adam city car, it does at least offer a good choice. As well as the usual monochrome suspects, Vauxhall will also sell you red, blue and green paint colours, which work well with the extra brightwork seen on the latest generation of Astras.
Parking
Thanks to good visibility and the option of a reversing camera and parking sensors, the Astra is a simple car to park. It also has light steering and light pedals, meaning complicated manoeuvres in tight spaces won't be physically taxing.
Spare wheel
Emergency tyre repair kit supplied as standard.
Range information
Petrol engine options: 1.4i (98bhp); 1.0i (103bhp); 1.4i (123bhp); 1.4i (148bhp); 1.6i (197bhp). Diesel engine options: 1.6 CDTi (108bhp); 1.6 CDTi (134bhp); 1.6 CDTi Biturbo (158bhp). Transmission options: Five-speed manual; six-speed manual; six-speed automatic. Trim levels: Design, Tech Line, SRi, SRi VX-Line, Elite.
---
Alternative cars
Ford Focus EcoBoost engine is brilliant, as is the handling.
Mazda3 No small petrol engine, but it's classy and good to drive.
VW Golf Solidly built Golf is popular for a reason.
Peugeot 308 Proof, if needed, that Peugeot still makes great cars.