Vauxhall Astra 2.4 Sport SE review
Eye catching design banishes previous Astra blandness
April 2004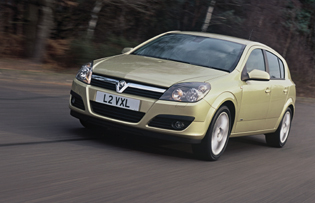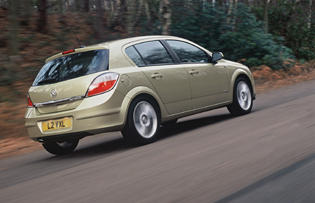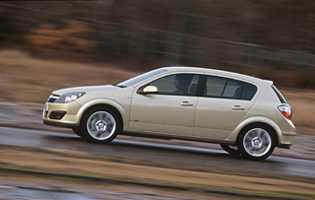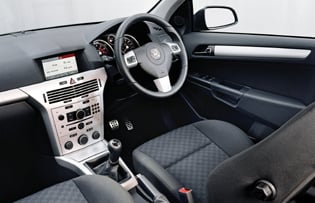 Overall rating

Likes:
Eye catching design banishes previous Astra blandness
Well-organised switchgear has quality feel
Superb suspension system ideally suited to British roads
Diesels give great economy and low emissions
Gripes:
More advanced features are expensive cost options
Diesels tend to be a bit noisy at startup
Boot access is impeded by narrow opening
Awkward entry to rear seats thanks to unusually-shaped doors
The Astra is a stalwart of the British market that has always sold well despite being far from the most adventurous car available. However, the latest car to wear the badge does so with more style and personality than any of the previous four generations.
Vauxhall is no longer happy to be pretty good at pretty much everything in order to generate pretty good sales. Customers demand more than being satisfactory these days, and the Astra makes concerted effort to be exceptional. It may not succeed on all counts, but it is close to the mark on most of them.
Exterior styling is much more radical than ever before, and while the interior remains conventional in comparison, significant quality improvements have been made. Generally, equipment levels are good, though many of the items Vauxhall shouts loudest about, such as its IDS electronic chassis system, are expensive cost options. In certain areas, practicality has been sacrificed on the altar of style. For example, the boot lip looks dramatic but is narrow and makes the Astra difficult to load.
Laudably, Vauxhall hasn't thrown everything out of the old Astra just for the sake of it. The mechanical underpinnings are improved versions of the fourth generation model's (which was always excellent to drive) and there are plenty of familiar and perfectly capable engines to choose from along with some smooth newer units.
A staple of the fleet market, an Astra makes particular sense as a company car or 'user chooser' option for private motorists who regularly cover business mileages.
Our verdict on the Vauxhall Astra 2.4 Sport SE
Competition in this market sector is particularly fierce, but the Astra can stand up to the Volkswagen Golf, Ford Focus and Renault Megane with its head held high. Buyers who take time to ensure they get the most appropriate engine and trim level for their lifestyle will be rewarded with a good-looking, fine-driving car.


Costs
Running costs for the Astra are extremely competitive. As well as the obvious appeal of the diesel engines' economy, particular attention has been paid to repair and servicing costs, so that superficial damage caused in minor accidents can be quickly and inexpensively remedied. Allied to Vauxhall's generally good reputation for reliability and an extensive dealer network, low-cost motoring is one of the Astra's strongest attractions.


Space and practicality
Something of a curate's egg with regard to loadspace, the Astra boasts fine figures in theory but is disappointing in practice. It can swallow large loads but only if you cab squeeze them through the narrow rear opening. Seats fold down easily but don't go completely flat. Similarly, the rear doors are awkward to use but once inside, rear seat passengers have a decent amount of space and excellent headroom. Front seat passengers are even better served.
Controls and display
One of the most impressive improvements displayed by the Astra is the newfound clarity of the instrumentation and use of more tactile materials, particularly around the infotainment system. Stalks and switches operate with a positive snap that reinforces the impression of a well-built car.


Comfort
Seats feature particularly good lateral support, but smaller drivers who like to sit high up may find it difficult to get sufficient elevation to see the front of the bonnet clearly. A pollen and particle filter is a standard item and will enhance the Astra's comfort for many allergy sufferers. Noise and vibration levels are low except at startup, when the diesels are a little 'clattery'.


Car security
Remote central locking is a standard feature, operated via a foldaway key. It incorporates an Auto Lock system which re-locks the vehicle five minutes after the doors are unlocked without being opened and Speedlock, which locks doors at speeds over 7mph. Keyless entry and keyless start systems are optional extras.


Car safety
Options include a deflation detection and tyre monitoring system. Another handy feature is the follow-me home lighting that keeps headlamps on for 30 seconds after the driver leaves the car, which is operated with a quick flick of the lighting stalk. Core safety kit comprises front and side airbags (larger and more effective than before). If the worst should happen the doors will automatically unlock.


Driver appeal
Astras have always been good cars to drive and this one is no exception. It feels well balanced in all conditions. Vauxhall's engineers have done a particularly fine job of tailoring the car to UK road conditions. On decent roads it glides along smoothly and even serious potholes fail to shake its composure. It can make a realistic claim to be the best handling car in its class when mated to one of the more powerful engine options.


Family car appeal
Family transport will be a common task of many an Astra, and a task at which it should acquit itself well. It is spacious enough to accommodate kids well into their teens and seems tough enough to absorb family-related bumps and bruises. Long journeys might be beyond it, but as a business car during the week and a toddler's taxi at weekends it should excel.


First car appeal
Though probably just beyond the pockets of most first-time purchasers, relatively modest running, insurance and repair costs mean that the Astra has some appeal. Its responsive but reassuring characteristics make it a good choice for drivers lacking confidence - in its less extreme iterations, at least.


Quality and image
The Astra's image has clearly taken a step upmarket with the fifth generation. VW Golf owners may once have looked down their noses at Astras, but they can no longer afford to do so as the modern car is a viable alternative. But as more and more examples appear on our roads, an 'edgy' design can quickly lose its impact. What can't be denied is the Astra's convincing 'high-quality' feel.


Accessibility
Drivers are well catered for, but in other areas, the Astra is disappointing. Gaining access to the loadspace is difficult thanks to a very small rear opening and a pronounced 'lip' that shopping or suitcases need to be lifted over. The rakish angle of the rear doors looks dynamic but stops back-seat passengers gaining quick access. They do not seem particularly child-friendly, which is a notable drawback in a car that will be used by families.


Stereo and ICE (In car entertainment)
A single-slot CD/radio is fitted to even the humblest Astras. Club models and above feature wheel-mounted audio controls. A wide range of bespoke upgrades are available, including digital radio, MP3 player and Twin Audio, a system that allows front and rear seat passengers to listen to different things.


Colours and trim
Standard features across the range include remote central locking, front twin and side airbags, ABS, electro-hydraulic power steering, steering wheel reach and rake adjustment, electric front windows and a radio/CD player. Most models feature air conditioning as well. According to the level of trim specified, the actual equipment list can vary considerably. With so many variants to choose from, going through the exact kit list of any potential purchase in detail is strongly recommended.


Parking
For a modern, mass-market car, the Astra is not an easy 'parker'. The high waistline and small rear window make sidewards and backwards visibility problematic - a circumstanc not helped by exceptionally thick rear pillars. Manoeuvrability can't be faulted, however, and the power steering gives plenty of feel.


Spare wheel
Space saver steel wheel located under the boot floor.


Range information
Numerous engines to choose from: 1.4 petrol (90bhp); 1.6 petrol (105bhp); 1.8 petrol (125bhp); 2.0 petrol (170bhp); 1.7 diesel (80bhp); 1.7 diesel (100bhp); 1.9 diesel (150bhp). Specification levels are badged as Expression, Life, Club, SXi, Design, SRi and Elite. Officially the 'sporty' versions are the Design, SXi and SRi designations. In all there are 28 engine/trim combinations.