Vauxhall Adam S review
Curvy shape looks good as standard, while bodykit is a welcome addition
April 2015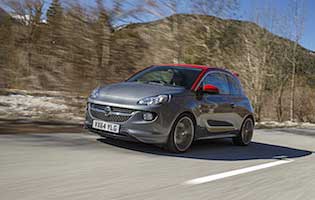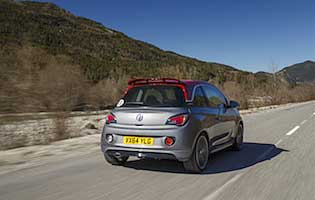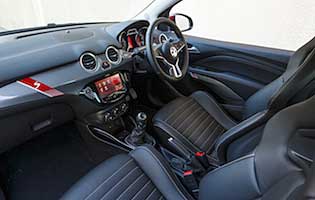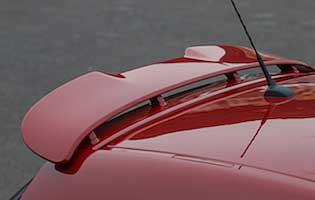 Overall rating

Likes:
Curvy shape looks good as standard, while bodykit is a welcome addition
Responsive 1.4-litre engine sounds good and is responsive on the road
GTI-like cabin trim is tastefully done
Driving experience stands up well against the competition
Gripes:
Not a cheap car when you factor in some choice options
Adam name and quirky looks split opinion
Ride can be over-firm on poorly surfaced urban roads
Rear passengers are not afforded much space
After introducing its Mini-rivalling Adam, Vauxhall has decided the range needed a performance model to challenge 'warm' hatch versions of the likes of Ford's Fiesta, Citroen's DS3, the aforementioned Mini and a growing number of sporty-looking and insurance friendly compact hatches appearing on the market. The Adam S is that car.
The basic Adam is already a distinctive car, styled to be very different from the Vauxhall's bread and butter Corsa. In S guise, the Adam gains a sporty-looking bodykit complete with roof spoiler, while the car's wheels and tyres have been upgraded to demonstrate the car's performance credentials.
The sporty theme continues inside, with chunky sports seats and a host of trim details aimed at reinforcing the car's fun and brisk character. This is aided by a tuned version of Vauxhall's 1.4-litre turbo petrol motor, which in Adam S guise delivers 150 horsepower to the front wheels. Vauxhall's engineers have also tuned the car's suspension, chassis and brakes so that it feels a step above the regular model.
The end result is a small car with plenty of enthusiasm and a surprisingly engaging driving experience. As warm hatches go the Adam S is brisk, but key to the experience is the engine's busy exhaust not, which does a good job of tricking you into thinking you're in something a lot more potent.
On a practical note the Adam S is just like its range stablemates. The three-door only body heavily favours front seat occupants as rear legroom is modest - especially so with the sports seats in the S. The focus in the cabin is on presenting a clean and uncluttered look, which the car achieves thanks to a modest button count and the use of a touchscreen to access the infotainment system's many features.
Our verdict on the Vauxhall Adam S
Unless you're Mini, you do have to work that bit harder in the compact hatch sector. The Adam is Vauxhall's answer to the runaway success that is the Mini, and this S variant is what it hopes will be a viable alternative to the Cooper-branded warm hatch. But it's not just Mini that the Adam S has to battle with, as affordable modestly powered compact cars are a popular choice for many seeking thrills on a budget. It's a good effort, but be prepared to make compromises in the cabin.