January 2008
Toyota Land Cruiser V8
Smooth lines help mask the Land Cruiser V8-s considerable size
January 2008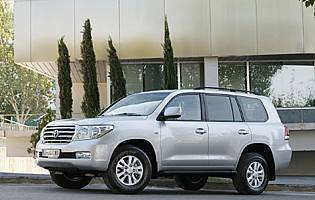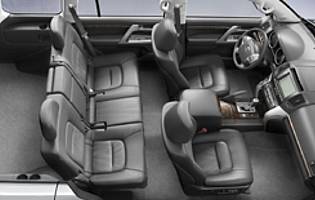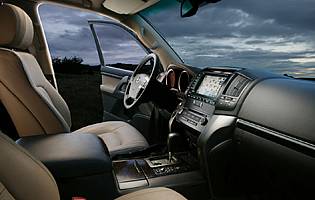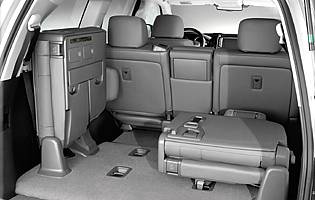 Overall rating

Likes:
Near-invincible off-roading abilities
Plush, well-built and equipped cabin a welcome improvement over previous model
Land Cruiser heritage and Toyota-s famed reliability record
On-road dynamics much better than before
Gripes:
Diesel engine refinement could be better
Despite the use of clever suspension, pitch and roll on road remains noticeable
Third row of seats don-t fold flat into the boot floor
A big car, you might struggle in certain car parks
When you're in the market for a large, premium SUV, it's a safe bet that Toyota's Land Cruiser won't be on your shopping list. Although durable and capable off road, it's always lacked the glamour of its similarly capable rivals. This generation of Toyota's large 4x4 aims to change that, boasting Lexus levels of standard equipment and build quality to compliment its Range Rover-rivalling performance.
For a car that dates back to the post Second World War boom in utility vehicles, Toyota's Land Cruiser has undergone many transformations in its lifetime. From a Land Rover-style basic wagon to the current luxury off-roader, it's clear that its Japanese maker has invested considerable time and effort over the years.
The very fact that the car still exists is also testament to its popularity around the world. Forget Land Rover, forget the German marques and forget the American competition, the Land Cruiser is the car to have. And it's all backed up by the sales figures and enormous levels of customer loyalty.
It was only a matter of time before Toyota had to shift the car's bias from utility to luxury. Although equal on performance terms with a Range Rover, it's only now that the Land Cruiser can come close in terms of premium feel. The shift is a welcome one, and should help broaden the big Toyota's appeal especially in badge obsessed Europe. Conversely it has no problem selling the car in Russia and the Middle East - two territories where ability and luxury are ranked much higher than badge snobbery.
For all this Land Cruiser's newfound premium ambience, and although it is superbly well built and equipped, its off-roading credentials are as strong as ever. The technology might be straightforward but the results are jaw-dropping. Steep inclines and descents are despatched with ease and the level of axle articulation is impressive. The car's powertrain is smooth, refined and quick to react to the changing conditions, while the V8 diesel engine is tough, responsive and not lacking power. The combined effect is one of a car that will stop at (almost) nothing to get you from A to B.
Our verdict on the Toyota Land Cruiser V8
More rounded and user friendly and better mannered on road than previous versions, this Land Cruiser is Toyota at its best. Genuinely capable of crossing continents without flinching, the V8 variant boasts a hugely capable diesel engine and powertrain. It's also more luxurious than before, as the Lexus influenced cabin illustrates. Badge snobs are unlikely to be interested, but this is the 4x4 for you if you value the car's go anywhere and tow anything abilities and want to combine luxury saloon levels of comfort for less money than the competition.
Costs
On paper the Land Cruiser V8 is hardly a cheap vehicle. However, factor in all the standard equipment and it-s one of the better value premium SUVs around. Toyota GB-s policy of offering only the diesel variant should make day-to-day expenditure reasonable for something this size, although despite being a diesel it still emits a lot of costly CO2 and will cost a considerable amount to insure.
Space and practicality
Front seat passengers will feel like they-re in a Lexus saloon when in the Land Cruiser. The amount of space available is generous and there are numerous storage areas at their disposal, including a capacious centre armrest box that-s also chilled for good measure. Space in the back is good but not outstanding for something of this size, although only the tallest of adults will likely grumble. The third row of two seats is realistically only for children but is a useful addition. At the rear, the car-s split tailgate opens to reveal a large load space, although the third row seats occupy the sides when not in use.
Controls and display
There are no surprises here, unless you-re new to the Toyota brand. If that-s the case, be prepared to marvel at the solid feel the switchgear, the sensible ergonomics and the colour touch screen display that-s the focal point of the fascia. Easy to use and clear to read, the latter controls audio, sat-nav, Bluetooth phone interface and many other features. Elsewhere, the auto gearshifter and its manual override is simple to use and the rotary controller for high and low transmission modes falls easily to hand.
Comfort
Sporting a full leather cabin plus build quality to match that of a Lexus, this Land Cruiser V8 is a comfortable and relaxing car to be in. Once installed in the spacious cabin, the most obvious feature is the pair of leather covered and supportive front seats. The rear bench is no less sumptuous, while no expense has been spared on the third row either. During general running the car is refined and quiet, it-s only when you accelerate hard can the V8 diesel engine disturb the otherwise refined ambience.
Car security
All the usual bells and whistles are present, but don-t forget that in some circles cars like this are highly desirable for all the wrong reasons. As such, and given its value, a visible deterrent such as a steering lock should put off the casual thief. For greater peace of mind, a tracking device wouldn-t be out of the question.
Car safety
You can take the safety credentials of four-wheel drive as a given in this context, although the Land Cruiser also comes with all the usual family car measures such as ABS and the various electronic stability aids to keep you on the straight and narrow.
Driver appeal
The use of an active ride suspension system to suppress pitch and roll is welcome on this Land Cruiser and boosts its appeal, but it still lags behind the more road-biased competition. There is, however, no question over the diesel motor-s abilities - it-s powerful and capable of accelerating the car at luxury saloon car pace. It-s off road where the Land Cruiser really shines, though. Despite its size, the car-s go anywhere character is evident on even the steepest of slopes or slipperiest of surfaces. All in all it-s more than capable of giving a Range Rover a bloody nose.
Family car appeal
If a conventional full-size people carrier isn-t for you, the Land Cruiser and its seven seats could be the one. Granted, the rearmost seats are best suited to children but the rest of the car is spacious and full of convenient storage spaces. And even if you don-t regularly venture off road, the Land Cruiser will tow pretty much anything - making it a smart choice for an active family.
First car appeal
There-s little point in recommending the Land Cruiser as a first car: it-s big, expensive and overqualified for most journeys. Anyone wanting an SUV as their first car would do better with Toyota-s RAV4 - it-s easier to drive and park and it-ll be a lot cheaper to run.
Quality and image
In isolation the Land Cruiser is respected the world over. So often the 4x4 of choice with charities, relief workers and government agencies for when working in extreme or hostile conditions, the big Toyota is well known for getting the job done. Reliable and durable, it-s routinely selected over Land Rover-s offerings. However, in luxury SUV circles the Land Cruiser is routinely passed over by the badge snobs.
Accessibility
So long as you-re moderately agile you-ll be able to get in and out of the Land Cruiser. The necessarily generous ground clearance demands that you step up and into the car, but once inside the experience is similar to that of a luxury saloon. The car-s split rear tailgate is a welcome bonus when access to the distant corners of the boot is required.
Stereo and ICE (In car entertainment)
Toyota has really taken the Lexus ethos of offering everything including the kitchen sink in the entertainment department. Along with the easy to use colour touch screen, you get sat-nav, a mobile phone interface, basic voice control and a six-disc DVD changer. The latter is unusual in any sector but useful if you want to play a combination of music and films. Two upgrades exist: one for twin seat back DVD for rear passengers plus a speaker and amplifier upgrade and iPod integration. And yes, the sound quality is up to Toyota-s usual high standard.
Colours and trim
Premium SUVs all seem to look good in dark metallic colours, and the Land Cruiser V8 is no exception. Being kind, such colours help flatter and mask the car-s size, while the lighter options are more suitable to smaller, sportier cars. The car-s cabin is well built and sports a tasteful mix of trim materials.
Parking
Although big car, the Land Cruiser is easy to manoeuvre - assuming you-ve got the space to do so. At parking speeds the car-s steering is finger-light, while visibility is good thanks to the lofty driving position and big side mirrors. Fore and aft parking sensors plus Toyota-s familiar rear view camera system complete the comprehensive armoury of parking tools.
Spare wheel
Full size spare fitted as standard.
Range information
Diesel engine option - 4.5-litre V8 engine (282bhp). Transmission is six-speed automatic plus all-wheel drive and low ratio option. No specific trim level, although cars purchased with upgraded audio system are priced as separate models.
Alternative cars
Range Rover The benchmark premium SUV; not cheap and lacks a third row of seats
Audi Q7 Seven seat Q7 is heavily biased towards the road, and boasts good driving dynamics
Mercedes-Benz GL-Class Rare seven-seat premium SUV with genuine off-roading abilities
BMW X5 Another German premium SUV designed primarily for the road. Can be had with seven seats