May 2012
Toyota Hilux HL3 Double Cab 2.5 D-4D Manual 4WD
Revised Hilux is now easier on the eye
May 2012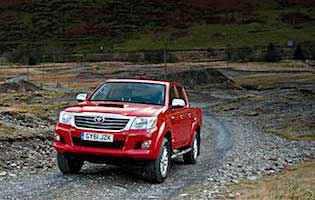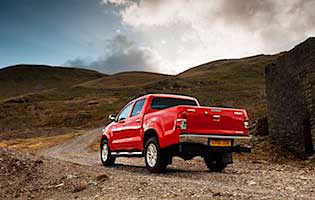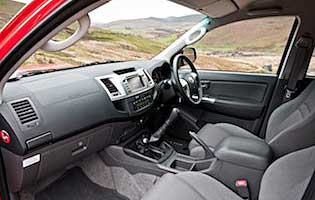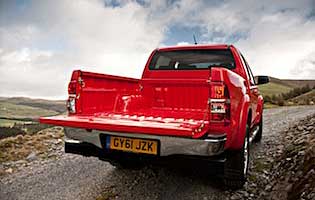 Overall rating

Likes:
Revisions boost all-round refinement
Remains a supremely capable off-roader
Robust powertrains ensure class-leading performance
Tough yet high quality build evident in cabin
Gripes:
Requires skill to maneuver in tight spaces
Load bay cover required for genuine family life potential
Lofty driving position requires agility to climb up into cabin
Could benefit from more interior storage
This latest generation of Toyota's world-beating pick-up benefits from changes to the engine range, specification and exterior look. With pick-up producers increasingly targeting the lifestyle market, the changes should appeal to a broader range of drivers.
A great motoring institution, Toyota's Hilux is one of the automotive world's survivors. In the face of increased competition from rival pick-ups and utility-focused lifestyle vehicles, the improvements are about grabbing the attention of drivers who require a rugged and practical pick-up truck as well as the 'lifestyle' audience
With only minor updates to the engine range to acknowledge - an update to EU5 - the most obvious change is to the Hilux's bluff nose, which has been spruced up but still remains instantly recognizable. Look inside, and the chunky Toyota's cabin gains a makeover that sees it look and feel more car-like.
Along with improved quality materials and a general uplift to the cabin ambience, the Hilux's fascia boasts layout that's closer to that of a car than a commercial vehicle. Toyota has gone one step further with car-centric kit such as Bluetooth, navigation, MP3 music player connectivity and a useful rear view camera.
Regardless of the upgrades, it's important to remember that the Hilux remains a solid performer in the pick-up universe. Boasting solid reliability and go almost anywhere capability thanks to a sophisticated 4x4 system, the Hilux can serve as a rugged workhorse during the week and a refined family vehicle for active types at the weekend.
Our verdict on the Toyota Hilux HL3 Double Cab 2.5 D-4D Manual 4WD
Rivals may come and go but the Hilux remains the pick-up to beat. It might not be the cheapest, but it's certainly the most rounded, refined and reliable on sale - the latter attribute is the result of decades of service around the world. This latest revisions programme adds some welcome car-centric features and softens the Hilux's previously bluff exterior.
Costs
The Hilux is positioned at the top end of the pick-up spectrum due to its performance, refinement, reliability and brand reputation. That said, for many it's money well spent in light of some rivals who are a little rough around the edges.
Space and practicality
With the exception of slightly restricted legroom for rear passengers in the double cab variant, adults can sit comfortably for long periods of time - good news if it's to be a working vehicle. Covered storage space could be more generous, but the focus is rightly on the rear load bay. Access is straightforward although the tailgate is heavy and you'll need to think about a cover for added security.
Controls and display
With the refresh, the Hilux's cabin is now a much more attractive place to be. The fascia is now more car-like, to the point that you're faced with a colour touchscreen. The overall layout is sensible and, surprisingly, the main controls - steering, gearshift- brakes - are more car-like than you'd expect.
Comfort
Over time the Hilux's cabin has become increasingly more refined. This variant is the most car like yet, thanks to supportive seats and the use of high grade materials. Space is reasonable, although don't expect masses of room in the back of the double cab variant. And by pick-up standards noise levels are modest when on the move.
Car security
Remote central locking plus alarm is standard equipment and a locking tailgate aids security, although a cover over the load bay would be most welcome.
Car safety
Safety is well catered for in the Hilux, a driver and passenger airbags are standard while front side airbags feature on the high-spec Invincible grade. Naturally, you can also view the pick-up's all-wheel drive system as a safety feature due to its go-anywhere potential.
Driver appeal
It might give the appearance of an oversize Tonka toy but the Hilux is surprisingly easy to drive. Light controls and good vision help, while performance from the improved diesel engines is strong. All-wheel drive flexibility - high and low range - ensure added security in challenging, low grip conditions.
Family car appeal
Using the Hilux as an alternative of 'lifestyle' family vehicle is not uncommon, but you'll need to look into covered load bay options for added peace of mind and security. A double cab layout makes the most sense, and with children the modest legroom in the back isn't likely to be a major issue.
First car appeal
Few novice drivers are likely to find much in the Toyota Hilux that appeals to them. Its size would make it a daunting option for the inexperienced.
Quality and image
The Hilux is blessed with a rock-solid reputation thanks to the near indestructible nature of the previous generations. Factor in a large and loyal customer base plus focused dealer network and it's easy to see why the Hilux does so well.
Accessibility
As with its rivals the Hilux's lofty driving position is a blessing and a curse, as you'll need to be reasonably agile to climb up into the cab. Grab handles are present for easier access as is a sill cover that can act as a step if required. At the rear, the tailgate is heavy and the load bed high, but no higher than that of rival pick-ups.
Stereo and ICE (In car entertainment)
Despite its commercial origins, the Hilux sports a high-grade audio system and large touchscreen with potential to service music player and navigation functions. It all works well and proves intuitive to use when on the move.
Colours and trim
Bolder colour options help position the Hilux as a lifestyle vehicle, but for the most part it's the shades that will hold greater value second-hand. Interior trim is biased towards functional, but the revamp has lifted the cabin ambience considerably thanks to better quality materials and a redesigned fascia.
Parking
There's no question that the Hilux's size initially makes it something of a challenge to wield around town and rules out more challenging car parks. That said, it's not impossible to park with it's squared off proportions being reasonably easy to judge for an experienced driver.
Spare wheel
Full size spare stored under load bay.
Range information
Diesel engine options - 2.5-litre (143bhp); 3.0-litre (169bhp). Transmission options: five-speed manual gearbox, five-speed automatic gearbox, selectable four-wheel drive, low-ratio transfer box. Trim levels: HL2, HL3, Invincible.
Alternative cars
Isuzu Rodeo Capable working vehicle lacking a little refinement
Mitsubishi L200 Affordable alternative but lacks on-road refinement
Nissan Navara Chunky, stylish workhorse
Ford Ranger Polished alternative but styling a little to brash