November 2006
Toyota Hilux HL3 4x4 Double Cab D-4D 170
Chunky-looking Hilux is surprisingly refined on road
November 2006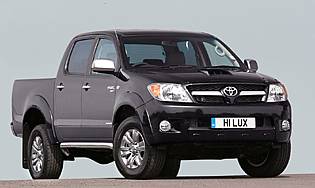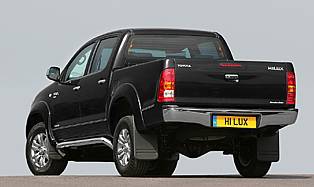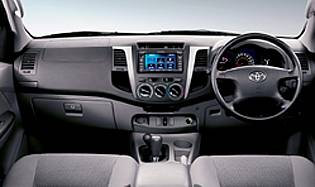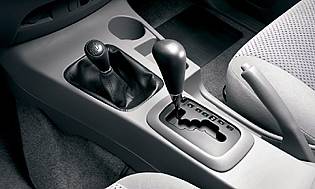 Overall rating

Likes:
High quality cabin is up to Toyota's usual standards
Off-roading ability on a par with more conventional 4x4s
3.0-litre diesel is powerful, torquey yet refined enough to be used every day
Double Cab configuration offers enough room in the back for a growing family
Gripes:
Although well built, cabin is dominated by a lot of grey plastic
2.5-litre diesel does need to be worked hard when under a heavy load
Only the 3.0-litre variants are equipped more in line with that of a lifestyle pick up
Old-style gear lever retained for shifting between two and four-wheel drive
It's a well known fact that Toyota's Corolla has been a hugely successful car for the Japanese firm. What you might not know is that the company's Hilux pick up is the equivalent in the commercial vehicle world. The Hilux has been a dominant force in the global light commercial market for many years, and this iteration does much to build on the vehicle's qualities.
To assume that all pick ups are the same is to make a big mistake. And to assume that they are all uncompromising in their behaviour is to make an even bigger false assumption. As the demand for lifestyle-orientated vehicles grows, manufacturers have done much to smooth over rough edges and promote car-like attributes.
Toyota is something of an expert when it comes to making pick ups - its Hilux is the Corolla of the light commercial world. A global success since the original launch back in 1967. Things have changed and customers now demand a more refined driving experience, more creature comforts but no at the expense of the vehicle's core values.
And so it is that this Hilux is a clever combination of car-like refinement and on-road driving behaviour plus rugged workhorse. While you can specify a pretty basic Hilux by modern standards, Toyota has jumped on the lifestyle bandwagon with this version and also offers tricked-out variants with plush interiors and a powerful new 3.0-litre diesel engine for people switching from recreational 4x4s and people carriers.
The end result is a swift, refined and practical pick up. In double cab trim the Hilux will accommodate a growing family, plus all their activity gear in the spacious load bay. It makes for an impressive towing vehicle, too. The Hilux still possesses a hard side, as its switchable four-wheel drive system, considerable ground clearance and rugged mechanicals can testify.
Our verdict on the Toyota Hilux HL3 4x4 Double Cab D-4D 170
On the surface Toyota's focus appears to have switched to the lifestyle end of the market, but look past the leather upholstery, snazzy instrument dials and air conditioning and the Hilux remains a serious piece of kit for the working individual. With the ability to match a conventional off-roader in all but the harshest of environments, Toyota's popular pick up is not to be underestimated. That it boasts refinement levels to match many regular cars is the icing on the cake.
Costs
With the various tax concessions available, the Hilux makes a strong case for itself if you want something more rugged than a conventional estate car or 4x4 to help accommodate an active lifestyle. Both diesel engines are pleasingly economical, while Toyota's reputation for building reliable cars should mean that servicing costs are minimal.
Space and practicality
Predictably, the Hilux's rear load bay will be the focus of attention for many users. Simply put, it's big enough to accommodate most things - be they tools of the trade or items of leisure kit. Access is via a drop down tailgate, and to reach the furthermost corners you'll have to clamber in yourself. Elsewhere, the Hilux's cabin is a good size, boasts enough storage spaces for a demanding family or tradesperson and big door bins for drinks, maps and tools.
Controls and display
Everything in the Hilux cabin is clear, and the controls are all close to hand. The main dials are concise, while the main controls are big, intuitive and accessable by both driver and front seat passenger. The vehicle's steering is almost car-like, although the manual gearshift is more akin to a pick up; it's long and doesn't like to be rushed. Bucking the trend for electronic switches, the Hilux's secondary stubby gearlever used for switching between two and four-wheel drive is easy to use on the move.
Comfort
Once inside the Hilux's cabin, you're faced with a surprisingly spacious interior. Head, leg and elbworoom are all above par, and on the move road noise is no greater than for a conventional family-orinetated SUV. The seats are supportive, although the rear ones could do wih being mounted a little higher to increase the legroom available.
Car security
Remote central locking and an imobilisor are standard fit, which is to be expected. What you can't expect straight from the factory is a cover over the load bay - that's up to you to organise. And it would definately be worth investing in something if you want to keep prying eyes away.
Car safety
The Hilux's switchable four-wheel drive system forms a central plank of the vehicle's safety offerings, and there's no question that when it's activated the driving experience feels very secure. This is backed up by anti-lock brakes, and airbags for the driver and front seat passenger.
Driver appeal
In a welcome reversal of the usual comercial vehicle stereotype, the Hilux is very car-like to drive - within reason. The vehicle's main controls are light and precise, visibility is good thanks to the lofty driving position and the diesel engines - espcially the 3.0-litre unit - perform well. On road the Hilux is pleasingly quiet and does well to absorb most road imperfections. Off road it can tackle all but the most extreme of conditions thanks to its switchable four-wheel drive system, considerable ground clearance and suspension articulation.
Family car appeal
In double cab form the Hilux would make a resonable versatile family vehicle. It doesn't have the security of a conventional boot though, which could pose problems on family outings and shopping trips. That aside, as a recreational vehicle it makes a lot of sense. Bulky kit can be loaded in the back and, especially in 3.0-litre form, the Hilux is an exceptional towcar and long distance cruiser.
First car appeal
Although an unusual choice, the Hilux is a surprisingly easy vehicle to drive. Car-like in the way the controls operate, only parking will likely pose a problem thanks to the vehicle's size.
Quality and image
Toyota's image is a strong one in terms of being famous for delivering durable, reliable cars. The same is true of its commercial vehicles, as many are bought on the ability to rely on them in all manner of conditions.The Hilux's durable nature certainly testifies to that notion. And the vehicle itself is a popular one around the world, mainly because it's tough, reliable and affordable - facts backed up by the Hilux's status as Toyota's best-selling off-road vehicle.
Accessibility
As with any vehicle built for off-roading, you do have to climb up into the Hilux. You do need to be pretty agile as the distance from the ground is greater than with most lifestyle sports utilty vehicles. Once inside, eveything falls easily to hand. At the rear, the vehicle's tailgate can be dropped down to access the load bay. And again, to access all the available space have to be agile as you'll need to clamber up into the load bay.
Stereo and ICE (In car entertainment)
The basic set-up in the Hilux is more than adequate for this type of vehicle - especially if it's going to be a workhorse first, runabout second. Options include full colour sat-nav for the lifestyle types. The basic unit is located usefully high in the Hilux's fascia for ease of use.
Colours and trim
To champion the Hilux's lifestyle leanings, there are a few upbeat colours that help boost the vehicle's appeal. That said, if it is going to be pressed into hard work, a more modest choice would be recommended. Inside the Hilux, conventional Toyota thinking is obvious - there's a lot of grey plastic in the cabin. Where fitted, leather seats aren't as convincing as they could be.
Parking
Unlike a car, you do need to take an extra moment to reverse park the Hilux. The vehicle's long rear overhang will mean taking it easy at first. Thankfully the Hilux's steering is light at low speeds and its turning circle is a modest size. Once acclimatised, you'll find the Hilux is very car-like to manoeuvre although you'll need to take care in small multi-storey car parks.
Spare wheel
Wheel is located under the vehicle at the rear.
Range information
Engine range: 2.5-litre D-4D diesel (120PS); 3.0-litre D-4D diesel (170PS). Five-speed manual fitted as standard. Four-speed automatic transmission available on 3.0 D-4D 170-litre models. A two-wheel drive option exists for the D-4D 120 in HL2 specification. Trim levels: HL2, HK3 Invincible. Cab options: Single, Extra and Double Cab - the latter is the only choice for D-4D 170 vehicles.
Alternative cars
Nissan Navara Large Nissan is a useful working tool yet also successfully combines lifestyle elements
Ford Ranger Powerful Ranger is a mechanically simple vehicle and feels it. Looks good and boasts plenty of lifestyle creature comforts
Mitsubishi L200 Most radically styled of the assmebled group. Not as polished to drive as the Hilux but good value
Isuzu Rodeo Well built, robust and good off-road. Not an obvious choice but likely to be one of the more reliable options long term