Toyota Corolla Verso 2.2 D-4D T180
Can serve as anything from a seven seater to a delivery van
September 2005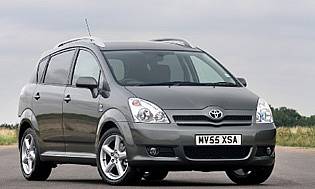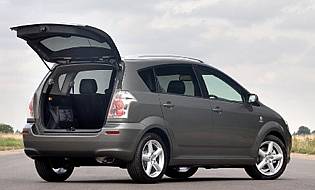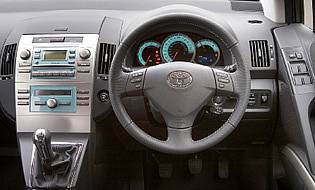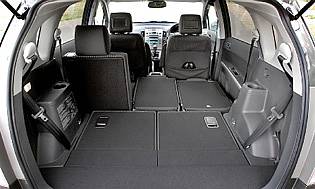 Overall rating

Likes:
Can serve as anything from a seven seater to a delivery van
Usual Toyota reliability
Loads of torque from diesel powerplants
Interior arrangements easily achieved
Gripes:
Range structure not easily digested
Calling the T180 a performance model is optimistic
Top-end models rather expensive
Cornering cameras of questionable utility
Toyota's Verso-badged cars may not be the most glamorous on the planet, but they are undoubtedly among the most practical. Verso signifies extra space and interior flexibility, and finds its best expression of all in the Corolla Verso, which almost seems to squeeze the functionality of a full-sized MPV into the shell of a compact MPV.
The secret of the Corolla Verso's success since its 2004 launch and its continuing appeal today lies in its disarming simplicity. No doubt Toyota's engineers have put together an incredibly complex car, but their main achievement was making the vehicle remarkably easy to configure and reconfigure. Controls, switches, levers and buttons all operate with minimum fuss, little effort and do exactly what you expect them to. That may sound rather obvious, but it's not always the case in a sector of the market that frequently overcomplicates matters in an effort to impress.
Every compact MPV needs a party piece. The Corolla Verso's is its ability to offer up to seven seats - five of which are full-sized - or a huge, completely flat loadspace with equal aplomb. Switching from one to the other, or any of the combinations in between, is straightforward and can mainly be achieved with the use of one hand in a matter of seconds.
The arrival of new 2.2-litre diesel engines in late 2005 broadened the already comprehensive range. The more powerful 177bhp unit is even being promoted as a performance variant dubbed T180 complete with rakish alloy wheels. However, with a 0-60mph time of nine seconds being only half a second quicker than the 134bhp model, and the same decidedly unsporty MPV shape, such claims fail to convince.
Anyone with doubts about their ability to drive a people carrier should take a test drive in the Corolla Verso. Its demeanour is so utterly car-like that it should provide complete reassurance. In town it is nimble, while motorway miles glide by with no trouble and very little wind or road noise.
Our verdict on the Toyota Corolla Verso 2.2 D-4D T180
If you're looking for a safe, solid and trustworthy way of transporting five adults or up to seven children, the Corolla Verso must necessarily be near the top of your shopping list. Newer arrivals such as the Mazda5 can match it, and the perennially popular Renault Scenic will always attract some buyers, but the Corolla Verso really does have big-car functionality in a compact package.
Costs
Entry-level models with less powerful, older engines look like bargains. The price difference between the cheapest and most expensive models is larger than is usual in this sector of the market. Continuing demand for good used examples should help resale values remain relatively firm, and owners will expect to pay less for servicing and remedial work than is the norm.
Space and practicality
Fitting a quart into a seven-seater pint pot, the Corolla Verso's interior configuration provides a masterclass in what can be done, taking over from Vauxhall's Flex7 system. Often, such a multitude of options is nice in theory but more bother to achieve than it's worth. In the Corolla's case, virtually any combination can be summoned up with a quick release of a catch or two.
Controls and display
In an attempt to make the dials more interesting, they are brightly illuminated during the day, more subtly so at night. The effect being aimed at is a sort of vague futurism, but it isn't wholly convincing. It can even be disconcerting when, going through a tunnel for instance, the lights dim rather than brighten. Whatever the cosmetic quibbles, it should be noted that controls cannot be faulted for functionality.
Comfort
Though far from luxurious, the Corolla Verso provides a fairly classy space in which to spend a few hours. Noise and vibration levels are well suppressed and the softish suspension effectively absorbs imperfections in the road surface. Seats are generally supportive, if not quite as imaginatively shaped or as firm as in some European rivals.
Car security
Toyota's Lexus brand regularly tops independent security tests, so it is reassuring than many, if not all, of the same features are employed in regular Toyotas, including the Corolla Verso. Locks put up good resistance to tampering and all components are traceable to the car's individual VIN code. The expected engine immobiliser and deadlocking are standard features, an alarm is not.
Car safety
Toyota has built up a strong reputation on safety, which the Corolla Verso does nothing to undermine. It has performed very well in crash tests thanks to one of the more effective systems for dispersing the energy produced in a collision. Such life-saving features rarely get the acknowledgement they deserve, overshadowed as they are by the number of airbags and alarms on offer. Incidentally, the Corolla Verso isn't short of either.
Driver appeal
Despite claims to the contrary from Toyota, not even the T180 model is particularly exciting to drive. Its impressive torque in the low to mid range certainly makes it a great overtaker in a straight line, but further performance credentials are mitigated against by the Corolla Verso's relatively high sides, its short wheelbase and controls providing an easy drive rather than an involving one.
Family car appeal
A young family will judge the Corolla Verso to be their perfect vehicle. It'll fit neatly onto the drive of any suburban semi or into a supermarket parking bay, can perform school run or shopping duties with equal aplomb and can even act as an ersatz minibus for junior sports teams. It's also reliable enough to ensure that you never find the family huddled on the hard shoulder waiting for the breakdown services to arrive.
First car appeal
Lacking quirky character or attitude of any sort, few if any first time drivers will warm to the Corolla Verso.
Quality and image
No one buys a Toyota to impress the neighbours - purchases are driven by far more common sense than that. The company's build quality is legendary, though close inspection of some of the switchgear and interior shutlines may raise one or two questions. The point though, is that no matter how such items are finished, they are extremely unlikely ever to drop off or stop working.
Accessibility
The high roofline and surprisingly large rear doors make the Corolla Verso significantly easier to climb into and out of than the standard Corolla. Add the functionality of an estate-style rear door with a pleasantly low loading lip and this becomes one of the most accessible vehicles in its class.
Stereo and ICE (In car entertainment)
Single-disc CD player with RDS and six speakers provided as standard. Toyota offers several different satellite navigation systems at various prices and they are among the more reliable systems on the market.
Colours and trim
Metallic silver is undoubtedly the exterior colour to go for. In stronger colours, the MPV shape becomes more apparent and the car looks far heavier and less attractive. Silver should also help when it comes to resale value. T2 specification feels rather sparse. Mid-range T3 offers the best ratio of equipment to price.
Parking
As well as a rear-facing camera, an intriguing optional addition is a Cornering Assist Monitor, which uses side-facing cameras to give extra peripheral vision at low speeds. Whatever the theory, it is very confusing in practice with drivers looking at the central console to see simultaneous views both left and right.
Spare wheel
Space saver spare wheel fitted as standard on all models.
Range information
Five engine options - 1.6 petrol (109bhp), 1.8 VVT-i petrol (127bhp), 2.0 D-4D diesel (114bhp), and 2.2 D-4D (175bhp and 134bhp versions) Five- or six-speed manual transmissions, or five-speed Multi-mode Manual Transmission (MMT) according to model. Trim level designators are T2, T3, T Spirit and standalone T180.