Toyota Aygo x-cite 5dr manual
Comfortable ride quality
May 2005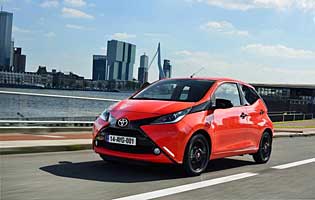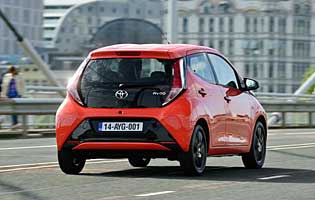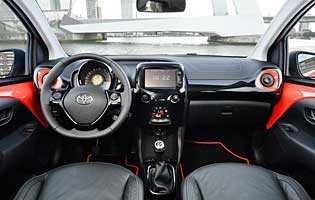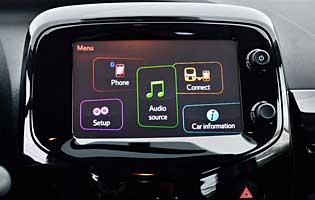 Overall rating

Likes:
Comfortable ride quality is settled but supple
Touch-screen media interface looks great and is responsive
Increased soundproofing means a quieter drive
Chunky front seats are well shaped for backs to increase comfort
Gripes:
Small boot is significantly smaller than some rivals'
Poor rear legroom leaves adults cramped
Price tag seems hard to justify
Curious mismatch of cabin materials lacks cohesion
The Aygo has been a raging success since its release in 2005, but after two major refreshes and many small aesthetic changes, it definitely feels its age. Cue a replacement, which at long last is new from the ground up – aside from the engine block. Even the engine internals are new. It's much more grown up, without actually growing much at all.
How do you replace a car that had its best year of sales right before being discontinued? Toyota's relentless discounting and low-rate finance certainly helped boost sales in 2013, but against the competition it certainly feels old, and cheap in many places too. The new car attempts to address quality issues in order to compete more directly with much-improved opposition.
Toyota has gone down style and technology routes, choosing to add plenty of gadgets and novel visual detailing all over the car. Some of its rivals, like the Hyundai i10, have chosen much the same route, while others like the Skoda Citigo err on the side of stylistic caution but offer more in terms of practicality and ease of parking.
The wheelbase of this new Aygo is actually the same as the old one, despite the car looking considerably longer. It still features very short overhangs, but the suspension tuning is new – and much improved. It lacks the clever engineering packaging solutions that make the Volkswagen Up so spacious, but it has a lot in its favour nonetheless.
Personalisation is the key to how the new Aygo, with its already distinctive nose, will mark itself out. Plastic trim on the outside and inside of all models will be interchangeable so if customers fancy a change, it's easy to do. There will be options for different roof colours, graphics and even a sliding canvas roof in spring 2015.
Our verdict on the Toyota Aygo x-cite 5dr manual
With excellent ride quality and refinement the Aygo is a much more relaxed, mature car than before. High fuel economy potential is welcome and the option to personalise the car is a big selling point. Black marks go against its small boot, poor rear legroom and its price, which outstrips rivals' even before personalisation options. For a single person or a young couple, though, the Aygo is a certain contender.
---
Costs
Fuel economy is up versus the last Aygo, despite the fast that this one is slightly heavier. Combined with emissions low enough to escape road tax and the little Japanese city car looks to have the costs box ticked. However, it's expensive to buy in the first place, especially if customisation options come into play, and it sits four to five insurance groups higher than some of its opposition. Buyers must simply decide what's most important for them.
Space and practicality
Relative interior space is a shortfall against its rivals. Its boot is as much as 33% smaller than the class leader and lacks meaningful practical touches like luggage nets or semi-enclosed pockets. There are compact cup- and bottle-holders in the front doors and the rear ones feature curiously shaped pockets that could house a well-sealed bottle. The glove box is a good size and an even shape, though, and one or two open-faced storage compartments are handy.
Controls and display
This particular model is littered with useful controls on the steering wheel, dashboard and by the driver's knees, as well as on the two ancillary stalks. They are all chunky and feel solid, helping to reinforce an overall big-car sensation. The highlight is the colour touch-screen, which has bright, fresh graphics and a sharp screen resolution. It responds quickly to touch inputs and can connect to your phone in such a way as to allow the car to display and allow access to your phone's apps.
Comfort
Unusually chunky and carefully-shaped front seats mean that this car is far more comfortable than it might be given credit for – for two at least, because the rear seats haven't been treated as well. They are cramped not just because of a lack of legroom but because the window line kinks upwards and cuts out both light and visibility. Shoulder room for four adults should be less of a problem, fortunately, and in actual fact the five-door has a little more cabin width to play with.
Car security
Remote central locking is standard on mid-range and higher models, while the top-spec versions get keyless entry. Deadlocks are standard where central locking is fitted, and can be activated with a second push of the remote control's 'lock' button. The immobiliser that is fitted to the ignition is more than good enough to hold thieves at bay, and the fuel filler cover locks when closed. It has to be released from the inside of the car.
Car safety
There is a comprehensive group of safety accessories, and all models benefit from them regardless of price. The bodyshell is designed to resist deformation around the passengers, and there are front, side and curtain airbags for passive protection. Stability control, anti-lock brakes and a tyre pressure monitor are all also standard. The car scores four out of five with Euro NCAP, missing out on the top grade because its overhangs are too short to allow deformable pedestrian protection zones.
Driver appeal
There are pleasant surprises in store here, in that this is much quieter and more refined than its predecessor. Extra soundproofing has helped massively. There's an enjoyably rorty off-beat thrum when revving the engine hard, but there's very little in the way of acceleration and the Aygo falls behind its rivals on driving pleasure. Light pedals require little effort but can be harder to balance when pulling away from a standstill, but the ride quality is exemplary for such a small car.
Family car appeal
There are obvious limitations to the Aygo's suitability for family life, most of which are size-related. The boot is just too small to take all but particularly compact items of baby paraphernalia and the low roofline above the rear seats makes banging your head on the door frame all the more likely. There are ISOfx child seat mounting points and the front passenger-side airbag can be turned off for when carrying a rear-facing child seat, but it is only really practical as a second family car behind something bigger.
First car appeal
The Aygo occupies ideal first car territory, although its price may be an off-putting factor when compared to some alternatives. Financial aspects excluded, the Aygo is a very manageable size, has a perky but refined character and won't cost the earth to insure – although it sits a number of groups higher than some of its key rivals. Running costs should be low and all models are road tax-exempt, and the personalisation potential should appeal strongly to first-time car buyers.
Quality and image
Contrary to their cheap image, the old Aygo and its twins from Peugeot and Citroen have performed reasonably well in reliability surveys and customer satisfaction studies. They are not infallible, and the electrical systems are prone to bugs, but there are lower quality cars out there. The Aygo's image is a young, funky, vibrant one that Toyota will only be too happy to continue to massage, especially since the new version has an added sense of solidity and maturity.
Accessibility
The new Aygo's roof line is slightly lower than it used to be, and despite a 'double-bubble' style roof panel to increase interior headroom, rear passengers really have to duck down to clear the roof. It's an act made even less comfortable by the lack of rear legroom for adults approaching six feet tall, but at least this five-door model has separate doors for rear access. The three-door is much harder for rear passengers to access because its doors are no longer than the five-door's fronts.
Stereo and ICE (In car entertainment)
Through the colour touch-screen the media unit is a joy to use. The graphics are clear and well separated to allow easy operation even on the move, and track information can be displayed along with album artwork. There aren't many speakers and they struggle to handle sound with conviction, but having the ability to hook a compatible smartphone to the media unit and then use many of its apps and functions through the main screen is a great feature for the tech-savvy.
Colours and trim
There are fewer colour choices than you might expect, but they do at least cover the most common options including white, red and blue. The bold orange is reserved only for the x-cite model, but does look good on the sharp-edged shape of the Aygo. Inside, the trim is a visually confused collection of hard, coarse and cheap-looking plastics, glossy black smooth and reflective plastics, visible door metal in the body colour and, in this model, leather. There is little cohesion but personal tastes apply.
Parking
While the Aygo is naturally small and fits into the vast majority of everyday spaces, it does suffer from reduced rear three-quarter visibility thanks to the upwards kink of the shoulder line in the rear door and a thick C-pillar, but a standard reversing camera wherever the screen is installed is a boon. Another slightly awkward factor is that the car seems keener than average to stall, with the revs dropping off very quickly when the clutch bites. This can be an issue in slow manoeuvres.
Spare wheel
Emergency tyre repair kit supplied as standard. Space saver spare is optional.
Range information
Petrol engine options – 1.0-litre (68bhp). Transmission options: five-speed manual gearbox, plus automated manual (five-door models only and excluding x trim). Trim levels: x, x-play, x-pression, x-cite, x-clusive.
---
Alternative cars
Volkswagen Up! Clever packaging makes the excellent Up! small on the outside and big on the inside
Hyundai i10 Extra length gives passengers more room, but not as easy to park in tight spaces
Ford Ka Good to drive and often heavily discounted, the Ka is also a looker
Kia Picanto The Picanto is affordable and well equipped