Toyota Avensis 2.0 VVT-i T3-X review
As reliable as they come
January 2005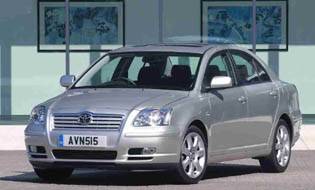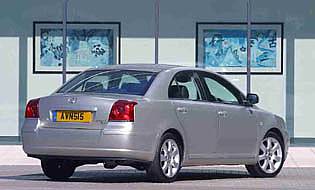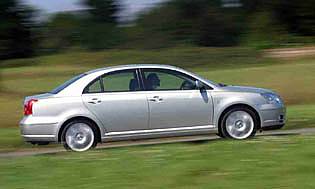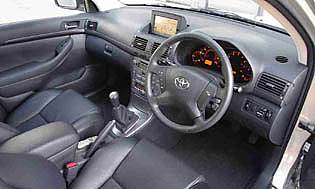 Overall rating

Likes:
As reliable as they come
Comprehensive safety package
Low-for-class running costs and insurance
Premium build quality throughout
Gripes:
Bonnet bulge, oversized grille look contrived
Awful TV adverts give mixed message
Mismatching of some interior plastics
Lacks any sense of driver involvement
Designed and engineered in Europe rather than Japan, and built at the Burnaston factory near Derby, Toyota has made a concerted effort to shake off accusations that the Avensis name represents a product that is capable and reliable but rather dull.
It's hard to imagine many other carmakers viewing a reputation for reliability as anything other than a ringing endorsement, but Toyota was clearly rankled by comparisons between its products and the sort of gadgets you find in your kitchen. So the Avensis' brief is to be bought with at least a portion of heart as well as head.
Quite whether anyone could describe the latest Avensis as exciting is debatable, but it is certainly intriguing and a worthy contender in a segment that includes the Ford Mondeo, Vauxhall Vectra and Honda Accord. The saloon variant tested here looks slightly classier than the hatchback but drives in just the same way.
Taking a distinctly Lexus-like approach to quality control, the Avensis is built to impressively high standards with all exterior panels and interior fittings exhibiting nigh-on perfect alignment. Where it matters (dash, steering wheel and seats), some high-class materials are used, though look in more inaccessible areas under the seats and deep into the footwell and you'll discover that there are a few cost-saving ones as well.
On the road the Avensis is smooth, quiet and refined. There's nothing much to interest a keen driver, but shut your eyes (preferably not while in motion) and it's easy to imagine you are riding in an executive motor costing far more. And yet the most expensive Avensis there is, loaded with kit, costs roughly the same amount as the cheapest, most basic Audi A6. The A6 is a great car, but the Avensis is a great buy.
No summary of the Avensis can be given without mentioning reliability, if only because it remains amazing how far ahead or other manufacturers Toyota manages to remain. If hassle-free motoring is your main desire – and next time you're stuck on the hard shoulder, rest assured it will be – then Toyota is still the natural choice. On an extended test in all manner of conditions, the Avensis didn't even think about going wrong.
Our verdict on the Toyota Avensis 2.0 VVT-i T3-X
All the Avensis' old virtues remain in place. The looks may not be quite as appealing as the designers might have hoped, but this is a very well made car at an attractive price with some fine 'real world' engines available. For peace of mind, it cannot be bettered.
---
Costs
Running an Avensis doesn't cost much. As well as the assumed reliability, its insurance groupings are low for a car of this size thanks to top-notch safety and security ratings. Some clever engineering means that in the event of a minor accident, the car 'sacrifices' some of its cheaper components in order to protect the more expensive ones such as headlights, keeping repair bills down. Choosing diesel power adds extra economy, though the petrol units also stretch the miles out well.
Space and practicality
A quick flick of the tape measure reveals that the Avensis is slightly smaller than many of its direct competitors, though it doesn't really feel it. Storage spaces have damped lids and push-open features to give a premium feel, but once inside can reveal some cheap plastics. The large lid on the rear console box doubles as an armrest, though it does exhibit a little wobble – perhaps the one example it is possible to name of poor build. Another storage box, with push-open door, is located in the centre dashboard console. On saloon versions the rear seats only split-fold 60/40 on T3-X grades and higher. Others have a simple bench arrangement. Tourer estate models are far more flexible.
Controls and display
Instruments are nicely laid out as a whole, but individually their design is dull. Nightime illumination and steering column stalks are still done better by German marques and Japanese rivals such as Honda. Some of the minor switches such as the ones operating electric mirrors and child locks use inferior plastics. It's all perfectly presentable but nothing to elicit oohs and aahs of satisfaction.
Comfort
Progress is exceptionally quiet thanks to some clever soundproofing and damping, which further adds to the car's premium feel. All models in the Avensis range are equipped with a height and reach-adjustable steering wheel. Seats provide good support to the back but are less effective laterally. The driver's seat height can be manually adjusted on all models, allowing even very short drivers to get comfortable. Power seats are fitted as standard on the T Spirit grade with 10-way adjustment, including lumbar control, for the driver's seat and four-way adjustment for the front passenger seat.
Car security
Another fine package. The theft-deterrent system operates when anybody attempts to enter the vehicle forcibly or open the bonnet. It is also activated if the battery terminals are removed and reconnected. An intrusion sensor has been fitted in the overhead console. The fuel flap opener is electrically operated with the switch located in the driver's door to save you scrabbling around on the floor. Independent tests rate the Avensis' security very highly indeed.
Car safety
Where it really matters, the Avensis scores highly. At launch it achieved the highest ever EuroNCAP crashworthiness rating, and it's not hard to see why. All models equipped with nine airbags as standard, including a driver's knee airbag, ABS and Electronic Brakeforce Distribution (EBD), Isofix child seat anchors with top tether, Vehicle Stability Control (VSC), Traction Control (TRC) and Brake Assist (BA).
Driver appeal
Less fun to drive than a Mondeo or Vectra, the Avensis's strength lies in its reassuring predictability, not any ability to surprise and involve the driver. It's not quick – even the most powerful 2.4-litre model takes more than nine seconds to reach 60mph. Ride is too soft to allow the chassis to give much feedback to the driver, but most owners will prefer the extra comfort this creates.
Family car appeal
With a hatchback and an estate also on offer, the saloon is probably the least family-friendly of the existing Avensis models. That's not to say it couldn't do a perfectly good job as a business car during the week and a family taxi at weekends – after all, a large number of Avensis models will eventually find their way onto real taxi ranks thanks to their never say die engineering and comfort.
First car appeal
It would be a rare novice indeed who would nominate an Avensis as his or her first car. They're probably right as the excellent Yaris and Corolla offer the same reassuring ride in a more compact form.
Quality and image
Here lies the rub. The Avensis' design and unquestionable quality have raised opinions of the name to some extent, though this has not been helped by one of the most irritating TV advertising campaigns of recent years which seems to suggest it is a car to make you respected by snobs, yuppies and social climbers. Fleet drivers should not be disappointed if they are issued with an Avensis, as it is at least a bit more distinctive than the usual repmobiles.
Accessibility
Doors are quite heavy, but some very springy hinges stop this becoming a problem. They certainly close with a satisfying 'thunk'. The boot lid feels considerably less solid. Entrance and egress are helped by what is quite a high roofline for a saloon car.
Stereo and ICE (In car entertainment)
The decent eight-speaker audio system in the Avensis combines the radio, cassette and CD player functions into one standard-sized unit. The large switches chunky design don't look good, but they make operating the audio system easy. Wheel-mounted controls are operated by curious little dimples that may exhibit signs of wear over a period of years. A very advanced but very expensive option is an entertainment system with two five-inch LCD screens set into the back of the front seat headrests. Each works independently, so one can be set up for gaming while the other plays a DVD. The package also includes two sets of infrared stereo headphones, and is only available if factory fitted.
Colours and trim
T2 models possess all the important safety features but lack a fair number of the comfort features available at T3 grade and above such as dual-zone air conditioning, anti-glare mirror and rain sensor. That said, they still have electric windows and mirrors and basic air conditioning. Beware some of the more unusual exterior colours on offer – as well as making the car look heavy, they will have an adverse effect when it is time to sell. It's no coincidence that all Toyota's promotional material features a silver Avensis, which is clearly the safest, most flattering choice.
Parking
Steering gets helpfully light at low speeds, which aids parking. Short front and rear overhangs, plus the bulge in the bonnet help the driver judge distances, though the substantial front and rear pillars are a hindrance. Smaller than some rivals, parking is not unduly problematic.
Spare wheel
A full size steel spare is provided as standard.
Range information
Three petrol engines – 1.8-litre (127bhp), 2.0-litre (145bhp) and flagship 2.4-litre (161bhp). In addition there's a diesel, the 2.0 D4-D (114bhp). Available transmissions are a default five-speed manual, plus four-speed and five-speed automatics as options, according to the exact model selected. The Avensis is available in five specification grades – T2, T3-S, T3-X, T4 and T Spirit.
---
Alternative cars
Ford Mondeo Ubiquitous, though still fun to drive
Vauxhall Vectra Like Avensis no looker but underrated
Honda Accord Lovely interior and a great diesel unit
Mazda 6 Handling and power offer hint of excitement