2.0 D-4D Saloon review
Quiet cruiser at motorway speeds
December 2011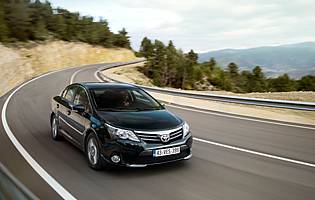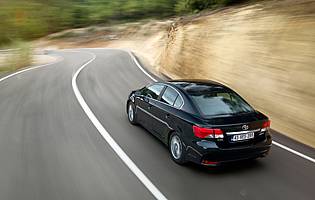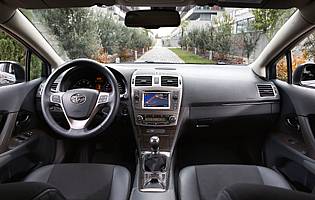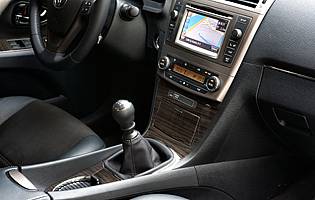 Overall rating

Likes:
Quiet cruiser at motorway speeds
High quality interior materials
Excellent seats offer lots of cruising comfort
Impressive list of standard equipment
Gripes:
Engine sometimes lacks power to match its more sporty rivals
Not a car for enthusiastic drivers
Can struggle over large surface imperfections
Touch-screen sat-nav requires a steady hand to operate when on the move
As it chases after fleet sales, Toyota has revised its Avensis to include a more efficient engine for lower ownership costs, especially for company car drivers. The styling has also been sharpened up and several changes have been made to the chassis to try to improve the driving dynamics; never the Avensis' strongest suit.
Key to the revised Avensis is an improved version of the 2.0-litre D-4D diesel engine, which in previous generations has taken up about two thirds of the model's overall sales. Company cars make up a big proportion of the Avensis' sales, and this model's lowered CO2 output helps make it much cheaper to own that the old one thanks to a much lower Benefit-in-Kind cost and improved fuel economy.
A smaller, more efficient turbocharger combines with faster warm-up from cold starts, more effective lubrication and several other minor alterations to make the Avensis a much more efficient package overall and it's quieter than before. The engine is less powerful than some other mid-range diesels, shown by its performance figures, but this fits with the car's understated character.
The car's seats are well suited to long-distance cruising. They are long under your thigh and carefully shaped at your back, with just the right firmness of padding. They are generously sized and the vast majority of people will never feel cramped. Rear seat comfort is impressive too, with ample legroom and shoulder room. It isn't wide enough to allow three adults to sit comfortably in the back, but two should be more than happy.
Despite claims of many improvements to the chassis and driving dynamics, this Avensis remains a conservative car to drive. Where this car really shines is in the standard equipment that it offers. A huge list of impressive luxury kit is standard even on mid-range models, including touch-screen satellite navigation, adds an increased sense of appeal for company car drivers.
Our verdict on the Toyota Avensis 2.0 D-4D Saloon
While this generation of Avensis has witnessed a relatively minor evolution from the last, the financial implications of the modifications are rather larger. Combined with slightly improved and very pleasing interior quality, a quiet cruising ability and a thoroughly impressive amount of equipment, it's often quite easy to overlook the lacklustre engine and uninspiring drive. As a motorway cruiser it represents first-rate value for money.