January 2010
Suzuki SX4 1.6 SZ4
Clever blend of urban agility and good road manners
January 2010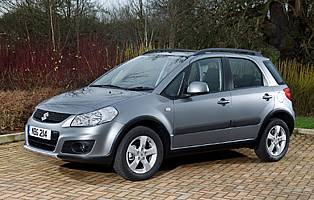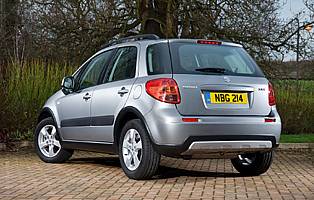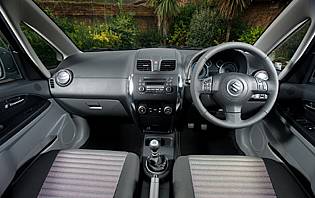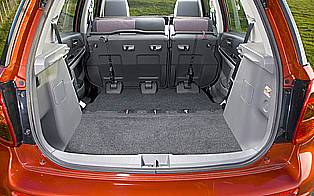 Overall rating

Likes:
Raised driving position aids visibility
Refined 1.6 petrol engine is a willing performer
Cabin is well built and accommodating for a car in this class
Modest price and low running costs should appeal to buyers on a budget
Gripes:
Cabin might be durable but it lacks design flair
Only petrol model can be had with four-wheel drive
It's now only the badge snobs who are preventing the car from being more successful
Would be nice to see ESP as at least an option
The burgeoning supermini market offers an unsurprisingly predictable type of car. However, in recent times, there's been a small influx of mini 'crossover' vehicles. They look like scaled-down SUVs, but lack the substance to back up their appearance. Suzuki's SX4 is an unusual proposition in that, if you pick the right model, it can walk he walk.
Chunky little cars are a trend that has yet to peak. Skoda's 'Scout' sub brand is a case in point regarding the Roomster, while the Czech firm also sells a full-on mini crossover in the shape of the Yeti. Suzuki's SX4 has been around longer than the Yeti and its 4x4 system is less sophisticated but complements this mud-plugging dreamer perfectly.
The SX4 is another one of those supermini's with a high-rise driving position and raised ride height. It scores well because it's not an expensive proposition. Equipment levels are modest but it's easy to see that durability levels are high both inside and out. The 2010 model benefits from improved refinement and subtle exterior tweaks.
For all the talk about the SX4 being a mini 4x4, it's only one model that has the potential to get you across a muddy field without getting stuck. The flagship model adds a switchable 4x4 system to the mix - fully on, auto and front-drive only. With its elevated ride and willing 1.6 petrol engine, the all-wheel drive SX4 is impressive, and a genuine alternative to the likes of Subaru's Justy and Skoda's Yeti if substance ranks higher than cabin style.
For everyone else, the front-drive SX4 offers pretty much everything an urbanite might want in a compact hatch. Above average visibility from the driver's seat, small footprint, decent levels of cabin and boot space and easy to park attributes should prove attractive. Style-wise the Suzuki's chunky appearance is another plus.
Our verdict on the Suzuki SX4 1.6 SZ4
The mid-life improvements to the SX4 have done much to add some welcome polish, while the overall proposition is a well executed one. Relatively speaking, the SX4 is a mature and refined experience - despite its lifestyle connotations. The cleaner, Euro 5 petrol motor is a great all-rounder and never feels stressed on or off road. In summary, the concept might sound gimmicky but the reality is something much better.
Costs
With its line-up of modest engines and realistic asking prices, the SX4 is not going to deliver any nasty financial surprises. You'll need to do the maths to see whether you can make the diesel variant pay, otherwise the petrol model is reasonably economical. Suzuki's positive should ensure that visits to the dealership are of the scheduled kind.
Space and practicality
With its high roofline and wide cabin, the SX4 has no problems accommodating a full compliment of passengers. Oddment storage space is reasonable, although for a vehicle pitched as a 'lifestyle' model, more space would be appreciated. That said, the car's split-fold rear seats and good size boot place it favourably alongside conventional hatchback alternatives.
Controls and display
The SX4 is a simple and straightforward car and its controls and displays reflect this. The main dials are easy to read, while the audio unit - mounted high up on the fascia - proves intuitive to use. In SZ5 trim ,complete with all-wheel drive mode, the selector switch is located down near the handbrake and the corresponding instrument status display makes it easy to know what mode you're in at a particular time.
Comfort
Firm, supportive seats, a wide cabin, raised driving position and high roofline all add up to a pleasant cabin ambience. Road and wind noise has been kept to a minimum, while diesel and petrol engines benefit from increased focus on noise suppression.
Car security
The SX4 is no Ferrari so don't expect Fort Knox levels of security. As such, the little Suzuki's list of kit stretches to an immobiliser and remote central locking. If you want extra peace of mind, a visible deterrent such as a steering lock would be a sensible yet modest investment.
Car safety
All the basics are covered here as regards to anti-lock brakes and airbags. There is, of course, the four-wheel drive option to consider as a useful safety tool, although ESP isn't part of the SX4's equipment list.
Driver appeal
On the road the SX4 is a well mannered compact hatch. Refinement and handling qualities are up there with its European counterparts, and the weighty steering ensures you know exactly what's going on. The volume-selling 1.6-litre petrol engine is willing and capable, while the part-time four-wheel drive options adds a convenient level all-weather versatility without any obvious compromise.
Family car appeal
For anyone with a new family and a modest budget, the SX4 should be on your shopping list. Its rugged looks, durable cabin, affordable price tag and running costs should endear it to active types on a budget.
First car appeal
There's little doubt that the SX4 would make a solid first car. It's easy to drive, visibility from inside the cabin is good and the car's modest performance should ensure sensible running costs and insurance premiums.
Quality and image
This 2010 refresh of the SX4 boasts a general upgrade in the quality department: fascia, ride, cabin noise reduction. All is welcome and helps elevate the car's standing in the crowded supermini sector. Image-wise Suzuki has lagged behind the mainstream opposition, if only thanks to the actions of a few vocal badge snobs.
Accessibility
This five-door variant offers front seat passengers easy cabin access and egress. The raised seating position is also helpful and welcome. Despite the smaller rear door opening, access is rarely an issue. At the rear the car's tailgate requires little effort to raise and lower.
Stereo and ICE (In car entertainment)
There's no fancy audio unit here, but what you do get is perfectly acceptable by current standards. A six-speaker system provides the sounds, while a combined radio and CD player are the main sources. Remote controls on the steering wheel are welcome additions.
Colours and trim
Fortunately the SX4 isn't a colour sensitive design, and can be confidently picked in either the bold, bright colour options or the more subdued darker hues on offer. Inside the bias is very much towards the grey and black end of the scale, but the impression of quality is high.
Parking
Being a small car, parking is rarely a chore with the SX4. There's a reassuring beep when reverse is engaged, while the over-the-shoulder view rearwards is good. The slightly raised driving position is also helpful, while the car's steering provides plenty of assistance at low speeds.
Spare wheel
Space saver fitted as standard.
Range information
Petrol engine options - 1.6-litre (120bhp). Diesel engine options - 1.6-litre (90bhp). Transmission options: five manual gearbox plus four-speed auto for 1.6 petrol model. Trim levels: SZ3, SZ4 and SZ5. Latter is reserved for petrol all-wheel drive variant.
Alternative cars
Fiat Panda Rugged 4x4 model is capable on and off road for a bargain price
Skoda Yeti Premium choice here - reflected in price - but impressive all-rounder
Citroen Nemo No 4x4 option but another competent mini MPV model to consider
Vauxhall Agila Front-drive Agila lacks SX4's adventurous streak but boasts acres of cabin space