March 2005
Suzuki Swift 1.5 GLX
Progress in the Swift isn't particularly rapid
March 2005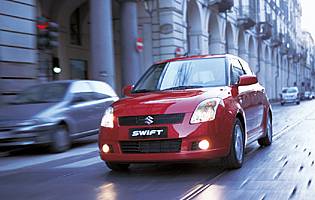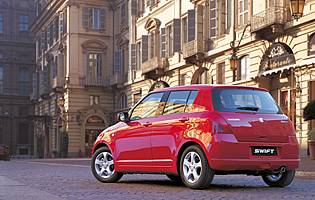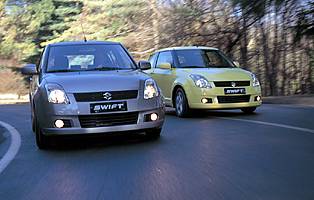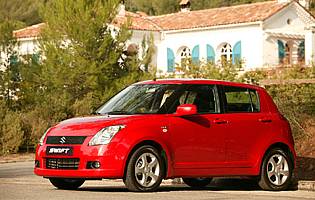 Overall rating

Likes:
Purposeful road stance
Clean, modern design inside and out
Mechanically robust
GTI a loveable rogue
Gripes:
1.5 petrol engine lacks punch
Steering too light at speed
Some cheap cabin plastics
Too expensive to be compelling
After specializing in the cheap and the cheerful for years, Suzuki's 2005 Swift represents a step up in quality, establishing a model that is intended to do battle with the Toyota Yaris, Ford Fiesta and Vauxhall Corsa on an equal footing.
Clever styling makes the Swift instantly likeable. Suzuki's designers have done an excellent job of appropriating some of the most attractive elements from other car designs and fitting them together into a coherent whole. The overall shape is similar to the MINI and the front headlights look like they've been pinched from a Nissan 350Z but the Swift has a definite character of its own.
A wide stance with pronounced wheel arches as close to the four corners of the car as possible gives a surprisingly muscular appearance even to entry-level models, while the GTI version based on the World Rally Car is likely to become a hit with petrolheads.
Inside, one is again reminded of the all-conquering MINI. Front seat passengers have lots of room, but it's more of a squeeze in the back and boot space is no better than acceptable. All is pleasantly presented though, with an unfussy cabin layout, sober colours and generally good quality materials used. Only some cheap plastics let it down.
The Swift's rise in quality entails a rise in prices, too. Whereas the last car to carry the Swift badge was temporarily the cheapest new car you could buy, the Swift is not an out-and-out bargain. A Fiat Panda with the same diesel engine can be had for much less, while the similar Daihatsu Sirion also undercuts it by a good margin.
Our verdict on the Suzuki Swift 1.5 GLX
Looked at as a poor man's MINI, the Swift makes a certain sense. It's cheap to run, feels mechanically robust and can be fun to drive when pushed. Negotiate a few pounds off the list price and it becomes a viable alternative to the usual supermini suspects.
Costs
All Suzukis are traditionally cheap to run, and the Swift should not be an exception. Mechanically it seems strong and simple enough to ensure that major remedial work should not be required during its lifetime. However, this Swift does not undercut the opposition significantly, so buyers will have plenty of other alternatives to choose from and will need to actively decide to get a Swift instead of buying it because it's cheap. Suzuki is bullish about the prospects for resale values, but the firm's residuals are traditionally among the weakest, so the case remains unproven.
Space and practicality
As a tool for getting one or two people and a bag of shopping from A to B, the Swift fulfils the brief admirably. It's no load lugger though, with a boot that will swallow a suitcase but little more besides. 60/40 split rear seat backs add a bit of extra flexibility. Given the limitations of the engines' pulling power, loading the Swift to the roofline is not recommended. A storage tray under the front passenger seat is particularly useful.
Controls and display
Again, Suzuki's designers have done the business. Displays are a model of clarity, with large black-on-white dials providing the focal point. The central stereo and air conditioning controls are reminiscent of those in the latest Ford Focus. It's just a shame some of the buttons are made from a cold, thin plastic while others such as the air vents have a much more tactile rubberized finish. The steering wheel sits nicely in the hands even though it does not adjust for angle.
Comfort
Suzuki deserves credit for the seats, which are tremendously supportive. They would enhance many a more expensive vehicle. Head and legroom is not in short supply. The Swift does feel like a quality machine, almost entirely suppressing road and wind noise. There is none of the vibration through the cabin or transmission that characterized some past Suzukis.
Car security
Making a more attractive Swift means thieves are likely to look twice at it for the first time. Security equipment includes an immobiliser, deadlocks and a visible VIN but there's no alarm as standard. Owners might like to consider fitting one.
Car safety
Keen to discontinue the assumption that its cars will fold like a pack of cards in the event of a collision, Suzuki has put a decent safety package together consisting of driver and passenger airbags, side curtain airbags and ABS with EBD. Though not class leading, the Swift's crash test scores are comparable with its key rivals.
Driver appeal
Given its pugnacious appearance, the Swift's actual on-road behaviour is a little disappointing. There's nothing wrong with it, but it fails to surprise let alone delight. The 1.5-litre petrol engine feels smaller than it is, offering little more than the 'lesser' 1.3. Both units seem to struggle when pulling away but are happy at cruising speed. The diesel option pulls away more sharply but is less settled and noisier above 50mph.
Family car appeal
Too small in the back for constant family use, the Swift could serve as a handy second car in support of a larger people carrier or estate perhaps. Suzuki fans might like to pair it up with the seven-seater Grand Vitara 4x4, a combination that would provide plenty of fun.
First car appeal
A Swift would make a fine first car. It has a degree of street-cred thanks to its fresh-faced design and its modest performance will help the novice driver avoid getting into trouble while he or she learns the rules of roadcraft. Counting against it is the list price. Most potential buyers would be likely to favour a slightly smaller but far cheaper car such as the Fiat Panda, Kia Picanto, Daihatsu Charade or Suzuki's own Alto.
Quality and image
The old Suzuki Swift - GTI model aside - was viewed very much as a car for people who wanted to spend as little as possible on motoring. As such it was frequently purchased by mature folk making short, infrequent journeys, which didn't exactly give it a 'cutting edge' reputation. It comes as no surprise that the new Swift is aimed at a younger clientele. With its clever styling and solid road manners it appeals, but the Suzuki badge remains associated with bargain prices. The Swift is not bargain priced, so it remains to be seen whether buyers will be willing to switch from other brands.
Accessibility
Front seat passengers should encounter few problems getting into and out of the Swift, even though the doors open to somewhat less than a 90-degree angle. Rear seat passengers fare worse. The rear doors have a very narrow base and are an awkward triangular shape, making them unsuitable for elderly or disabled passengers. The boot opens sweetly and simply thanks to an electromagnetic catch.
Stereo and ICE (In car entertainment)
All models get a Radio/CD with a six-speaker stereo system - a pretty generous allowance. It gives good sound quality and is let down only by the cheap feeling audio control knob, constructed of brittle plastic.
Colours and trim
The Swift's design is strong enough to enable it to wear as gaudy a paint job as you like, but of the test cars driven, red was a clear favourite. Sober silver is fine but robs the car of some of its punchy character. GL cars don't miss out on much compared to the GLX models, the most notable items being keyless entry, air conditioning, alloy wheels and front fog lamps. Only air con could be viewed as a major loss.
Parking
At its best on crowded urban streets, parking the Swift is pretty straightforward. The power steering offers plenty of assistance and the Swift's regular proportions make it easy to place once you have become familiar with the vehicle. That said, the downward curve of the bonnet means the driver cannot actually see the front of the car. Despite being small, the rear window affords a good view.
Spare wheel
A steel space saver spare wheel is provided as standard.
Range information
Swifts are designated as either entry-level GL or higher-spec GLX and both three-door and five-door variants are available. The engine range consists of 1.3 petrol (91bhp), 1.5 petrol (100bhp) and 1.3 DDiS diesel (68bhp).Five-speed manual transmission by default with five speed automated manual available on 1.3 petrol models and a four-speed fully automatic gearbox available on 1.5 models. Diesels are manual only.
Alternative cars
Ford Fiesta Predictable yet capable choice
Daihatsu Sirion Small engines no handicap and keenly priced
Kia Picanto For value for money, look no further
MINI One Great residuals generally worth extra outlay