November 2009
Suzuki Swift 1.3 SL-Z
Curvaceous Swift presents a warm and friendly face to the world
November 2009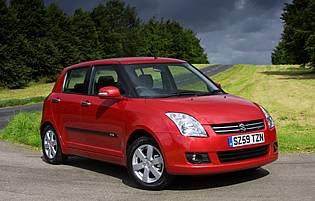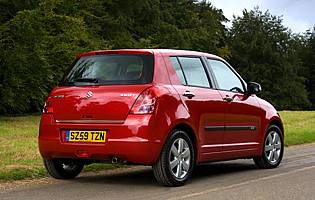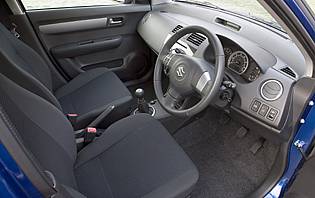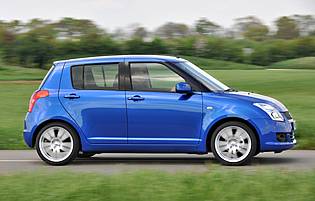 Overall rating

Likes:
Bold styling is attractive and refreshing
Well built cabin uses good quality materials
Mechanically refined and good fun to drive
Durable and reliable reputation from Suzuki
Gripes:
Petrol engines can be noisy at high speed
Brand image is low relative to European rivals
Although durable, cabin design lacks flair
Priced very close to more established models
Since its launch Suzuki's Swift has done wonders for the car maker's image. After specialising in the cheap and the cheerful for years, the Swift proved that Suzuki was capable of much more. And with its ability to battle with the likes of the Toyota Yaris, Ford Fiesta and Vauxhall Corsa, the Swift has proven the cynics wrong.
Suzuki's designers have done an excellent job of styling the Swift. The overall shape is similar to the Mini and the front headlights look like they've been pinched from a Nissan 350Z, but it's also fair to say that the Swift has a definite character of its own.
With its wide stance with pronounced wheel arches, the Swift is far removed from the conservatively-styled Far Eastern cars of old. Clearly aimed at the youthful end of the market, Suzuki is keen to attract a new generation of buyers who have little knowledge or interest in traditional brands and their sometimes stuffy image.
Inside, front seat passengers have lots of room and there's a surprising amount in the back, and boot space is as you would expect for a car of this size: modest. Everything is pleasantly presented though, and the unfussy cabin layout and sober colours are a refreshing alternative to the ""me too"" efforts of the Mini copycat artists.
Suzuki might still struggle to match the high-end European car makers in terms of actual and perceived luxury, at this level the Swift is more than up to the task. If you're seeking at least a modicum of creature comforts, the flagship Swift offers electric mirrors and windows, a high quality audio unit plus European levels of passive and active safety equipment.
Our verdict on the Suzuki Swift 1.3 SL-Z
It's clear that the Swift is not a car you should dismiss in a hurry. Build quality and refinement are on a par with the established European opposition, while performance is no less impressive. The spacious hatch offers enough room for a quartet of adults, although the boot is modest. Offering a genuinely competent alternative choice, it's only the badge snobs who will stumble at taking the plunge - which will be their loss.
Costs
In 1.3-litre guise the Swift isn't going to break the bank. Chances are you won't be travelling the globe in the Swift as it's just not that kind of car, which means fuel consumption and servicing costs will be modest. The same will be true of insurance as a reflection of the car's modest image and performance.
Space and practicality
It's no load-lugger but with a boot that will swallow a suitcase and a little more besides plus the 60/40 split rear seat, the Swift is more flexible than you might think. And the cabin isn't bad, either. There's plenty of room up front, while those in the back benefit from a decent amount of legroom.
Controls and display
The Swift is a pretty basic car by modern standards, which means its various controls and displays are pleasingly straightforward. Everything operates with a European car level of quality, while the high mounted audio unit's controls and display are easy to use.
Comfort
The Swift's wide cabin ensures that adults won't be rubbing elbows. The car's seats are supportive without feeling hard, and road and tyre noise is low when travelling at urban speeds. This, and engine noise, does pick up on the motorway, although it's still possible to hold a civilised conversation.
Car security
There's noting to complain about here as the Swift boasts remote central locking and an immobiliser - pretty much par for the course for a car of the standing. The built-in audio unit is a good anti-theft deterrent also, while you can pay extra for a dealer-fit alarm option.
Car safety
While it would be foolish to expect Volkswagen levels of safety kit, Suzuki has covered all the bases with the Swift. There are enough airbags to keep most people happy - twin front and side - while ABS but not ESP is also present.
Driver appeal
Leaving the slightly more racy Sport variant to one side, the regular Swift models prove easy to drive in everyday situations. The steering is light but accurate, while the brakes, manual gearshift and minor controls require little effort to operate. Ride quality is also good; pleasingly supple around town and stable at speed. The featured 1.3 petrol engine is no powerhouse but does allow stress-free motorway cruising.
Family car appeal
It might be a five-door hatchback but don't expect the Swift to be the consummate family holdall. For anyone with a new arrival the Swift will be a fine choice, but you'll quickly outgrow it as you family grows up - you'll struggle to fit a pushchair in the car's boot.
First car appeal
With its low cost credentials the Swift would make an excellent first choice for anyone seeking something more than a stripped out city car. Easy to drive and park, plus boasting good levels of visibility, running costs are unlikely to break the bank.
Quality and image
The success of the Swift has done much to boost Suzuki's brand image. No longer a lowly, odd-ball budget brand, it's become a genuine alternative to compact cars and small 4x4s from the European players. The Swift might not be up to Volkswagen standards, but it's well put together and there's no visual hint of any compromise.
Accessibility
In five-door form front seat occupants should have no trouble getting in or out. The car's front door open wide and the raised seating positions are appreciated. At the rear there's little in the way of a compromise; the doors don't open quite as wide as the fronts but an agile adult shouldn't have a problem.
Stereo and ICE (In car entertainment)
There's little cause for complaint here as all models get a radio/CD unit - a pretty generous allowance given the car's modest status. Sound quality is good by comparative standards, and the unit is easy to use. Anyone looking for sat-nav or a phone connection will have to seek out a third party solution.
Colours and trim
The Swift's youthful appearance ensures that bold, bright colours flatter the car's looks. It also looks good in dark, sombre colours, which makes it equally attractive to the more mature buyer. Inside the theme is more predictable; the dark cabin plastics look durable but lack the exterior's sparkle.
Parking
With its compact dimensions, the Swift is an easy car to park and manoeuvre at low speeds. The car's power steering offers plenty of assistance, although the downward curve of the bonnet means the driver cannot actually see the front of the car. Despite being small, the rear window affords a good view.
Spare wheel
A steel space saver spare wheel is provided as standard.
Range information
Petrol engine options - 1.3-litre (92bhp); 1.5-litre (101bhp); 1.6-litre (125bhp). Diesel engine options - 1.3-litre (69bhp). Transmission options: five-speed manual transmission as standard, with four-speed automatic gearbox for 1.5-litre variant. Trim levels: GL, SL-Z, GLX, Sport.
Alternative cars
Ford Fiesta Top marks for driver enjoyment - attractive too
Kia Picanto Good looking supermini boasts low running costs
Mini First In First guise offers good residuals and the car's solid feel are worth the expense
Peugeot 207 Conventional hatch is a polished performer