August 2013
Suzuki Swift 1.2 SZ4 4x4 5dr
Modest ride height increase is one way of singling Swift 4x4 out from the crowd
August 2013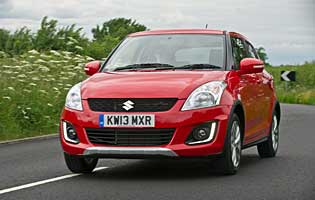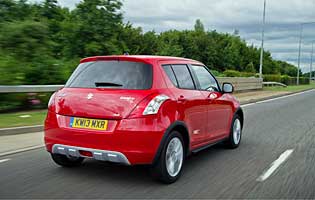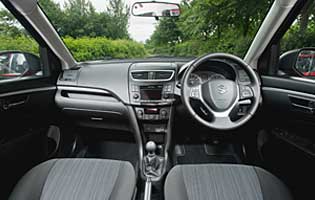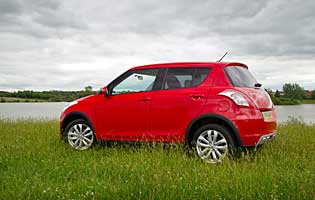 Overall rating

Likes:
Low cost entry into 4x4 motoring
Clean, modern design inside and out
Refined and accommodating cabin
Engaging to drive
Gripes:
1.2 petrol engine sole option for 4x4 variant
Steering too light at speed
Some cabin plastics lack polish
At the top end of Swift range affordability
This iteration of the Swift has been a staple of Suzuki range for some time. It's also generated a considerable amount of goodwill for, rightly, offering value for money alongside good looks and ease of use. Until now, if you needed all'wheel drive you'd have to look elsewhere. Not anymore, thanks to a low cost 4x4 variant.
Suzuki's designers have done an excellent job of appropriating some of the most attractive elements from other car designs and fitting them together into a coherent whole. The overall shape is similar to the Mini and the front headlights look like they've been pinched from a Nissan 350Z but the Swift has a definite character of its own.
Inside, front seat passengers have lots of room, but it's more of a squeeze in the back and boot space is acceptable. All is pleasantly presented though, with an unfussy cabin layout, sober colours and generally good quality materials used.
The main attraction here is the 4x4 variant, which should appeal to rural dwellers on a budget, or those who don't need a conventional SUV to get around in. With power from a 1.2-litre petrol engine, performance is modest but more than acceptable for light duties.
Ride height has been raised slightly but don't think this Swift is capable of scaling mountains or rivaling Fiat's more rugged Panda 4x4. No, this Swift is more of an all-weather supermini than automotive mountain goat. The 4x4 system adds a little extra weight and fuel economy takes a modest hit - a small price to pay for total traction motoring on a budget.
Our verdict on the Suzuki Swift 1.2 SZ4 4x4 5dr
Supermini-style off-roaders are very much a niche concern. If you're on a budget choice is limited but Suzuki's Swift offers all the creature comforts associated with a conventional supermini, plus the added bonus of all-weather traction during, say, the winter months. The trade-off is a modest reduction in fuel economy and a slight weight penalty. The upside is the peace of mind when out in heavy rain or tackling muddy or snowing conditions - something countryside residents will likely appreciate.
Costs
Historically, all small Suzukis have been cheap to run, and the Swift should not be an exception. With only one petrol option for the 4x4 Swift, it's really focused on short journeys - diesel would be a safer bet if you rack up the miles. That said, it'll not break the bank and is unlikely to require any more than simple routine maintenance. A high spec and low tax and insurance should also prove attractive.
Space and practicality
Just like its two-wheel drive cousins, this all-wheel drive Swift is a great tool for getting one or two people and a bag of shopping from A to B. It's no load lugger though, with a boot that will swallow a suitcase but little more besides although the 60/40 split rear seat add a bit of extra flexibility. Oddment storage space in the cabin is good for a car of this size.
Controls and display
Displays are a model of clarity, with large dials providing the focal point. The central stereo and air conditioning controls are equally straightforward. It's just a shame some of the controls are made from low'grade materials that don't always feel good to touch. The steering wheel sits nicely in the hands and boasts some useful supplementary controls.
Comfort
For all the car's low cost connotations, Suzuki deserves credit for the Swift's seats, which are tremendously supportive. Up front head and legroom is not in short supply. The Swift does feel like a quality machine, almost entirely suppressing road and wind noise.
Car security
Remote locking and an immobiliser system should keep your pride and joy safe. In truth you can't expect too much at this price point and it's not as if the Swift is as high-prized in the same vein as an expensive SUV. If you're at all concerned, a physical steering lock is always a good secondary deterrent.
Car safety
Suzuki's products are right up there with the best from the traditional European car makers. Plenty of airbags plus the usual assortment of electronic systems should ensure you're kept safe from harm. And that's without considering the car's unobtrusive 4x4 system, which offers ample grip and security when conditions underfoot are challenging.
Driver appeal
In 4x4 guise the 1.2-litre petrol Swift isn't terribly rapid but is refined so long as you don't push the car too hard. Its main appeal is the ability to grip better than your average supermini in adverse conditions - something rural dwellers on a budget should find attractive. Despite the raised ride height comfort on the move is good and the Swift is a jolly car to drive at a modest pace. Crucially it grips well under slippery conditions without the need for driver intervention.
Family car appeal
In reality the Swift could serve as a handy second car in support of a larger people carrier or estate but it's unlikely to be a satisfactory first car choice. Suzuki fans might like to pair it up with a Grand Vitara if extra space and rip is required.
First car appeal
There's no reason why this Swift can't be viewed as a sound first car for a novice driver. The extra security of its 4x4 system aside, it's an easy and rewarding car to drive and visibility is good from the slightly elevated driving position. Running costs should be reasonable, too.
Quality and image
It should come as no surprise that the Swift is aimed at a younger clientele than in the past. With its clever styling and solid road manners it offers a broad appeal, although for some the Suzuki badge remains associated with bargain prices. However, in 4x4 guise the Swift taps into the rural buying community that would have previously opted for a Jimny or rival product.
Accessibility
It's unlikely that front seat passengers will encounter any problems getting into and out of the Swift, even though the doors open to somewhat less than a 90-degree angle. The rear doors have a very narrow base and are a little awkward in comparison, making the rear mainly the preserve of children or especially agile adults. In contrast the he boot opens easily thanks to an electromagnetic catch.
Stereo and ICE (In car entertainment)
All models get a Radio/CD boasting a good quality output irrespective of the source. The various controls are easy to use and the display offers plenty of information. Bluetooth and an MP3 player input complete the picture.
Colours and trim
Sober colours are fine but rob the car of some of its punchy character, making the choice of brighter shades recommended. The extra external trim available on the 4x4 model helps ensure it stands out in a crowd. Inside there's the familiar Swift cabin complete with lots of dark plastics.
Parking
Parking the Swift is straightforward. The power steering offers plenty of assistance and the car's regular proportions make it easy to place once you have become familiar with the vehicle. That said, the downward curve of the bonnet means the driver cannot see the front of the car. Despite being small, the rear window affords a good view.
Spare wheel
A space saver spare wheel is provided as standard.
Range information
Petrol engine options - 1.2-litre (94bhp); 1.6-litre (136bhp). Diesel engine options - 1.3-litre (75bhp). Transmission options: five and six-speed manual, four-speed automatic. Trim levels: SZ2, SZ3, SZ4, Sport.
Alternative cars
Fiat Panda In 4x4 guise it's an impressive, and rugged, performer
Renault Captur Modest performance but mini SUV looks
Skoda Yeti A popular choice but can't match the Swift for value for money
Mini Countryman More expensive but, predictably, a much more polished experience