October 2010
SsangYong Korando 2.0d 4WD
Ssangyong plays safe with Korando's conservative looks
October 2010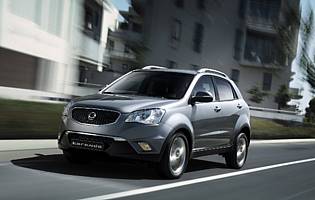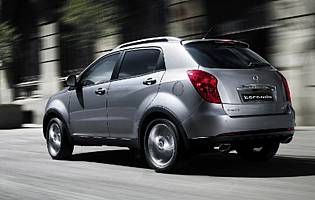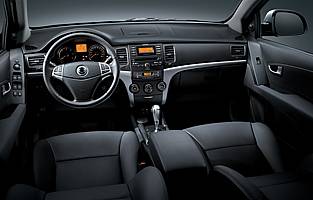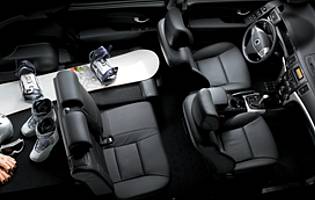 Overall rating

Likes:
Huge step forward for Ssangyong in terms of performance and quality
A more than capable off-roader for those who need this feature
Durable cabin should easily take knocks and scuffs in its stride
All-new diesel engine is smooth, refined and willing
Gripes:
Conservative exterior styling is a little disappointing
Unusual gearing means the gap between second and third can prove awkward
Badge snobs will still need a lot of convincing
Cabin quality is behind that of European rivals
After a prolonged period of industrial uncertainty, Ssangyong's re-entry into the market with the all-new Korando is something of a landmark for the company. Previously famous for less than cutting edge SUVs, with the Korando it aims to challenge the established European players.
At first glance the Korando is unlikely to cause bystanders to stop and stare. Its conservative looks hide a significant change in its maker's approach, though. Having relied on a traditional body-on-frame platform for its older and larger models, Ssangyong has opted for a more modern monocoque body - just like a regular family car.
The result is a compact SUV that's more refined and agile than before. It promises comparable levels of refinement as your average family hatchback but, crucially for Ssangyong, the Korando's off-roading abilities haven't been blunted by this change in direction. Unlike most other 'soft-roaders' the Korando is a genuine 4x4 with a generous towing capacity and a locking transmission.
However, with Ssangyong keen to crack the lifestyle SUV market it's also produced a front-wheel drive version for those who want the looks but don't need an SUV's traditional capabilities. The result is a more economical and affordable variant that's hoped will have widespread appeal.
Challenging the Europeans has also meant that Ssangyong step up engine development. The Korando's 2.0-litre diesel is an all-new, in-house production, and joins an increasing number of sub-160g/km CO2 emitting engines. This target is a crucial one to hit as it opens up the car's availability to company car drivers as well as savvy tax-focused private buyers.
Our verdict on the SsangYong Korando 2.0d 4WD
It's true that the Korando will not cause its European rivals to lose any sleep - yet. The strides made by Ssangyong over its previous models are significant, though. Design, build, quality, refinement and engineering are areas that show real promise, while the diesel engine is a great first effort. For now, though, if you want a compact lifestyle SUV that can actually walk the walk if you need all-wheel drive, the Korando is one of only a few options available. And if that's the case, its durable cabin will be a blessing, not a curse.
Costs
With its competitive asking price and good standard of equipment, the Korando is a car that shouldn't be dismissed. The diesel option should prove economical on and off road, while other running costs are also likely to be modest.
Space and practicality
With its big load area and flexible seating options the Korando certainly lives up to its maker's claims of being a true lifestyle SUV. The cabin is also spacious enough to accommodate a full compliment of adults, while oddment storage is generous.
Controls and display
Ssangyong has come a long way with its Korando, with the result being an obvious uplift in quality and execution. Presenting a more conventional set of controls than previous models, Ssangyong's efforts here are pleasingly clear and intuitive. Everything is where you expect it to be and the lofty position of the audio unit makes its operation straightforward.
Comfort
European cars might have the edge in terms of quality, but overall refinement in the Korando's cabin is good. The supportive seats and low levels of wind and road noise are welcome, while occupant space fore and aft is good.
Car security
There's nothing out of ordinary here, as the Korando comes with the same level of kit as your average European SUV. The remote locking and immobiliser should prove sufficient, although you could always add a steering lock as a visible deterrent for added peace of mind.
Car safety
With the Korando boasting European levels of safety equipment - airbags, electronic stability control - the inclusion of hill decent control and switchable all-wheel drive complete this rounded picture.
Driver appeal
The switch to a car-like chassis has afforded the Korando plenty of car-like traits. More refined and better able to absorb bumps, the driving experience is much closer to that of, say, Nissan's Qashqai. Ssangyong's all-new diesel motor also helps, and proves flexible if occasionally hampered by the car's widely spaced gear ratios. The car's agile nature is evidence of a European-influenced development programme, and a sign that Ssangyong is taking its future seriously.
Family car appeal
If you need something more flexible than a conventional people carrier, something like the Korando could be a smart alternative. Any complaints about the car's workmanlike interior will soon vanish when you're transporting children - its durable materials will prove tough to beat. And there's no questioning the car's ability to swallow all your clobber, either, thanks to its large load bay.
First car appeal
With its easy to drive nature and modest performance, there's no reason why a novice driver wouldn't feel at home. The Korando's lofty driving position is a huge plus, although getting used to its size could take a little time.
Quality and image
With little brand image associated with Ssangyong, the cars can stand for whatever you want them to stand for. The company would like you to think of them as value for money, versatile and rugged in the case of 4x4 variants. However, it's a company that's also keen to match and eventually rival European makers. It might take a while but the signs are encouraging.
Accessibility
The Korando is no different from any other 4x4, as a visit to its cabin requires a step up, making it a stretch for some. Predictably, front seat occupants are afforded marginally better access while the tailgate requires a strong push to close. Due to its lofty stance the rear load space is at a convenient height for shifting heavy items, however.
Stereo and ICE (In car entertainment)
Unlike with previous models, the Korando boasts an attractive built in - not aftermarket - audio unit. The specification is high and overall performance is very good. Auxiliary inputs and Bluetooth connectivity are available.
Colours and trim
To help lift the car's looks, bold and bright exterior colours are recommended. Inside, the general theme is grey plastic, and it covers both the cabin plastics and upholstery. It might look durable but it could feel more welcoming.
Parking
Like with all high-rise SUVs, the view forward out of the Korando is good. The lofty driving position helps enormously, as do the big mirrors. The parking sensors are a welcome addition, but the rear three-quarter view could be better as it's partially obscured by the car's substantial pillars.
Spare wheel
A tyre inflation kit is standard equipment.
Range information
One diesel engine option - 2.0-litre (173bhp). Trim levels: base and premium specification cars offered with two different trim levels plus option of two or four-wheel drive. Six-speed manual gearbox is standard, with a six-speed auto optional.
Alternative cars
Nissan Qashqai Benchmark model in the compact lifestyle sector - an impressive all-rounder
Kia Sportage A genuine alternative to the mainstream European opposition
Hyundai ix35 Very close to the Sportage but has the edge in terms of its bold looks
Ford Kuga Displays a more premium feel than assembled rivals. More expensive, though