September 2007
Smart FourTwo Coupe Pure 71bhp
Second generation ForTwo sports a more mature look
September 2007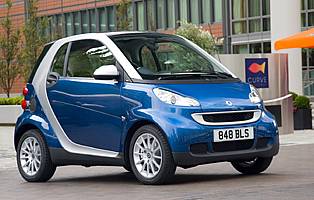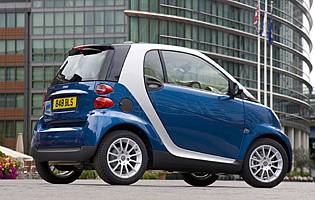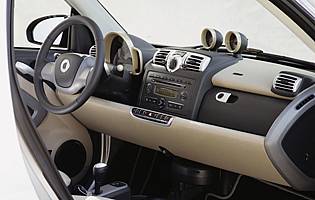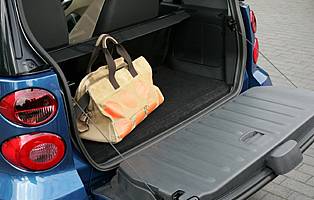 Overall rating

Likes:
Revised styling means exterior is now less toy-like in appearance
Enlarged footprint has translated into more stable handling
Boot is now an acceptable size for a city car
Despite the engine's closeness to the cabin, refinement levels are decent
Gripes:
Steering still requires a considerable amount of effort at high and low speeds
Semi-auto gearbox remains an acquired taste. It's now better but still not perfect
Interior layout is less quirky - some of the car's original appeal has gone
Not universally practical - basic layout remains two-seat only
From a distance you get the impression that nothing has changed, but the closer you get to the second generation ForTwo, the more you realise what Smart has done. A little bigger in all the key areas, the car now boasts a more planted stance. You could say that the car has matured from being a fun, novelty attraction to a genuinely credible city car.
There's no question that the various changes made to the ForTwo concept have resulted in a better car. The extra centimetres here and there have meant greater on-road stability plus a more comfortable experience for the occupants. The increased power from the new 1.0-litre engines, in both turbo and non-turbo guise, is another welcome development.
In general you could say that the ForTwo has matured into a more competent car. Ditching some of its less appealing quirks along the way, it's become more enjoyable to drive and own. It remains very much a car you either love or hate, though. Whether it's the car's size, relatively limited practicality or performance, there's always something that could force you to cross it off your shopping list.
That said, there's a lot to recommend with the Fortwo. Urban dwellers will obviously find the car's size a plus, while anyone keen to minimise running costs will find that tax, insurance and fuel all present low demands on budgets. Opting for a Coupe over the Cabrio will also save some cash.
And it's the Coupe, in Pure trim, that offers Smart motoring in its most modest form. In 61bhp trim, the Pure-spec car is great for motoring misers. However, stepping up to the 71bhp variant adds a welcome extra bit of performance. There's still the car's unusual semi-auto gearbox to contend with, but it's much improved and works best with the more powerful engines.
Our verdict on the Smart FourTwo Coupe Pure 71bhp
The evolution of Smart's upright, two-seat city car has been slow and sometimes less than impressive. This second generation model retains all the good bits and adds a welcome does of maturity to the concept. The styling is still familiar, but now less contrived, while dynamically the car is much improved. The ForTwo's grown a little, and this is most obvious in the car's now useable boot. Overall it's a welcome update for a car that's always put fashion ahead of practical concerns.
Costs
Contrary to popular misconception, a ForTwo doesn't have to be an expensive purchase. The base prices are surprisingly modest. You'll only get into trouble if you select a lot of options, which isn't hard to do. In contrast, running costs should be modest. The Smart family has proven to be reliable over the years, and there's no suggestion this FourTwo will be any different. And with a small engine, fuel and tax expenditure should also be modest.
Space and practicality
For a small car, the Smart is surprisingly practical. You've got to make a few sacrifices along the way, though. It's only a two-seater so you'll just have to deal with that, but this time around the car's boot is a little bigger, which does make it a lot more useable. Inside the cabin there's enough oddment space so as not to make the cabin feel cluttered, and you're rarely banging elbows with your passenger.
Controls and display
The overhaul of the car sees the introduction of more grown-up switchgear. Some of it will be familiar to Mercedes fans, and the good news is that it all works well although sadly the quirky nature of the previous car has been removed. The main dials are easy to read, and the audio unit is placed high up in the fascia, making access straightforward.
Comfort
As far as very compact cars go, the ForTwo performs well. You're not as well insulated from the outside world as you would in a regular car, but road and engine noise is never overbearing. Spacewise, there's enough room for two, which is all you'll get in a Smart, while the seats themselves are supportive and comfortable. The sportier chairs do a fine job, but anyone wider than average might find them at bit much after a few hours.
Car security
You get the usual remote central locking function with the ForTwo, which, if honest, is all you ready need. There's the added bonus of being able to unlock the boot lid from the remote also. The ForTwo is a desirable car though, so a steering lock might be worth considering as a low-cost, visible deterrent.
Car safety
Despite the car's size, you never really feel vulnerable in a Smart. The car's safety cell is technology and engineering that's been proven over the life of the original car. Then there's ABS and the various stability aids to keep you safe, plus a full complement of airbags. In reality, you're as well catered for as you would be in a so-called regular car.
Driver appeal
Previously famous for a slightly choppy ride, thanks in part to its short wheelbase, this generation Smart is much improved - thanks in part to its slightly larger overall size. The actual difference is small, but you notice it most on poorly surfaced roads and at motorway speeds. Also welcome is the car's new family of engines. Capacity is now a full one litre, with the option of turbocharged units for a little more power. Factor in the revised gearbox - although it's still not perfect - delivering smoother gearchanges in manual and auto modes, and you've got a better all-round experience.
Family car appeal
As a second car the Smart would make sense but, obviously, it wouldn't be feasible as the sole means of family transport. Even as a second car, transporting pushchairs and the like might still be a challenge. The car's boot is now bigger, but it's still small by general standards.
First car appeal
On a purely practical note, the ForTwo would make a very good first car. It's compact, easy to park, boasts low running costs and isn't powerful enough to scare anyone. The lack of a clutch pedal - and conventional manual gearbox - might actually prove attractive to a new driver. It is, after all, one less thing to think about.
Quality and image
The incredible following that, well, follows this car perfectly illustrates its popularity. For all its quirks - and there are many - its looks, character and kerb appeal cancel out the shortcomings. On the quality front, this second generation car looks and feels better built than its predecessor. This much is obvious from the materials used in the cabin.
Accessibility
Unsurprisingly there are no real issues here. With only two seats and two doors to worry about, access is straightforward for both occupants. It can be a stretch to reach the seat belt once you're seated, but that's about it. At the back, the Coupe's boot gets the split tailgate treatment, and opens to reveal a now decent size loadspace.
Stereo and ICE (In car entertainment)
For a small car such as the Smart there's little need for a complex audio system. As such, the standard unit supplied does a sterling job. It boasts an easy to read display, intuitive and logical controls and, crucially, decent sound quality.
Colours and trim
As you would expect, the car works best if selected in a bright colour; darker hues tend to hide its various exterior design details. On the inside, similarly bold colours for some trim areas can be selected, and this does much to lift the cabin ambience. Overall though, there's a lot of dark coloured plastic to look at.
Parking
What is there to say about one of the smallest cars on the market? In truth, the Smart's compact dimensions are a blessing, but there is one niggle in the shape of the car's steering - it's too heavy at low speeds. Surprisingly, you do need a firm hand on the wheel, otherwise you won't be able to take advantage of the car's small turning circle.
Spare wheel
Tyre inflation kit fitted as standard.
Range information
Petrol engines: 1.0-litre (61bhp, 71bhp and 84bhp). All engines are linked to an automated manual five-speed transmission. Trim levels: Pure, Pulse and Passion.
Alternative cars
Kia Picanto Straightforward city car is fun, attractive and cheap to buy and run
Mitsubishi Colt Unusually styled Colt is refined but won't please keen drivers
Mini One Fashionable alternative but not cheap when options are added
Ford Ka It's been around for a long time but the basic package is fundamentally right