November 2014
Smart ForTwo Coupe 1.0 Twinamic Passion
Stubby front end houses engine cooling apparatus and screen wash
November 2014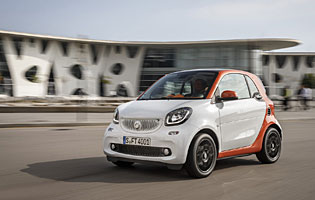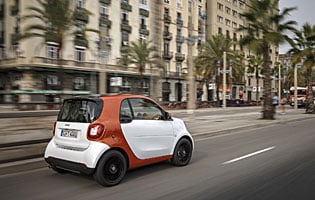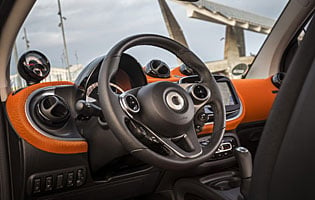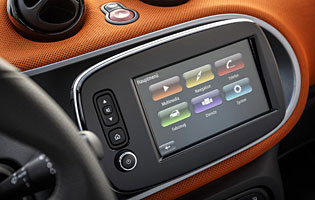 Overall rating

Likes:
Smooth and gentle driving manners mark improved refinement
Bright two-tone colour schemes attract attention among young people
Supremely manoeuvrable at low speed and can access tiny parking spaces
Twin-clutch gearbox is mostly smooth and jerk-free
Gripes:
High list prices look poor value next to larger, cheaper competitors
Stubby looks are not as immediately appealing as they could be
Engine struggles for performance and is only suited to town driving
Boot floor lifted up high thanks to rear-mounted engine
After an unusually long period with no major changes, the Smart ForTwo has finally been given a completely new identity. It has already established itself in almost every major city in Europe as the car to have for on-street parking, and a ground-up rethink has left that city-friendly ethos intact, while improving the areas that needed it.
At 2.69 metres long, the new ForTwo is the same length as the old one. It's 10cm wider, though, so that the two seats can be mounted side by side instead of in the old staggered format. That width increase does not impact negatively on its parking talents thanks to front wheels that turn by up to 45 degrees.
Intelligent engineering locates the diminutive engine and gearbox at the rear of the car, sending power to the rear wheels and allowing a shorter body. Two engines are available, with three trim levels and, for the first time, a dual-clutch automatic transmission option that finally renders the jerky and slow old single-clutch auto obsolete.
New technology options feature heavily in Smart's push to advertise the new ForTwo, and basic models that do without the upmarket colour screen on the centre console have a special claw that can hold most smartphones snugly. A special Smart app then allows the phone to connect to the car to offer a variety of functions.
The ForTwo has few or no direct rivals to trouble it, being far shorter than any typical city car. Its size is a unique selling point, and its new-found interior space combined with manoeuvrability that betters a London taxi will only add to its city appeal. Its only real drawback compared to its nearest rivals is its expensive list prices.
Our verdict on the Smart ForTwo Coupe 1.0 Twinamic Passion
The ForTwo is a happy little car with bright colour schemes and innovative fabric dashboard coverings. Its willingness to prioritise communications will strike a chord with young buyers, and its superlative turning circle makes it the easiest car anywhere in Europe to park. The entry-level engine lacks muscle, though, and prices will restrict its viability to customers with cash to spare on frivolities over and above what they really need.
Costs
Good fuel economy is guaranteed for drivers who are gentle on the accelerator, but out of town the lower-powered of the two available engines needs to be wlrked hard. In turn, that impacts of running costs. Insurance premiums will be modest, but definitely helped by the fact that all the ForTwo's main visible panels are plastic, and therefore harder to damage and cheaper to replace.
Space and practicality
The ForTwo was not made to carry lots of luggage or the family dog. Its outright interior space is heavily limited and the boot is small, if at least practically shaped, but there is a silver lining to the cloud in the shape of intelligent use of space inside the cabin. A voluminous pull-out compartment beneath the centre console is a useful storage space, and luggage nets behind both seats prove handy for gripping odds and ends.
Controls and display
Without the colour media interface the ForTwo is quite traditional in its layout, with a basic LCD screen in the centre console for the media readout, and a downsized instrument cluster ahead of the driver. The disappointingly small rev counter, which is not standard on entry-level Passion models anyway, is positioned well out of the driver's line of sight, towards the A-pillar. The media screen is large, bright and quick to respond to touch.
Comfort
Few people are likely to make complaints about the basic comfort. There is so much space for the two occupants that the passenger may not even be able to reach the dashboard. The seats are biased towards short-journey comfort, as might be expected, but are spacious and well enough padded to cope with a variety of body shapes. The suspension is much improved against the previous model, endowing the new car with a much greater ride quality than before.
Car security
Despite only being small, the ForTwo is a very visible car - to both the good and the bad passers-by. It draws a lot of attention to itself, which will always bring with it an element of risk whenever the car is left in a public place. Keyless entry is helpful; a system that benefits from premium Mercedes encoding to prevent copycat keys being produced. There is no proper luggage cover over the boot area.
Car safety
Smart is always quick to extol the virtues of its Tridion safety cell, and tests do prove that it's incredibly strong. New load paths have been added to both the front and rear of the chassis to encourage impact force to dissipate where the cell is best equipped to deal with it. The small cabin has nonetheless been lined with airbags. Ultimately there is a limit to how much force the small crumple zones can absorb, though.
Driver appeal
The greater part of the Smart's driving appeal comes from parking it when the journey is done. Sometimes drivers might find themselves bypassing larger spaces in favour of one that offers more of a challenge. Urban spaces become a kind of game, where the prize goes to the person who parks in the smallest space. The 1.0-litre engine struggles for performance beyond town speeds, but the new six-speed twin-clutch automatic gearbox is light-years ahead of its predecessor.
Family car appeal
There might be a use for the smallest Smart as a second car ideally suited to nipping into town to collect shopping or go to the bank. Only having two seats is a drawback for parents of babies, but typical rear-facing child seats that use the car's seat belt should fit safely. There is plenty of space in front of the passenger seat to allow mums and dads to manoeuvre around a child seat.
First car appeal
It's easy to picture a first-time car buyer whose main driving will be low-speed, in traffic and along city streets. It's equally simple to imagine the ForTwo being at or very near the top of their wish list. It has bags of style and recognisable character, it's colourful and it prioritises connected communication technology. Many first-time buyers won't need four seats or a big boot, either, or simply prefer the ease of parking the ForTwo offers.
Quality and image
Smart's target young audience is turned on more by style than by solidity and sobriety, which is why the ForTwo is being marketed as a premium city car with a price tag to match. Its image is based heavily on its bright, bold colour schemes, funky styling and tiny, two-door charm, and despite some low-rent plastics in the cabin the target audience is likely to consider the car a more desirable option than some more sober alternatives.
Accessibility
While the two main doors are short, they are also tall, so when opening them a little care must be taken not to catch the corner of the door on your upper body. The door apertures themselves are big and easy to slot through with no fuss. The boot, however, is mildly infuriating. It opens in two parts, like a Range Rover's, but in doing so doesn't allow the quick and easy luggage access that it should.
Stereo and ICE (In car entertainment)
Bluetooth and USB ports are expected on today's city cars, and the Smart delivers. The stereo itself is simple to operate either through a traditional set of buttons on lower-spec models or using the touch-screen where fitted. The former is the easier to use on the move, although a clever smartphone app allows the use of a device, by means of the central phone holder, to function as a semi-integrated media and navigation interface.
Colours and trim
Smart's cars are not for the faint-hearted, with even the most sedate colour scheme - a black and white mix - being somewhat arresting. The safety cell is always in a contrasting colour, to help give the ForTwo its unique look. The interior trim is even more eye-catching, but its fabric-covered dashboard will suit some tastes better than others. On models without the large media screen, the protruding smartphone 'claw' looks ugly.
Parking
Its tiny length is surely the ForTwo's greatest and most unique attribute, allowing it to squeeze itself into improbably small parallel parking spaces. The engine in this model is still at the back, like the original, but new front suspension engineering means that the wheels can turn up to 45 degrees from the straight-ahead. This gives the car a turning circle tighter than a London taxi's, and makes all kinds of parking beyond simple. The extra width of the car does mean there is less room to open doors in bay spaces, though, and it remains illegal to park perpendicular to kerbs.
Spare wheel
Emergency tyre repair kit supplied as standard.
Range information
Petrol engine options - 1.0-litre (70bhp); 0.9-litre turbo (89bhp). Transmission options: five-speed manual gearbox, with optional six-speed twin-clutch auto gearbox. Trim levels: Passion, Prime, Proxy.
Alternative cars
Toyota IQ Can seat three adults, but has a tiny boot and is costly
Smart ForFour Little more expensive but much more spacious and practical, with same styling
Volkswagen Up Much larger, but very spacious and cheaper, with an impressive boot
Kia Picanto Stylish and small, with a long warranty and affable driving dynamics