smart fortwo BRABUS Xclusive
Easy to park
December 2016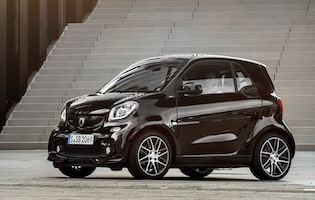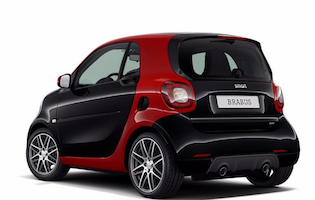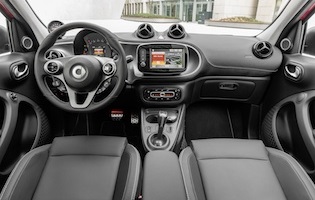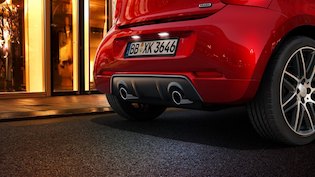 Overall rating

Likes:
Compact size makes it easy to park
Relatively quick performance
Smart design
Good levels of standard equipment
Gripes:
Noisy on the motorway
Engine grumbles at idle
Firm ride
High retail price
There's not much chance that you haven't heard of smart. Synonymous with miniature city cars, it's the company behind the iconic fortwo. Are these cars usually associated with performance? Not usually. Give one to tuning company BRABUS, however, and they can be changed into far more speed-orientated machines. This is exactly what's happened with the new fortwo BRABUS.
So how does BRABUS change the fortwo? Well, for starters it takes the three-cylinder engine used as standard and adds more power – bringing it up to 108bhp and 170Nm of torque. It also adds sports suspension, larger alloy wheels and a muscular body kit to give it more stance on the road.
The original smart car appeared on our roads in 1998, and since then it has gone through various changes. You'd be hard-pressed to link this modern car to the original, as it feels a lot more grown-up and solidly built. It still measures just 2,740mm in length, so it's extremely compact, but thanks to squat proportions it doesn't look too diminutive.
BRABUS is famous for taking Mercedes cars and making them just a little more special, so it's no surprise that the fortwo really stands out from the crowd. Thankfully, it's backed up by genuine performance, reaching 60mph in a respectable 9.3 seconds and hitting a top speed of 103mph, which isn't bad for a car in this class.
Though not mind-boggling, it certainly feels fast in a car of this size – and its dual-clutch automatic gearbox shifts smoothly on its own or via the steering-wheel-mounted paddles. Progress is also accompanied by a throaty exhaust note, which is both genuinely sporty- sounding and addictive – especially when you're aware that the car will still achieve more than 50mpg even when driven hard.
Our verdict on the smart fortwo BRABUS Xclusive
The smart BRABUS fortwo is ideal for those who want a no-frills city car but with added performance and looks. It's still simplistic and easy to drive, but the experience is helped by a genuine sporting feel. Add to that the fortwo's looks and you have a package that is hard to beat, especially for those who live in the city and are looking to make the most of the tiniest of parking spaces.
---
Costs
With such a small engine, the BRABUS fortwo is impressively cheap to run. smart claims that it should achieve 62.8mpg on a combined run, which means that running costs should be kept to a minimum. It also emits just 102g/km of CO2, allowing for lower tax too. The price of consumables may be higher, with the large 17-inch alloy wheels costing more to re-shoe in rubber, but in reality these will be a small factor.
Space and practicality
Despite its small size, there's a surprising amount of space to be found inside the fortwo. There are neat storage touches, including one underneath the gear selector that is ideal for keeping items such as mobile phones out of sight when the car is parked. The boot, which offers 260 litres of loading area, is more than enough for a weekend bag or a few shopping items. It's designed as a city car after all, and the practicality it affords its users is more than enough given the segment it sits in.
Controls and display
The smart BRABUS fortwo's controls and displays really exude a quality usually associated with more premium vehicles. The main infotainment screen is clear and easy to read, while pairing your smartphone to it is a simple enough task. The gauges are all well laid out, and even the turbo boost readout – though a bit of a novelty – is equally well positioned. The steering-wheel-mounted paddles have a great action to them too, and put many more expensive cars to shame with their operation.
Comfort
Given that it has sports suspension, it'll come as little surprise that the BRABUS fortwo isn't the most comfortable car. It has a habit of crashing through potholes, with bumps accentuated because of the large 17-inch alloy wheels sat at all four corners of the car. However, for driving around town there are few better – though speed bumps are best taken slowly. On the motorway, the fortwo does have a tendency to jig about, which makes it less than relaxing on longer journeys.
Car security
The smart BRABUS fortwo does look sporty, but for the most part is a car that should be able to park up without attracting too much attention to itself. It comes fitted with central locking and an alarm, as well as plenty of places to hide items that you may want to keep out of sight from prying eyes. In a subtle colour it's a car that doesn't shout too much about itself, which is ideal if you're looking to park it up on the street every day.
Car safety
The BRABUS fortwo, despite its size, is an incredibly safe car to drive. It comes fitted with a wide range of airbags, as well as a crash sensor that will automatically activate the hazard lights should it detect a collision. There's also an ISOFIX attachment point for a child seat, and pedestrian impact protection for both the front and side. The tridion safety cell around which all smart cars are built means that it remains secure even in the event of a high-speed crash.
Driver appeal
With its sporty looks and rasping engine note, the BRABUS fortwo is a surprisingly appealing car to drive, especially given its city car stance. BRABUS has always created special cars, and the fortwo seems to have been gifted with this feeling. Despite being based on a minimalist two-seater, the BRABUS fortwo feels like a genuinely special car – and will leave you with a smile on your face whenever you get behind the wheel.
Family car appeal
The smart BRABUS fortwo really isn't suited to family life. With just two seats and a small boot, there's really not much room for a family. However, if you're looking for a car for nipping in and out of town, then it could be a good choice, just don't bet on being able to take all that much with you. There is a larger four-seater version available, though even that will be pushed to its limits with family duties.
First car appeal
With a small capacity engine and just two seats, the BRABUS fortwo certainly sounds like a good first-time car. The standard fortwo, without BRABUS modification sits inside group 2 for insurance, making it a very cheap car to get coverage for. However, with added power and a sportier look, the BRABUS version will be more expensive to insure, and as such may put some younger drivers off from choosing it.
Quality and image
smarts have endured a tough time in terms of quality, despite being produced by Mercedes. The ill-fated Roadster suffered terribly in terms of reliability, but it seems that new smart vehicles are distancing themselves from this. The interior of the BRABUS fortwo is top-notch, with all of the elements used feeling of a high quality. There are some scratchy plastics used lower down the cabin, but for the most part it's a great place to be.
Accessibility
With just two doors, you'd expect the BRABUS fortwo to be tricky to get in and out of. However, this really couldn't be further from the truth, as accessing the cabin is a breeze. The ride height, though lowered with sports suspension, remains high enough to make exit and entry simple. The boot, though small in size, is also easy to get to thanks to a single-glass rear door – something that makes a difference when carrying shopping bags.
Stereo and ICE (In car entertainment)
As standard, the BRABUS fortwo gets a 3.5-inch TFT colour display, though higher-spec Xclusive cars get a larger seven-inch screen that houses smartphone integration and satellite navigation. All cars receive a three-spoke multifunction steering wheel, which gives access to functions such as cruise control and audio volume. The sound on the standard stereo is fine enough, though that produced by the top-line JBL system has a much more premium quality.
Colours and trim
As with any city car, there's a good range of personalisation options to be found with the smart BRABUS fortwo. There's a fine amount of colours to pick from, and the range of standard equipment is impressive. You get sporty touches such as a rear spoiler and a matching front spoiler, as well as those all-important twin tailpipes in chrome effect. In short, there are ways to make the car your own – though there's plenty to like as standard.
Parking
Being so small, it's easy to see why the smart fortwo BRABUS is so easy to park. In fact, you begin to challenge yourself into finding the smallest possible spaces. The ability to park it nose-in to a row of cars remains, which is something the very first model was able to pride itself on. Higher-spec cars get a reversing camera, though in truth the smart is so short that there is really very little need for it – the option is there of course.
Spare wheel
Emergency tyre repair kit supplied as standard.
Range information
Petrol engine options: 898cc three-cylinder petrol. Transmission options: Six-speed automatic. Trim levels: BRABUS, BRABUS Xclusive, BRABUS Premium, BRABUS Premium Plus.
---
Alternative cars
Renault Twingo GT Same platform as the smart, but not as exclusive.
Volkswagen Up Perky engine choices, and well made too.
Seat Mii No true performance option, but cheap to buy
Abarth 595 Larger than the smart, but firmer ride too.