November 2004
Seat Toledo 1.9 TDi PD 130
From the front, the Toledo is identical to the Altea hatchback
November 2004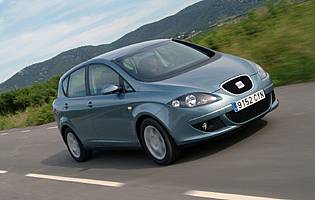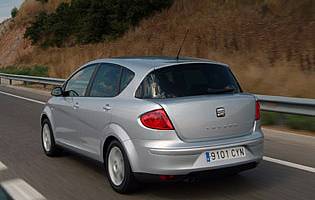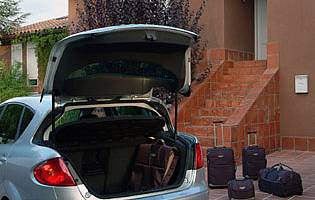 Overall rating

Likes:
Volkswagen build quality throughout
Wide choice of capable engines
Drives well on motorways
Could charitably be described as 'unusual'
Gripes:
It is not a saloon, despite Seat's protestations
Lacks sporting character of its predecessor
Slight tendency to roll through corners
Restricted rearward visibility
The bad news for Seat is that there's one very good reason not to buy a Toledo. The good news is that that reason is the Seat Altea, a car mechanically and cosmetically identical in almost every respect.
The last-generation Toledo was Seat's alternative to the Volkswagen Bora, a saloon version of the sporty Golf-based Leon hatchback. But along with the radical new styling being introduced across its range, Seat has repositioned the Toledo as a 'saloon' version of the Altea hatchback. There's just one problem - it is a hatchback as well.
According to Seat, the Toledo is a 'notchback saloon'. At a cursory glance, the Toledo does look quite saloon-like, with a small but noticeable bulge at the back instead of the Altea's smooth curve. According to the designer, this bulge was inspired by the Renault Vel Satis - a car not exactly famed for selling in large numbers. And the fact remains that whatever the description, when you lift the Toledo's boot, the rear window comes with it. So it's really a hatch masquerading as a saloon.
Despite seeming rather unnecessary given the excellence of the Altea, the Toledo may prove reasonably useful at attracting traditional saloon buyers to the brand. But that's likely to be of far more significance in markets other than the hatchback-loving UK.
Semantic arguments aside, the Toledo isn't a bad car. Marginally longer and heavier than the Altea, it handles the same way and features an identical interior. It's also more expensive, which will destroy any lingering appeal among all but the most ardent saloon lovers who are willing to be fooled by an optical illusion.
Our verdict on the Seat Toledo 1.9 TDi PD 130
Designed with foreign markets in mind, the Toledo is destined to remain a rare sight on UK roads simply because there is no single convincing reason to choose it in preference to its more stylish and compact stablemate.
Costs
The key problem with the Toledo is that it is a little more expensive than the Altea to which it is so similar. Seat's increasingly classy public image has been accompanied by firmer pricing, and the brand is no longer regarded as a sort of Spanish Fiat, even if it does still undercut Volkswagen. Speaking of the German parent company, Seat's build quality is now just as good, and similar levels of reliability and reasonable running costs should be expected. The Toledo is likely to lose more of its value after three years than the Altea.
Space and practicality
500 litres of bootspace is not to be sniffed at, and the Toledo is slightly roomier in this regard than the Altea. The glovebox is huge and features a simple chilling device to keep your boiled sweets and loose change cool.
Controls and display
Radio and satellite navigation controls can be rather tricky to use while in motion. We all know we shouldn't even try it, but that rarely stops us. Full credit to Seat for including alternative controls on stalks behind the wheel, but they do get in the way of each other, making it too easy to operate them inadvertently or inaccurately. All switchgear is constructed to a high standard with nicely rubberised knobs and buttons.
Comfort
This is a very comfortable car - at least with up to four people in. Driver and front passenger seats are both height adjustable. Five can be accommodated at a push, but the central rear position is peculiarly difficult to sit on. Cabin noise is low thanks to the quiet VW engines, unless the automatic gearbox starts searching for gears, which can be a minor annoyance. Happily, the steering wheel adjusts for both height and reach with a good degree of adjustment possible.
Car security
Expected VW Group security features are all present and correct with remote central locking with deadlocks as standard and SE trim and above getting a more comprehensive package with a Thatcham Category One alarm. The Toledo should not attract the attention of thieves too readily, other than smash and grab specialists.
Car safety
Side impact protection looks particularly reassuring with various different reinforcement thicknesses and crumple zones looking like they can deal with these most awkward of collisions. The Toledo feels solid and substantial throughout, a factor that should not be underestimated. All seats have three-point belts and individual adjustable head restraints
Driver appeal
A raised driving position, combined with the car's long, sloping windscreen and bonnet give a strong impression of being at the wheel of a medium-sized people carrier, even if the Toledo doesn't officially belong in that class of vehicle. The ride and handling are considerably better than most MPVs could manage, even if it falls short of being actively involving. There is a tendency to wallow slightly through corners and acceleration is businesslike at best.
Family car appeal
In many ways, the Toledo feels like a family car. There's the high comfort level, the robust build quality and the MPV-like shape. If you're part of a family of four, it'll pass muster, but if you find yourself with the extra point four of a child to make up the national average, the problematic rear centre seat will rule it out.
First car appeal
Unlikely to be of much interest to first-timers, the small number that will be sold in the UK means they won't even be around as cheap second-hand buys.
Quality and image
After making some big advances and developing a reputation as the sporty wing of the Volkswagen group that reached its peak with the gorgeous Ibiza, Seat is currently undergoing something of a brand re-evaluation. Neither the Altea nor the Toledo seem particularly sporting but they do feel well made and modern. It's a safe bet that Seat's stock will continue to rise in coming years.
Accessibility
The tall doors afford excellent access to the cabin, and the high roofline means there's no danger of bumping your head as you climb in and out. The boot may be ugly but it opens easily enough with a good level of assistance from its decidedly hatchback-like struts.
Stereo and ICE (In car entertainment)
A CD/radio is mounted in the centre dashboard. It gives a clearer, sharper sound than might be expected, which is probably at least partly as a result of the improved and spacious interior architecture. SE and V5 models have a six-CD autochanger located in the glovebox. If chosen, sat-nav sits in the central console, which requires the driver to take his eyes a long way away from the road and is almost impossible to operate or adjust on the move.
Colours and trim
Nine exterior colours are on offer. There's one flat shade - Seat's trademark red. Everything else is metallic. Good quality carpeting and upholstery fabrics are a welcome reminder of how far Seat has come from the brittle, plasticky interiors of just a few years ago. Standard specification is better than on comparative Volkswagen models and includes air conditioning across the range. It is from Spain, after all.
Parking
One unfortunate effect of having the notchback boot is that there is only a narrow rear window through which to look while reversing. With a considerable portion of the car protruding out of view below it and very thick rear pillars to each side, reversing into a parking spot is extremely difficult. Even the addition of parking sensors doesn't inspire complete confidence as the driver is entirely at the mercy of his 'beeps'.
Spare wheel
A space saver spare wheel is provided. S models come with steel wheels, at SE grade and above, alloy wheels come as standard.
Range information
A choice of five engines is split between two diesels and three petrols: 1.9 TDi (110PS); 1.9 TDi PD (130PS); 1.8 20v (125PS); 1.8 20v turbo (180PS) and 2.3 V5 (170PS) The range is split into three main easy-to-understand specification levels: S, SE and Sport. There's also a more powerful 'V5' performance-oriented one-off.
Alternative cars
Vauxhall Vectra Uncharismatic but dependable hatch and saloon
Ford Mondeo Still a great drive after all these years
Peugeot 407 Smooth-riding motorway muncher with interesting front
Seat Altea Makes much more sense and cheaper, to boot