February 2014
Seat Leon SC Cupra 280
LED headlights are carried over from the Leon FR
February 2014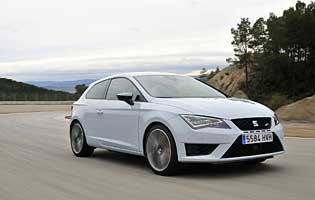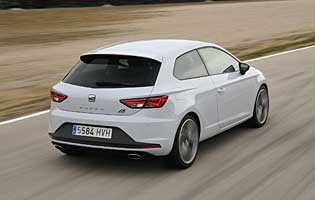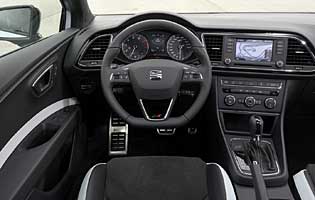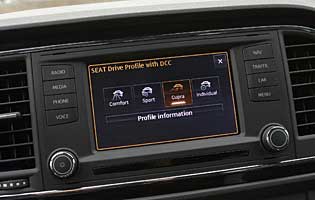 Overall rating

Likes:
Extremely impressive performance from new turbocharged engine
Supple and well damped suspension delivers superb handling
Mild manners are extremely user-friendly
Subtle styling evolution from FR model strikes the right balance
Gripes:
Model-specific alloy wheels don't suit the Cupra as well as existing styles would
Electronic element to limited-slip differential takes too long to react
List price is relatively high compared to some rivals
Interior could be considered too ordinary
Britain loves hot hatchbacks and the original Leon Cupra cemented a place for itself in the hearts of a generation of drivers. The combination of a swell of turbocharged power, nimble handling and styling that looked like it meant business was enough to create an icon. With the second generation version representing a missed opportunity, Seat has thrown the dice again.
It had begun to look like the hot hatch was dead; a casualty of emissions laws and the need to decrease fuel consumption. Fortunately for fans of the breed the latest engine technologies have allowed them to continue for now, and this version of the Leon Cupra is even more powerful than its forebears.
It joins a fray in which for so long it stood out as the lairy, animal choice, but not any more. Now there are no crazy colours, no terrible torque steer and no bone-jarring suspension setups. It's much more sensible, having left one or two rivals to the overall power output spoils while itself aiming for a more rounded package.
Its styling is surprisingly little changed from the more ordinary Leon FR, using a similar body kit with an only slightly enlarged front grille. The same goes on the inside, with an interior that feels very much like an ordinary Leon's. It has undoubtedly changed attitude, despite the huge power output.
This model is lighter and nimbler than its immediate predecessor, which in combination with an electronically-actuated mechanical limited-slip differential and extra performance has created a much more involving driving experience. It's the suspension where most money has been spent, though, and the Cupra now rides superbly.
Our verdict on the Seat Leon SC Cupra 280
In pursuing greater sales the Leon has been sanitised slightly, but far from creating a fast but anodyne compact hatchback the end result is a brilliant combination of entertainment, sensibility and everyday usability. It delivers greater power than its more versatile rivals, along with more refinement than its faster competitors. The overall product isn't cheap, but it is remarkably good.
Costs
While this is far from the cheapest Leon to run when compared to its diesel counterparts, it offers an intriguing financial package against its direct alternatives. Its fuel economy and tax banding are competitive, but its purchase price is some way higher than one or two key rivals'. Residual values will not be the strongest among the Leon range, but should be in line with the market sub-sector.
Space and practicality
For the most part the Cupra models share the same storage layout as the Leon FR. A good-sized boot suits a variety of tasks and can hold a medium-sized dog comfortably, but the carpeted boot floor might not appreciate it. The one difference of note is that the lidded storage compartment ahead of an FR's gear stick has been ditched for an open-faced bin.
Controls and display
Cupra-styled grey analogue/digital hybrid dials are a slight upgrade, and they perform their duties with exemplary effectiveness. The backlit numbers and needles offer a clear output at a glance. The sat-nav and media screen, however, which is only standard on the Cupra 280, is a let-down with low resolution and some old-fashioned graphics. The ancillary stalks are chunky and move with substance and precision.
Comfort
The Cupra shares many of the traits of lesser Leons, which is to point out the slight wind noise around the door mirrors and road noise levels that depend heavily on the smoothness of the surface. Another trait that all occupants will be glad has been transferred is the comfortable ride, which takes the edge off all but the most severe potholes. Despite its large wheels, the Cupra 280 is impressively comfortable.
Car security
The remote central locking can open the boot independently of the doors, and can also be set up to open only the driver's door with a single press of the 'unlock' button. This anti-car-jacking feature should be especially valued on such a desirable car. Deadlocks can be engaged with two presses of the 'lock' button.
Car safety
The Leon does well for safety as standard, but the Cupra has some tricks up its sleeve. Its wide, grippy tyres offer greater adhesion to the road surface and its larger brakes help it to stop sooner. On top of that its clever limited-slip differential can sense both understeer and oversteer, correcting them both before they become problematic. Elsewhere the cabin has the bases covered for airbags and occupant protection.
Driver appeal
The Leon Cupra's myriad talents centre here, with a lightweight and agile attitude backed by a torque-rich, muscular engine and direct, accurate steering. The limited-slip differential would respond faster as an entirely mechanical unit, but performs its duties well as it is. On full-power gear shifts the exhaust delivers a cheeky and addictive boom. Drivers wanting to take it easy can do so and be rewarded with ride quality and comfort that belies the Cupra 280's 19-inch wheels.
Family car appeal
From the parent's perspective the Leon Cupra is a perfectly serviceable everyday car. Its interior is so similar to the standard Leon's that there's little cause for concern over its ability to carry kids. The one item of note is that the Cupra-specific black and white upholstery will be more vulnerable to dirt and spills, but otherwise the Leon's intrinsic family-friendliness wins out.
First car appeal
First-time male car buyers all over the UK will lust after the attractive and aggressive Leon Cupra 280, but the chances of them being able to afford it brand new are slim. Compared to more appropriate first cars the fastest Leon isn't especially economical or cheap to insure, either, and then there's the matter of the Cupra's outrageous power output. Without enough maturity and experience the Cupra is a risky choice.
Quality and image
Seat has sprung something of a surprise with its latest cars, which are of a much higher standard than those who haven't tried them might imagine. The Leon feels solid inside and immediately imparts a sense of longevity. Seat as a brand doesn't enjoy the best reputation and could do with better scores in reliability surveys, but the latest tangible evidence inside its cars is positive.
Accessibility
This three-door SC version of the car assumes that owners will infrequently carry rear passengers, and thanks to doors that extend past the front seats access to the rear seats is not actually that tough. A five-door would still be better for accessibility, though. The boot lid is lightweight enough for the average person to open and shut with one hand, although some people might struggle if using one hand.
Stereo and ICE (In car entertainment)
The standard stereo is a decent unit, operated through the main colour display's touch-screen interface. There is a Bluetooth connectivity option, while a Seat-specific connector is hidden in the glove box. It requires a specific Seat cable to allow third-party devices to hook up, which is not as neat as a simple USB connection. Nine speakers plus a subwoofer ensure a good spread of sound.
Colours and trim
Some die-hard fans of the Cupra sub-brand will be disappointed to see the new Leon's colour palette. More sensible options are all that the car was launched with, covering metal grey, black, white and red. The grey is the most flattering, giving the Leon's svelte lines a mature but energetic, capable look that suits it well. The practical and largely straightforward interior might not be exciting enough for some people, bearing more than a passing resemblance to the ordinary Leon's.
Parking
The Leon is not a particularly difficult car to park, although the high rear shoulder lines can reduce visibility a fraction when reversing into a space. The car's standard fit parking sensors go some way to assisting the driver, however. The five-door Cupra will be better than the three-door in bay-type spaces thanks to its shorter doors, which open wider into any given space.
Spare wheel
Emergency tyre repair kit supplied.
Range information
Petrol engine options - 1.2-litre (103bhp); 1.4-litre (138bhp); 1.8-litre (177bhp); 2.0-litre (261bhp, 276bhp). Diesel engine options - 1.6-litre (103bhp); 1.6-litre Ecomotive (108bhp); 2.0-litre (148bhp, 181bhp). Transmission options: five and six-speed manual gearbox depending on model, plus DSG twin-clutch auto. Trim levels: S, SE, FR, Cupra 265, Cupra 280.
Alternative cars
Volkswagen Golf GTI More refined and shares the Cupra's engine, but produces less power
Ford Focus ST Good to drive, cheaper and better-sounding, but less refined
Renault Megane Renaultsport Class-leading driving dynamics hampered by practicality shortcomings and a drab interior
Vauxhall Astra VXR Great looking option can't match the Seat for quality or versatility