April 2007
Seat Leon Cupra
Purposeful-looking Leon Cupra means business out on the road
April 2007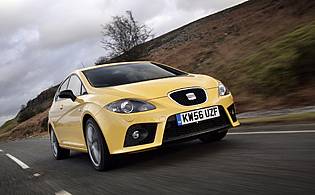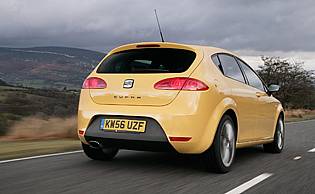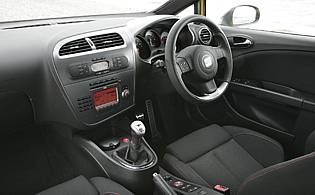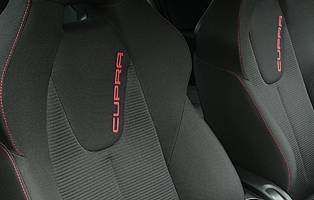 Overall rating

Likes:
Special Cupra touches help lift the cabin ambience
Cabin is spacious and accommodating
Cupra modifications make the Leon enjoyable to drive quickly
Exterior styling enhancements have boosted the car's kerb appeal
Gripes:
Hard, dark cabin plastics are a letdown
Brakes are powerful but their feel is not progressive
Despite the power from the engine, it's neither tuneful nor charismatic
Easy to trigger the stability programmes when accelerating over bumpy or wet roads
Of all the mainstream brands within the Volkswagen Group, Spanish firm Seat is the one routinely promoted as the sporty choice. Over the years its performance cars - mainly hot hatches - have possessed an 'edge'. They've been good value too, and this Leon Cupra continues the tradition.
The last few years have seen a transformation at Seat. Out has gone the conventional, conservative cars and in have come a range of models which are more family orientated. These cars - Leon, Altea, Toledo - sit alongside the last traces of Seat's old line-up: the Ibiza and Alhambra.
This family-focussed approach isn't at the expense of fun, however. Using its Leon as a solid base, Seat has constructed a ladder of performance with its FR and Cupra variants. The latter is the more extreme option, and the car benefits from numerous handling and performance tweaks - one of the most important things being its engine.
In a bid to distance itself from the rest of the Volkswagen Group, Seat has installed a version of the group's popular 2.0-litre turbo petrol motor. While other brands have its performance pegged at 200 horsepower, Seat has upped this to a more impressive 240 horsepower. Factor in the likes of revised suspension settings and its clear the Spanish firm means business in the hot hatch market.
Even when you're not motoring along enthusiastically, the car still means business. Seat interiors might not quite be on a par with that of Volkswagen or Audi, but the presence of proper sports seats - complete with Cupra branding - is welcome. And the good news for families is that the car will double as a sensible mode of transport; the car's ride isn't too hard and running costs are sensible assuming so are you.
Our verdict on the Seat Leon Cupra
With all the hype over VW's Golf GTI it's easy to forget that there's another option from within the same group. Seat's Leon Cupra is actually more powerful than the stock GTI and a little cheaper. It's a more extreme experience than the Golf - the ride is firmer and overall refinement is a notch lower - but the car should appeal to drivers seeking serious hot hatch performance plus a dash of practicality.
Costs
When it's all totalled up, the Leon Cupra is good value for money - performance and equipment levels are both generous. If driven sensibly, this Leon will return decent fuel economy figures while servicing shouldn't cost a fortune thanks to the Cupra's family hatch underpinnings. Insurance might be high for a young driver, though.
Space and practicality
The Leon is a generously sized hatch, but nowhere near as versatile as a compact people carrier - the firm's Altea does a better job in this context. However, the Leon is spacious and its cabin full of useful storage areas. The boot is also a good size and is helped by the split folding rear seats.
Controls and display
All the basics are covered well in the Leon Cupra. The main dials have a Cupra theme to them, although reading the numbers in bright sunlight can be a problem. The gearshift, handbrake and steering are easing to use, with the latter offering plenty of adjustment. The audio unit's buttons are a little small but you do get supplementary controls on the steering wheel.
Comfort
Proper sports seats are rarely comfortable for all shapes and sizes, but the Leon Cupra's units appear to be the exception. And for the driver everything is close to hand, while rear seat passengers will rarely feel cramped. The car's firm ride around town might prove tiresome for some, although at speed the car is surprisingly refined.
Car security
Despite the Cupra's sporty bodykit, it's still a car that's unlikely to shout ""look at me"" to thieves. That said, it's good to have remote central locking plus and comprehensive anti-theft device as standard. For added peace of mind, you might want to consider a visual deterrent such as a steering lock to deter the casual thief.
Car safety
No problems here regarding safety provision, although that's probability because the Cupra is the flagship Leon model. Six airbags are standard with the option of adding a further two rear side airbags. ABS is also included, as is ESP and electronic braking assistance. Tyre pressure monitors are fitted to all models in lieu of a spare wheel.
Driver appeal
You'll instantly notice that the car's suspension is of the firm variety - this Cupra has been tweaked to be different from Seat's 'warm' hatch offerings. Body roll is kept in check nicely, but the downside is a firm ride over poorly surfaced roads. Progress is rapid in the Cupra, thanks to a 240 horsepower 2.0-litre petrol engine. Although similar to the unit in Audi's TT and VW's Golf GTI, the Seat's unit has been exclusively tuned to deliver more power. The results are explosive, but the turbo can be a little abrupt at times. As can the brakes, which require a light right foot if you want to make smooth progress
Family car appeal
As far as family hatchbacks go, the Leon is one of the better ones regarding practicality. It's a relatively big car, which helps - although Seat's Altea is marginally better. You can't get an all-out performance Altea though, which makes the Leon Cupra something of an entertaining all-rounder.
First car appeal
In general the Leon would make a sensible first car, but the FR and, in particular, the Cupra variants would not. They're too quick and would likely cost a small fortune to insure.
Quality and image
Promoted as the youthful, sporty brand within the Volkswagen Group empire, styling inside and out has been devised to appeal to young individuals and families. Quality-wise the car is on a par with products from Skoda.
Accessibility
Being a tall car, front seat occupants will have no trouble accessing and exiting the cabin. Rear passengers will also be surprised; rear head and legroom is pretty good despite being the least people carrier-like of Seat's current line-up. At the rear, the car's tailgate opens high to reveal a boot with a sensible load-lip.
Stereo and ICE (In car entertainment)
No complaints here thanks to a good sounding radio/CD combination. Remote control audio buttons on the steering wheel are a welcome addition on the Cupra model. Although the unit sounds good, the fascia controls are a little small and the display is easily affected by glare from the sun. An optional sat-nav and Bluetooth handsfree phone interface boasts a much bigger colour screen, but lacks the intuitive controls of some of its rivals.
Colours and trim
Seat is famous for its bright exterior colour offerings, especially when it concerns the performance models. This Leon is supposed to be the sporty, rebellious model in the range and, for example, yellow suits it down to the ground. Inside it remains as exciting - but only just, what with Cupra stitching on the front sports seats. Alas, in typical Volkswagen Group style, the cabin is furnished with dark plastics.
Parking
Parking is a simple act with the Leon. The car's steering is light yet responsive and the side mirrors are a good size. The car's turning circle is pretty tight, but the thick rear pillars and modest rear window can sometimes make reverse parking more of a challenge than it sometimes should be.
Spare wheel
Standard equipment is a tyre repair kit.
Range information
Engine range: 1.6 (102bhp) petrol; 2.0 FSI (150bhp) petrol; 2.0 TFSI (185bhp) petrol; 2.0 TFSI (240bhp); 1.9 TDI (105bhp) diesel; 2.0 TDI (140bhp) diesel. 1.6 and 1.9-litre engines get a five-speed manual gearbox while 2.0-litre units come with a six-speed manual gearbox. Petrol models can have an optional Tiptronic auto and diesels a Direct Shift Gearbox (DGS) but not Cupra. Trim levels; Essence, Reference, Reference Sport, Stylance, Sport, FR and Cupra.
Alternative cars
Volkswagen Golf Golf GTI is a fantastic all-rounder, but not the sharp driver's tool it once was
Vauxhall Astra VXR-badged Astra is hugely powerful and impressive to look at, but the driving experience is a little rough around the edges
Ford Focus Hot ST is easy to drive quickly but feels too 'safe' in the hands of an enthusiastic driver
Honda Civic Type R is civilised but always entertaining. Radical looks won't suit everyone