October 2006
Rolls-Royce Phantom Phantom
Imposing Phantom boasts considerable road presence
October 2006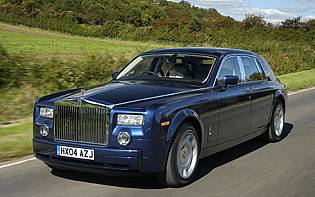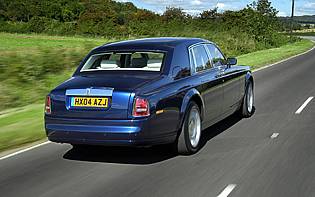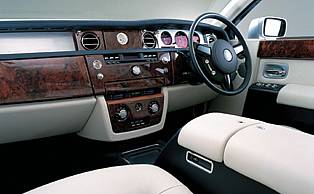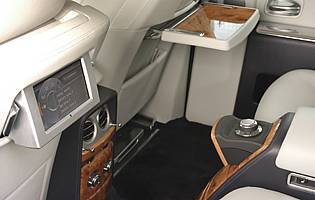 Overall rating

Likes:
Fit and finish is a world apart from other cars at this price
Nimble chassis and performance is at odds with the car's size and weight
BMW influence is evident under the skin, with Rolls design character allowed to dominate
Hushed ride and near unlimited level of customisation
Gripes:
Cost of ownership (fuel, depreciation, insurance) considerable even if you can afford it
Auto gearbox doesn't like to be rushed when you're driving quickly
BMW donated iDrive feels out of place in an otherwise traditional looking cabin
Small rear window and wide pillars can hamper visibility when reversing
Assessing a car such as Rolls-Royce's Phantom is not an easy task. It doesn't help that there's not much in the way of competition at the quarter million pound mark in the car market. However, since the split of Rolls and Bentley, the choice is an easy one if you've got money to burn and want to make a statement wherever you go.
Hats of to BMW for doing the impossible with the Rolls-Royce brand. It could have been so different, but the German car maker's approach to building a 'new' company from scratch in such a short timeframe will go down in automotive history. The fruits of their collective labours was the Phantom, a car that took all the traditional Rolls styling cues but gently nudged them into the 21st century.
It's impossible to properly assess a car like the Phantom in the same way as a conventional luxury saloon. What's important here is whether the car in question feels expensive and special enough to justify its considerable price tag. Cars like the Phantom are not rational purchases, and are often compared alongside other luxury good such as boats, houses and aircraft. And it's this sort of competition that Rolls-Royce is usually up against.
So does the Phantom feel special? In a word yes. With less than 1,000 built per year it can rightfully claim to be a low volume car, and the exterior styling is pure Rolls-Royce although the view from the front is very much a modern interpretation of the classic grille. The same sentiment applies to the car's interior. All the usual high quality wood and leather treatments are present, but there's nothing fusty or contrived about the design themes.
If it feels special to look at and to ride in, the driving experience is no less rewarding for a car of this type. BMW's 6.75-litre V12 engine has plenty of power in reserve to make both wafting and sprinting look and feel effortless. Ride quality is also impressive, with only a hint of wind noise a clue to the car's speed. And for the keen driver, the Phantom is more agile than you first think - the car's thin-rimmed steering wheel provides plenty of feedback but you've got to be careful when cornering hard as it will roll a fair bit.
Our verdict on the Rolls-Royce Phantom Phantom
When your product is up against boats, planes and holiday homes in exotic places, you know you're in the big league. Crucially, you've also got a hard task as the competition isn't just other cars. Thankfully the Phantom is special enough to stand out in this company. If you can stand the stares, the experience is most enjoyable in the back and surprisingly rewarding from the driving seat, too. Cynics might view it as a liability but to some it really is the ultimate expression of wealth and success.
Costs
Where do you start with something like the Phantom? In truth, if you're counting the pennies, you probably can't afford one. For the record, fuel economy is in the mid teens and insuring the car won't come cheap. Servicing shouldn't be an issue as most of the technology is proven BMW stuff, which leaves depreciation and the original asking price plus and extras as the main costs to shoulder.
Space and practicality
As far as luxury four-door saloons go, the Phantom is difficult to beat. A huge rear cabin, which can be lengthened with the Extended Wheelbase variant, affords occupants palatial levels of comfort. The supportive seats make long journeys most enjoyable, and the various creature comforts - pull out trays, cubbyholes, remote opening/closing rear doors - all help. There are plenty of creature comforts and storage areas up front too, while the car's boot is big enough to satisfy even the most demanding of moneyed families.
Controls and display
Tastefully done, the main dials manage to combine an old-style look with modern clarity. A nice touch is the central colour display, which is hidden behind a wood fascia panel until it's needed. Navigating through the display is via BMW's iDrive controller, which can be folded back into the centre armrest out of sight. It lacks a back or 'Home' button and, just like in BMWs, is an acquired taste and comes with a steep learning curve. The column-mounted auto gear shifter is easy to use, but the electric seat controls are a little fiddly - they hide under a cover in centre armrest.
Comfort
Large comfortable front seats dominate the forward section of the cabin. Although the covering can be chosen from a wide palette of materials, the general shape is good, as is headroom. At the back, London Cab levels of room mean occupants can - literally - stretch out if they want. Headroom is also good and the overall cabin ambience is hushed thanks to the high levels of soundproofing and mechanical refinement.
Car security
The basics are all covered in the Phantom, so you get the usual remote central locking and anti-theft devices to help keep your investment safe. However, being a distinctive-looking and desirable car, a sophisticated tracking device is worthy of some serious consideration.
Car safety
You get all the airbags you'll ever need in the Phantom, while the car's spaceframe structure is strong enough in its own right to protect you from most impacts. All the usual electronic safety systems are also present, which is comforting to know in a car this big with the potential to carry a lot of speed.
Driver appeal
While not a performance car, the Phantom is a willing companion on a brisk driving exercise. The car's 6.75-litre V12 petrol motor is hushed at normal speeds but emits a muted growl when worked hard. Although big, the Phantom always feels stable and changes direction quickly with little fuss. But it's the car's behaviour in regular situations that will impress the most: ride is calm and quiet, only a small amount of wind noise - nothing else - can be heard in the cabin. The auto gearbox changes gear smoothly, but prefers not to be rushed. The large thin-rimmed steering wheel requires only small inputs, otherwise a surprising amount of body roll can be induced when cornering quickly.
Family car appeal
Given the Phantom's size, it shouldn't be a surprise to learn that it makes a rather good family car. Granted it's no people carrier, but the spacious rear seating arrangement, numerous audio-visual options and decent-size boot all strengthen its case. The combination of enthusiastic little 'uns and expensive leather and wood trimmings could end in tears, though.
First car appeal
In a word, no. Even if it was deemed an affordable purchase, the car's physical size and performance potential would rule it out on sensible grounds. Factor in the asking price, running costs plus theft and, sadly, the potential vandalism threat and just getting insurance could be a major hurdle.
Quality and image
The Phantom scores high on both counts. Firstly, build quality is superb, whether it's the finish of the various wood trims or the leather upholstery - there's an obvious hand built, bespoke feel to everything, inside and out. The Rolls-Royce image is steeped in heritage, and BMW has done much to cultivate this further in a commendably sympathetic manner. The R-R brand is known around the world.
Accessibility
The Phantom is a deceptively tall car and, as such, its cabin requires little effort to access or egress. The large front doors open nice and wide, while the rear 'suicide' style doors open out to reveal a spacious rear cabin free from obstructions - there is no centre door pillar. A handy feature is the ability to operate the rear doors remotely via a button when you're in the back, eliminating the need to reach out and open them by hand. At the rear, the boot is accessible by remote release and the load lip is low enough to allow the graceful removal of heavy items.
Stereo and ICE (In car entertainment)
The bespoke nature of the Phantom means you can choose from a wide range of audio equipment. In standard trim, a fascia panel hides the car's main digital display, while a version of BMW's iDrive controller hides in the car's central armrest. As expected, sound quality is excellent, although the iDrive interface can be a little frustrating. For the money no object set, DVD players plus rear screens and all manner of audio upgrades are all possible.
Colours and trim
It's difficult to assess a car's colour and trim options when so much of it can be decided by the buyer. What can be said is that the quality of the fit and finish is exemplary, which is what you'd expect from a largely hand assembled and finished process. Essentially, if you don't like the core range of materials on offer, you can specify pretty much what you want. The only limiting factor is the size of your bank balance.
Parking
The Phantom is, no question, a big car. However, the lofty driving position and generous level of steering assistance help enormously. Parking sensors are the way to go if you don't want to crunch the car, but it's worth remembering that something this size will require plenty of space in regular size car parks.
Spare wheel
Run flat tyres fitted as standard.
Range information
Petrol engine: 6.75-litre V12 (453bhp). Six-speed auto gearbox fitted as standard. There is no official trim level and final specification is at the discretion of the buyer.
Alternative cars
Bentley Continental Silver Spur Less expensive than the Phantom and more performance orientated
Maybach 57 Similarly expensive but some believe it too similar to a high-end and less costly Mercedes S-Class
BMW 7 Series Real world premium saloon boasts plenty of toys but lacks a bespoke ambience
Bristol Fighter Rarefied sports saloon is two-door only, and feels equally bespoke and expensive. Can't match the quality of the Phantom though