June 2010
Rolls-Royce Ghost V12 Automatic
Trademark imposing styling retained, but impact lessened slightly due to Ghost's size
June 2010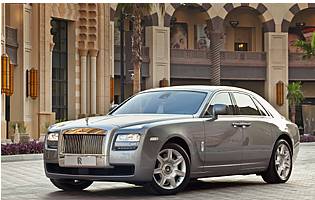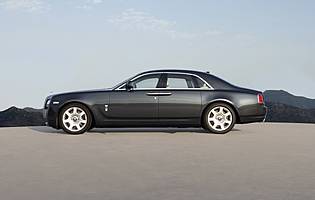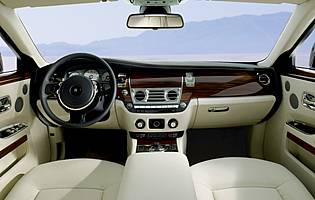 Overall rating

Likes:
Surprising agile despite its size
Supple ride ensures cabin refinement is first rate
Power closing rear doors are a useful addition
High level of craftsmanship evident in the Ghost's cabin
Gripes:
A big car even by modern standards it still needs a lot of space
Tell-tale signs of BMW involvement are obvious - a more bespoke feel would be welcome
Large door mirrors can obscure front three-quarter vision at junctions and roundabouts
Contemporary exterior styling might be too extrovert for Roll-Royce traditionalists
After the turmoil of the ownership change that saw Bentley and Rolls-Royce split into two separate companies under different ownership - Volkswagen and BMW respectively - the latter's goal to move the Rolls-Royce brand further upmarket has succeeded. The majestic-looking Phantom started the process, while the Ghost makes ownership more accessible and affordable.
Positioned as the more affordable Rolls-Royce in the company's expanding stable, the Ghost offers owners a smaller footprint for ease of ownership plus a more engaging driving character. This latter attribute is important as so many owners prefer to let someone else do the driving, which is in contrast to Bentley ownership.
That said, the two, now separate, companies have gone their separate ways and Rolls-Royce has retained the super-luxury crown. The firm's Phantom is evidence that the Goodwood-based outfit is keen to offer something other premium luxury makers cannot. However, industry observers identified a gap in the market between that of the volume producers (Mercedes, Audi, BMW) and traditional products such as the Phantom and Maybach offerings. The Ghost has been design to fill that gap.
The sub GBP200,000 might still be out of reach for most of the buying population, but a car like the Ghost carefully balances affordability and exclusivity for those who can afford it. Offering all the usual Rolls-Royce features - bespoke possibilities, unmistakable design cues, infamous refinement levels - the Ghost is also a car that encourages the owner to take the wheel.
Bentley might be keen to promote its cars to keen drivers, but it's not something its rival has ever done. And while the Ghost hasn't been promoted as a sporting machine, its smaller size should prove less intimidating to some. Packing a 6.6-litre V12 petrol engine, the Ghost is no slouch, and its performance potential is delivered in Rolls-Royce's trademark unflustered style.
Our verdict on the Rolls-Royce Ghost V12 Automatic
Rolls-Royce might take a different approach to Bentley when it comes to promoting its cars, but the former's Ghost can be driven with a surprising amount of enthusiasm. That in itself is a sign that the Goodwood firm is moving with times and keen to attract a younger audience. Taking the helm has never been a priority for owners, but the Ghost could change all that. There's also plenty to keep the traditionalists happy, as the 'baby' Rolls offers all the usual refinements - just in a smaller, more affordable package.
Costs
Viewed in isolation the Ghost is an expensive car to purchase and run. Even amongst its peers the Ghost is at the top end of the scale, thanks in part to the bespoke nature of its construction and the choice of engine. Of course, if you have the means to purchase such a car, these will be trivial issues.
Space and practicality
The spacious cabin offers luxury accommodation for four adults and there's never a feeling of being cramped or having to compromise in any way. Head and legroom in the back is generous, while oddment space is also never in short supply. At the rear, the car's boot is, as you'd expect, capacious.
Controls and display
The Rolls-Royce way of doing things is a little different from the norm. Conventional instrumentation is kept to a minimum and there's none of the usual flashing warning lights and other distractions you'll find in a regular car. The column gearshift takes a little getting used to though, and BMW-esque colour display and audible warnings give away hints as to the car's parentage.
Comfort
It's well known that Rolls-Royce cars offer one of the most luxurious and comfortable experiences out there and the Ghost is no different. With plenty of room in the cabin and exterior noise suppressed to levels its rivals struggle to match, the Ghost is an extremely comfortable experience.
Car security
Keyless entry and ignition is the norm here, which is on par with other cars in this sector. A comprehensive immobiliser and security package is also present, although given the car's desirable nature you might want to consider a tracking device for added peace of mind.
Car safety
The Ghost might be extraordinary in some areas but it presents a safety package that will be familiar to owners of premium luxury cars everywhere. From a plethora of airbags to an array of electronic stability measures, every angle is covered.
Driver appeal
While it's clear that the Ghost remains a quiet and refined car, and one with the bias still heavily towards rear seat passengers, its smaller size encourages owner/drivers to take the wheel more often. And they won't be disappointed, as the car can be successfully driven with a surprising amount of enthusiasm. The steering might be too light for some but the car's engine and gearbox are smooth and responsive at all times, while pitch and roll is kept to a minimum at all times.
Family car appeal
In principle the car's spacious cabin is its strength. That cabin is, however, trimmed in a range of expensive materials, meaning toddlers with sticky fingers and dirty shoes aren't really welcome. And it's only really a four-seater, which means a high quality people carrier might be a better option.
First car appeal
It goes without saying that the Ghost is hardly an ideal first choice. Its size and cost should put most people off. If, however, you have access to such a car you'll find it easy to drive - once you've become used to its size.
Quality and image
Since BMW ownership and the introduction of the Phantom model, Rolls-Royce has enjoyed a new wave of success. The cars are more advanced and reliable now, while the introduction of the Ghost has, relatively speaking, made ownership more affordable and accessible.
Accessibility
The car's wide opening front doors make access to the cabin straightforward, while the raised seating position means you can slide in with little effort. At the rear the car's doors have a reverse opening action, which does improve access. The rear doors also have a convenient powered closing function - partly because once inside you'll find it a stretch to reach and close the m manually.
Stereo and ICE (In car entertainment)
Like so many elements of the car, so long as you have the money almost anything is possible. Bespoke infotainment systems are not unusual requests for Rolls-Royce engineers, however the basic offering is a powerful and easy to use system combining audio, telephone and sat-nav functions. Rear seat screens and the ability to play multiple sources at once are also possible.
Colours and trim
The bespoke nature of the car means you can opt for any colour and trim combination you want, with cost being the only limiting factor. In reality, the Ghost looks its best when selected in traditional dark hues. In the cabin, it's hard to select one of the various wood trims and leather upholstery combinations that doesn't look good.
Parking
There's no hiding the fact that the Ghost is a big car by modern standards. Thankfully all the major controls are light and accurate, which makes the job a little easier. Parking sensors and external cameras help your chances of success, although there's no substitute for practice.
Spare wheel
Spare wheel fitted as standard.
Range information
Petrol engine options - 6.6-litre V12 (563bhp). Transmission options: eight-speed automatic gearbox fitted as standard. Trim levels: one specification level with comprehensive range of standard and bespoke options.
Alternative cars
Mercedes-Benz S-Class Highest specification S-Class will be cheaper but, obviously, lacks the Ghost's special appeal
BMW 7 Series Shares more than a little with the Ghost; looks an acquired taste
Bentley Flying Spur The affordable Bentley saloon delivers performance, agility and refinement with aplomb
Audi A8 High-tech mainstream alternative; roomy in long wheel base trim but nowhere near as exclusive as the Ghost