September 2006
Renault Megane Sport Saloon Privilege 1.9 dCi 130 FAP
Familiar Megane appearance greets your from the front
September 2006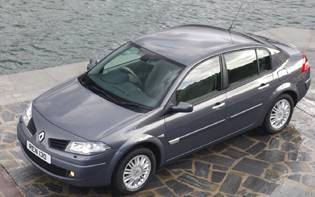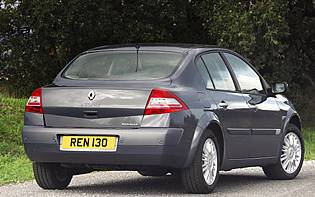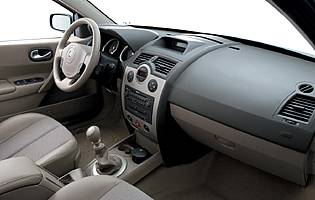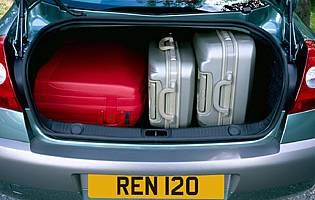 Overall rating

Likes:
Good level of refinement and creature comforts
Uprated diesel engines are welcome improvements
Premium feel extends to the cabin
Ride is biased towards comfort
Gripes:
Keen drivers should look elsewhere for thrills
Saloon design is not as attractive as hatch bodystyle
Some minor controls are fiddly to operate
Rear load compartment not as versatile as that of the hatch variant
The hatch and, to a lesser extent, the estate versions of Renault's Megane are the ones that attract the most attention. The saloon, on the other hand, is something of a Cinderella model for the French firm. Aesthetically it may not be as pleasing as the other cars, but it does fulfil an important role.
As Renault has made constant but small improvements to its image, it has mirrored this activity in its cars. Although careful to avoid making the car significantly different to other models in its range, the most noticeable changes to the Megane include the new V-shaped grille, slimmer headlights and new front bumper.
The enhancement programme continues inside, with an improved range of trim fabrics available across the range. Details such as the new instrument graphics and soft-touch cabin materials have boosted the car's premium feel.
Another growing area of importance for Renault is refinement, and there's an obvious improvement in terms of fit and finish. Changes have also been made to the car's dynamic performance, although the Megane was never designed to be a Ford Focus rival. The car's electric power steering has been tweaked, but it still lacks sufficient feel to please keen drivers.
New engines complete the changes, with the inclusion of a more powerful flagship diesel engine an important addition. But while these changes are admirable and welcome, it must be remembered that the Saloon variant of the Megane range is very much a minority player. Unlike in the South and East, Central and Western Europe is a small market for compact saloons. The Megane is a practical option, but you do have to sacrifice a little versatility in the load area.
Our verdict on the Renault Megane Sport Saloon Privilege 1.9 dCi 130 FAP
There's no question that this Megane range is light years ahead of cars from the previous decade. Well built, boasting a premium feel to the cabins, safe and well equipped, it's difficult to find any major faults. But as a low cost alternative to a premium saloon, the Megane Sport Saloon falls a little short. In truth it's not quite as stylish as its more costly rivals, but it easily holds its own when up against cars from Ford and VW.
Costs
The Megane can be an affordable car, but it's easy to be tempted by the higher priced, higher equipped models. You can balance all this by opting for a diesel variant; Renault's diesels are both refined and frugal. The car's good safety record has had a positive effect on insurance ratings, although the saloon model is hardly a leading light in the residual value stakes.
Space and practicality
The Megane saloon delivers good head, leg and shoulder room for front and rear passengers, although anyone in the back sitting behind a tall passenger will have to compromise slightly. In saloon form, the boot is a good size, but not as accommodating of odd-shaped loads as the hatch car's boot space. Storage areas in the cabin are numerous, though.
Controls and display
Renault gives far more thought to the styling of its controls and displays than many of its rivals. Everything is easy to read, clearly marked and intuitive. The remote stereo controls are a good example, as are the centrally located ventilation controls. The only slight gripe is with the car's handbrake, which dominates the space between the front seats. The lever could be a more elegant solution, and sometimes requires more effort than anticipated.
Comfort
The bias here is most definitely towards comfort, with the Megane doing an excellent job of filtering out the majority of road imperfections. It also boasts a comfortable cabin, with supportive seats front and rear. The high levels of cabin refinement are also worthy of praise.
Car security
You get the usual package of measures on the Megane saloon, including remote central locking plus an immobiliser. An alarm is available, as is Renault's famous keyless ignition feature, which allows you to keep the admittedly bulky credit car-size key on your person and start the car via a button on the fascia.
Car safety
The Megane range's safety credentials are top notch, and have proven to be a strong selling point. All models are fitted with ABS and Electronic Brakeforce Distribution, with ESP, traction control and tyre pressure monitors also available. Airbags aren't in short supply, while Isofix mounting points are present in the rear seats.
Driver appeal
The driving experience is good, but it is not as enjoyable as some of the competition. The steering is consistent and light, but lacks feel. However, the car's suspension is supple and cabin noise levels are low. Overall, the Megane saloon is a car that is happier drifting along a motorway than it is being driven hard down a country lane. This is especially true of the diesel variants, with their laid-back power delivery and is compounded by the four-speed auto gearbox's old-style 'slush box' personality.
Family car appeal
On the whole the Megane saloon is a good family car, although the conventional booted format isn't as flexible as the five-door hatch layout. The saloon boot can cope with most things, but awkward items might not easily fit or prove difficult to remove. That said, the rear seats offer plenty of room for growing children, and Renault has a habit of littering its cabins with plenty of cubbyholes.
First car appeal
Ease of driving and a high level of passive safety are two obvious plus points. However, the saloon can prove tricky to park and the high power variants could prove expensive to run. First timers might find Renault's Clio or Modus cars more funs and less expensive.
Quality and image
Overall fit and finish should satisfy even the most discerning buyers - the French firm has improved its game noticeably in recent years. Image-wise, the Megane's shape goes some way to create an image of French flair, although the saloon is not as pretty as the hatch or estate variants.
Accessibility
Access to the front and rear seats is straightforward, although the rear doors don't open quite as wide meaning they are better suited to the young and more agile. At the rear, the boot requires little effort to open and shut, but the load lip is a little high.
Stereo and ICE (In car entertainment)
Standard fit is a rather good audio system with fingertip remote controls mounted next to the steering wheel and single-slot CD player. A CD multichanger is available, further boosting the car's desirability. The top-range colour sat-nav system is a good one, and responds swiftly to route changes.
Colours and trim
Renault has carved out a reputation for itself by giving all its cars excellent specification levels. Overall, the car is better suited to lighter metallic colours rather than darker colours, which make it appear heavy-looking from the outside. Inside, lighter coloured plastics and fabrics suit it best.
Parking
The Megane saloon's shape isn't always a help when it comes to parking, as the car's stubby boot can make judging the distance to parked cars tricky. The safest option is to go for some parking sensors. Elsewhere, the car's light power steering and good-size mirrors reduce the overall difficulty.
Spare wheel
Space saver fitted as standard.
Range information
Petrol engines: 1.4-litre (100bhp); 1.6-litre(110bhp); 2.0-litre(135bhp). Diesel engines: 1.5-litre (85bhp and 105bhp); 1.9-litre (130bhp), 2.0-litre (150bhp). Five-speed manual fitted as standard to 1.4 and 1.6-litre petrols and 1.5-litre 85bhp diesel, all others fitted with six-speed manual gearbox. Four-speed automatic transmission available on 1.6-litre petrol and 1.9-litre diesel. Trim levels: Expression, Dynamique and Privilege.
Alternative cars
Ford Focus Good to drive, well built but styled more like a small Mondeo
Volkswagen Jetta A shrunken Passat - well built, stylish and comes with a long list of extras
Volvo S40 Quirky small Volvo is compact inside and out. Not a driver's car but well built
Seat Toledo Unusual styling hides value for money package