March 2015
Renault Megane Renaultsport 275 Trophy R
It's hard to miss the Trophy-R thanks to the graphics
March 2015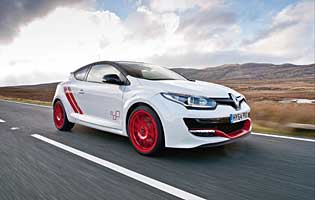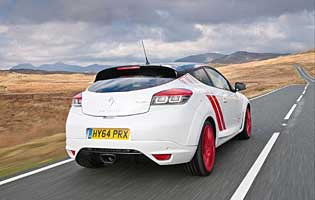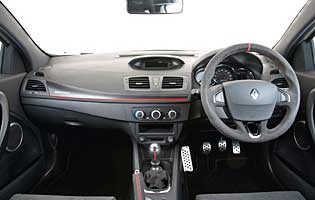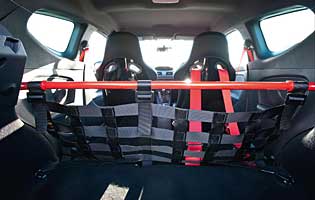 Overall rating

Likes:
Razor sharp responses; feels like a genuine track machine
Powerful and characterful turbocharged engine
Still surprisingly benign despite stiff suspension
Capable of keeping up with more expensive cars
Gripes:
Lack of rear seats is a significant factor
Can be tiring on longer drives
Front seats are comfortable but uncompromising for larger occupants
Unquestionably an expensive car
French manufacturer Renault has one of the most enviable back catalogues in the hot hatch segment, with several highlights in a history stretching back to the 1960s. The latest offering is also one of the most extreme; the Trophy-R is based on the existing Megane Renaultsport 275 but is even more biased towards track performance with a host of upgrades.
The standard Renaultsport Megane 275 is far from lacking in bite and the Trophy model takes this a stage further. However Renault has created the Trophy-R as the ultimate expression of the high performance Megane, and makes almost no compromises in the pursuit of speed, handling and a record time around the infamous Nurburgring for a front-wheel-drive car.
Although the Trophy-R has no more power than the regular 275 model, it makes the most of it thanks to a substantial programme of weight loss. Sound deadening has been removed, the regular front seats have been replaced with carbonfibre bucket items, the rear seats have been removed and features like the audio system and air conditioning have been deleted, for a total weight loss of 100kg.
As well as weight loss the Trophy-R features a bespoke exhaust system, which not only improves engine performance but also saves weight and adds a unique sound when revved hard. The options list also contains exotic items such as a six-point harness for track work, a lightweight lithium-ion battery and semi-slick Michelin tyres optimised for dry weather.
Elsewhere the Trophy-R features high specification Ohlins dampers, which can be adjusted individually by the driver to create their ideal set up. Larger diameter brakes are also fitted, all with the aim of improving performance. Even the luggage area is designed to carry the spare wheels that track drivers will often require.
Our verdict on the Renault Megane Renaultsport 275 Trophy R
Few production cars place such emphasis on track and high-speed driving, but the Megane Trophy-R is a surprisingly polished product none the less. It delivers driving enjoyment by the bucketful and yet still retains some of the ease of use of a regular Renaultsport Megane. It remains however a car best suited to the dedicated enthusiast.
Costs
Insurance is likely to be higher than else where in the range, and tyres developed specifically for the model are likely to be expensive if wearing them out routinely. That said, the turbocharged petrol engine has the potential to be reasonably fuel efficient if driven sensibly. Purchase price offers a great deal of performance and equipment for the money, but optional extras are numerous and potentially expensive.
Space and practicality
Up front the Trophy-R is reasonably spacious - headroom is improved thanks to the lower seating position and oddment space is good. With no rear seats the whole rear of the car is potentially usable for luggage, but the rear strut brace will hamper longer loads.
Controls and display
The Megane's cabin works well and is more intuitive than some rival offerings while managing to combine usability with design flair. A case in point is the main cluster's mix of analogue and digital displays. Elsewhere, the likes of remote audio controls on the steering column are a welcome addition and separate controls for the sat-nav, where specified, are useful.
Comfort
Bear in mind that the Trohpy-R is set up for the track and the comfort levels on offer are reasonable. Change the suspension settings (a job that can only be done when out of the car) and you can soften it up, but long motorway journeys are best avoided thanks to the reduced sound insulation and noisy exhaust.
Car security
An alarm and immobiliser are fitted as standard on all Megane Renaultsports, but outside these expected items there is no extra security provision, something that could well be worthwhile on a car that is this desirable.
Car safety
Alongside the usual kit like standard ESP and a full complement of airbags the updated Megane can now also be specified with lane-departure warning system and automatic high/low beam headlight adjustment, all adding to the high overall level of safety.
Driver appeal
Although the Trophy-R can do humdrum driving, it is a waste to use it in anything other than ideal driving conditions. The optional Michelin tyres are designed to work best in dry conditions, and the whole car is geared towards challenging roads. The steering is sharp, weighty and responsive, the engine delivers thrilling acceleration with barks and pops from the exhaust and the stiff suspension delivers superb grip and balance.
Family car appeal
Bucket seats tend not to accept child seats too readily, and without a rear bench to accept them the Trophy-R will fall well short for most families.
First car appeal
Not suited to a novice driver, the Trophy-R would be too much of a handful for anyone not experienced with powerful front-wheel-drive cars.
Quality and image
For years Renault was not highly regarded due to patchy build and reliability issues. Things have changed enormously, plus the designs are now much more attractive. Those factors alone have ensured a more positive response from the public while great strides have been made on the durability front. The Renaultsport models have proved particularly popular. Backed by on track Formula One successes, recent Renaultsport models have proved themselves to be worthy of recognition from serious drivers.
Accessibility
A strict three door only arrangement would ordinarily cause some issues when getting into the rear seats; helpfully the Trophy-R does without them. However even getting into the front can be an issue simply because of the height of the side supports of the bucket seats. In addition, should you use the optional six-point harnesses instead of seat belts, reaching the extremities of the dashboard may be an issue.
Stereo and ICE (In car entertainment)
As standard the Trophy-R has no audio system at all, it being removed to save weight. However there are two versions that can be added as an option, the more sophisticated of which brings with it satellite navigation and also the R monitor, a performance aid which displays numerous car parameters.
Colours and trim
The Trophy-R is designed to be outlandish and comes only in a select choice of bright colours, with bold exterior graphics to boot. You can even add red-finished alloy wheels, making this a car for the bold. On the inside it's much more subtle but largely because all the luxuries have been removed.
Parking
Despite the Megane's low-slung driving position forward visibility is good. Rear visibility is less impressive due to hunched shoulders and a narrow, angular rear screen. Accurate steering with plenty of assistance certainly helps matters, while parking sensors make a world of difference. It's a small factor but the bucket seats also make it more difficult to turn around and look behind when reversing.
Spare wheel
Emergency tyre repair kit supplied as standard.
Range information
Petrol engine options - 1.2-litre (115bhp); 1.6-litre (110bhp); 2.0-litre (265bhp). Diesel engine options - 1.5-litre (86bhp, 106bhp); 1.6-litre (130bhp); 2.0-litre (160bhp). Transmission options: five and six-speed manual gearbox depending on model, plus CVT auto gearbox (2.0-litre 140bhp petrol only). Trim levels: Dynamique, GT Line, Limited, Renaultsport, Trophy, Trophy R.
Alternative cars
Volkswagen Golf R More of an all-rounder but hugely capable and very fast
Vauxhall Astra VXR Old-school approach but big appeal
Ford Focus ST Modestly powerful in this company but a favourite of keen drivers
Seat Leon Cupra 280 Key rival is closely matched on performance