January 2006
Renault Megane Dynamique 2.0 dCi
Minor detail changes add to the striking looks of the Megane
January 2006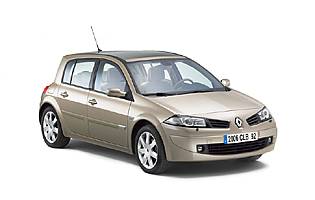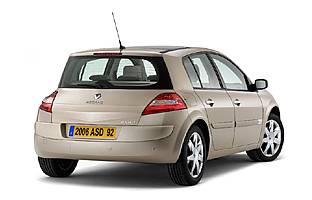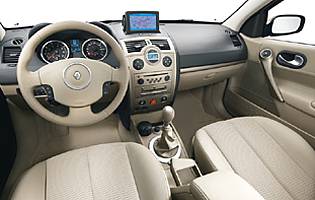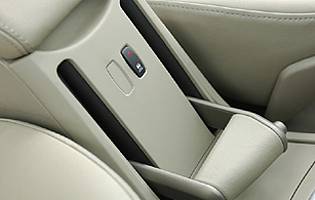 Overall rating

Likes:
Good level of refinement aids passenger comfort
Uprated diesel engine is powerful and revs well
Cabin feels roomy and well built
Good safety package as standard
Gripes:
Driving experience not up to class best
Wind noise at speed is distracting
Exterior revisions unlikely to tempt new buyers
Some minor controls are fiddly to operate
Competition is hottest in the medium hatchback sector, and the Renault Megane seized a large slice of the market when it was launched in 2002. Since then most major rivals have launched all new cars, so for 2006 Renault made a number of revisions to keep it within touching distance of the competition.
Renault made several revisions to the exterior of the Megane, although it has been careful to avoid making the new car look significantly different to the detriment of used values. The most noticeable changes are the new V-shaped grille, slimmer headlights and new front bumper. The distinctive diamond-shaped Renault badge is also larger. At the rear, new light clusters and a reprofiled bumper are subtle changes.
There are also a number of improvements inside the new Megane, though once again owners of an original car will instantly feel at home. A new range of trim fabrics have been made available across the range, and details such as the new instrument graphics with white backlighting and the soft-touch dashboard help to raise the feeling of quality. Dynamique models also benefit from chrome surrounds on the door handles and air vents.
Refinement is an area that Renault has concentrated on, with a claimed improvement in the standards of fit and finish inside the cabin, as well as more soundproofing throughout the car. Refinements have also been made to improve steering feel by adjusting of the electronic power steering - making the car more enjoyable and consistent to drive.
Another significant change to the 2006 Megane is the addition of new engines, including a 2.0-litre diesel with a high output of 150bhp. Using smart technology to deliver impressive outputs as well as fuel efficiency and low emissions, it offers the performance of a petrol engine with all of the benefits that buyers expect from a diesel. It also gives Renault a contender in this segment for drivers who are looking for a car with strong performance from a diesel engine.
Our verdict on the Renault Megane Dynamique 2.0 dCi
The Megane provides a good all-round package, and these improvements do put it closer to the class best. For many it will have all the right ingredients to make it first choice, though keener drivers will find greater satisfaction elsewhere, and the styling may not be to all tastes. However, a buyer choosing a new Megane is unlikely to be anything other than impressed.
Costs
The purchase price of the 2.0-litre diesel version is near the top of the Megane line-up, and relatively high in comparison with the competition. However, long service intervals and the promise of excellent fuel economy should help to keep costs down. The only other significant cost will be insurance, thanks to the relatively high grouping due to the output of the diesel engine.
Space and practicality
The Megane makes use of its exterior dimensions well, delivering good head, leg and shoulder room for front and rear passengers. The boot is also generous, giving it the ability to cope with a full load of people and luggage. Practicality is also a strong point, with a good deal of storage areas and a generous glovebox.
Controls and display
The new instrument graphics are smart and easy to read, while the digital display and trip computer are informative and simple to use. The remaining controls, grouped either on the centre console or by the driver's door are on the small side however, and some drivers will need to duck down to determine the placement of some buttons. Largely however, the Megane's displays are well laid out.
Comfort
The Megane provides a comfort-biased ride, filtering out the majority of road imperfections with ease. It also has a very comfortable cabin, with good seats front and rear. The airy cabin also contributes to the comfort of passengers, as does the high levels of refinement. The only negative point is the dramatic increase in wind noise above 60mph, which seems pronounced because the rest of the car remains so hushed.
Car security
With remote central locking on all models and the addition of an alarm on many versions, the Megane provides a high level of security. A standard fit engine immobiliser will make it very difficult for thieves to succeed in stealing the car.
Car safety
The safety credentials of the Megane have been a strong selling point, and its specification backs this up. All models are fitted with ABS and Electronic Brakeforce Distribution, with ESP and traction control on higher specification models. Tyre pressure monitoring is also a useful option. Front seats are fitted with double seatbelt pretensioners, while the higher specification models are fitted with ten airbags.
Driver appeal
In 2.0-litre dCi form the Megane boasts a satisfying combination of performance and economy, and the engine's laid back nature makes progress at any speed very easy. Unlike most diesel engines of this capacity and output, the torque is spread evenly over the entire rev range, so it avoids a huge surge of acceleration which ends just as rapidly. Instead it makes linear but rapid progress, right up to the red line. This makes it much easier to drive when travelling at speed, as it requires fewer gearchanges than some of its rivals. The rest of the driving experience is good, but it is not as enjoyable as some of the competition. The steering is consistent and light, but has less feel than some, but the suspension does a good job of balancing good grip and ride comfort.
Family car appeal
The Megane has a strong case for making an excellent family car, thanks to its good refinement, practicality and spaciousness. Even taller children or adults can get comfortable in the rear seats while still leaving sufficient space in the boot.
First car appeal
For first time car buyers the Megane has plenty to recommend it, most notably the ease of driving and the strong level of passive safety. On the downside the 2.0-litre diesel version will be a little expensive to buy and insure for a new driver, though a smaller-engined version would be ideal in many respects.
Quality and image
A small but marked improvement in quality pushes the Megane up with the best in this class, and the overall fit and finish should meet the demands of even the most discerning buyers. In terms of image, the Megane's shape goes some way to create an image of French flair, although in most respects it is actually a very sensible and practical car.
Accessibility
Even in three-door form, gaining access to the front or rear seats of the Megane is straightforward. The high roofline removes the need to stoop a great deal to gain access, while the long doors give a large aperture. On three-door versions the front seats tilt and slide to make access to the rear seats easy, while on five-door models all passengers can enter without problems. Both versions have a large tailgate that leaves a big aperture to the generous load area.
Stereo and ICE (In car entertainment)
All Megane models are fitted with a radio and CD player, which provides a good standard of sound quality. The unit itself uses rather small buttons that are a little difficult to identify, but this is backed up by the excellent column-mounted controls that allow all the major functions to be operated with ease.
Colours and trim
A significant improvement over the previous generation, the revised Megane has a similar interior in layout but constructed from better materials. On some models the use of much lighter colours such as beige for the seat fabric and on the dashboard makes the cabin feel much more airy and spacious. The overall feel of the cabin is very good, with an excellent mix of materials and colours.
Parking
The Megane's distinctive shape is a help when it comes to parking, as the near-vertical rear window makes it easier to determine where the rear of the car is. In other respects the light power steering and progressive clutch makes short work of parking, and reversing sensors are available as an option on most models.
Spare wheel
Space saver fitted beneath the boot floor.
Range information
Petrol engines: 1.4-litre(100bhp), 1.6-litre(110bhp), 2.0-litre(135bhp) 2.0-litre turbocharged(165bhp) Diesel engines: 1.5-litre(85 and 105bhp), 1.9-litre(115 and 130bhp), 2.0-litre(150bhp). Five-speed manual fitted as standard to 1.4 and 1.6-litre petrols and 1.5-litre 85bhp diesel, all others fitted with six-speed manual gearbox. Four-speed automatic transmission available on 1.6-litre petrol and 1.9-litre diesel. Trim levels are Extreme, Authentique, Expression, Dynamique, Privilege, with additional exterior and interior specifications higher up the range.
Alternative cars
Ford Focus Excellent to drive and well built but dull inside and out.
Volkswagen Golf Plain exterior but well built, decent driving experience.
Vauxhall Astra Average cabin lets down smart styling and enjoyable chassis.
Toyota Corolla Plain looks hide strong engines and build quality.