May 2009
Renault Megane Coupe Dynamique 2.0 TCe 180
Rakish Megane Coupe is an arresting sight on the road
May 2009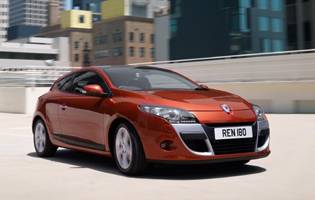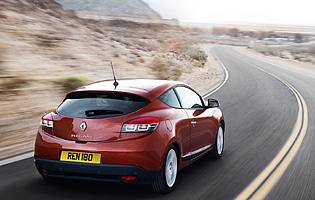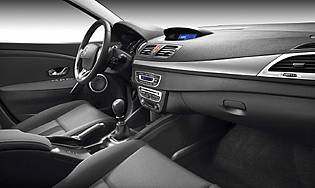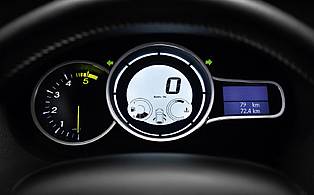 Overall rating

Likes:
Radical style a welcome departure
Solid build quality inside and out
Practical and comfortable cabin
Refined and willing engine range
Gripes:
Exterior might not be to everyone's taste
Despite its racy looks, the Megane is no performance car
Engines lack a little punch
Rear seat space is modest
In a bid to reverse its fortunes, Renault to the bold decision to be, well, more bold when it came to car design. For many the most memorable example was the previous generation Megane range. It may have split opinion but it got people talking about the brand and the cars. This Megane Coupe follows in that tradition.
If the previous Megane was radical, this model is no less striking - just in a different direction. Gone is the upright stance, in favour of something sleeker and more sophisticated-looking. It's fair to say that this Megane Coupe is unlikely to deter buyers; the sleeker profile is more in keeping with the characteristics of a proper coupe.
Looking at the rear of the car, it's clear to see that Renault has opted for a racier look than previously. And there's no shortage of details to uncover. The car's lights and the option of contrasting colours for the front bumper all make a positive difference. The same is true inside, with the adoption of a Laguna-esque cabin design complete with high quality materials.
In keeping with tradition, Renault hasn't skimped when it comes to equipment. All the usual safety kit is present - active and passive - and there's a good choice of premium audio options, which is another Renault speciality. The cabin itself is also an accommodating space, with plenty of room up front and enough in the rear to make it practical and versatile.
What's likely to surprise the critics is the news that the Megane Coupe goes as well as it looks. Granted, the car is biased a little more towards comfort than to out-and-out performance, but there's enough talent and ability here to keep all but the most discerning drivers happy. The TCe turbo petrol engine and higher power diesel variants show the most promise, with the car delivering a rounded, refined and eager-to-please performance.
Our verdict on the Renault Megane Coupe Dynamique 2.0 TCe 180
Looking good is only half the battle these days, and while this Megane Coupe will be for some a welcome step forward in terms of visual appeal, being able to walk the walk is no less important - especially if you add 'Coupe' to a car's name. And Renault has struck a happy balance with this three-door Megane; it's stylish, well built and a willing performer.
Costs
The eternal diesel-petrol discussion will be a personal decision; if you do the miles then the former will make sense. In general, running costs should be modest; the latest engines boast greener credentials and better fuel economy.
Space and practicality
Borrowing much from the regular five-door Megane, the Coupe's interior is familiar and, by and large. Much the same . The result is a good level of space for people and oddments. The rear section is less accomodating, purely because this is a three-door car with a sloping roof. It's perfectly useable, but tall adults won't want to travel long distances. At the back the boot offers ample space for what is a car biased more towards style.
Controls and display
Taking a leaf out of the Laguna's book, a lot of the Megane's control layout is familiar. It also works well and is more intuitive than some rival offerings while managing to combine usability with design flair. A case in point is the main cluster's mix of analogue and digital displays. Elsewhere, the likes of remote audio controls on the steering column are a welcome addition.
Comfort
Striking a sound balance between sporting behaviour and comfort, the Megane Coupe is a good compromise. Road and engine noise is pleasingly low in all situations, plus the cabin is big enough for two adults up front to not feel cramped. You'll need to be more accomodating if you're sitting in the back, however.
Car security
All the bases are covered here, what with remote central locking plus an immobiliser and alarm present across the range. Depending on the model, keyless access and ignition can be had - system allowing you to keep the key (essentially a credit card-size impliment) in your pocket at all times.
Car safety
Renault has successfully cultivated a solid safety reputation and the Megane Coupe yet another well executed car. There are plenty of airbags in the cabin, while electronic aids do their best to keep you out of trouble, altough sometimes they can intrude if you're having a bit too much fun. Crash protection is another Renault strong suit, as numerous EuroNCAP results show.
Driver appeal
With the passing of each new model, Renault's products have improved in the driving department. While something like Ford's Focus is better at certain things, this Megane is more willing and able than previous generations. Ride, handling and engine performance are all pretty good, making the experience enjoyable and rewarding when on the right road.
Family car appeal
There's a reason the five-door Megane exists - it's a better choice than the three-door model. Rear seat access isn't fantastic in the latter, something you'll notice when attemtping to belt in small children. As a second car the Megane Coupe will get by, but it's probably won't be your first choice - not that it's a bad car, of course.
First car appeal
In the main there's nothing wrong with the Megane Coupe for a novice driver. Stick to a low power car to keep the cost down and you'll be fine. Rear visiblity could be better, although nothing you won't be able to work around.
Quality and image
For years Renault was not highly regarded due to patchy build and reliability issues. Things have changed enormously, plus the designs are now much more attracive. Those factors alone have ensured a more positive response from the public while great strides have been made on the durability front.
Accessibility
For a two-door car the Megane Coupe is a relatively straightforward machine. Like any coupe its doors are big, so you might need to exercise caution when in tight spaces. Front seat access is fine, while you'll need to be reasonably agile to access the rear seats - it's easier to get in than out. At the back the car's tailgate doesn't require much effort to raise or lower.
Stereo and ICE (In car entertainment)
The basic set-up is more than adequate for most people, and the inclusion of steering column-mounted controls certainly make life easier. The unit's display is clear and easy to read, while the various upgrades should cater for all tastes.
Colours and trim
With the ability to select contrasting exterior trim to the main body colour, the Megane Coupe can look remarkably striking on the road. On the inside there's a generous amount of plastic present which, at least, makes for practical and durable suroundings.
Parking
Despite the Megane's low -slung driving position forward visiblity is good. It's not too bad looking rearward, although the car's screen could be bigger. Accurate steering with plenty of assistance certainly helps matters, while parking sensors make a world of difference.
Spare wheel
Space saver spare wheel included.
Range information
Petrol engine options - 1.6-litre (110bhp); 2.0-litre TCe (180bhp); 2.0-litre (140bhp). Diesel engine options - 1.5-litre (86bhp, 106bhp); 1.9-litre (130bhp). Transmission options: five and six-speed manual gearbox depending on model, plus CVT auto gearbox (2.0-litre 140bhp petrol only). Trim levels: Expression, Dynamique, Privilege.
Alternative cars
Vauxhall Astra In three-door form the Astra is attractive and fun to drive
Citroen C4 Coupe Sleek-looking C4 is distinctive and boasts a left-field interior
Honda Civic Coupe-like appearance is a refreshing change from previous model
Volkswagen Scirocco Proper coupe offers driver thrills and more than a hint of practicality