June 2009
Renault Kangoo dCi 106 Expression
Handsome front end wears the Renault family face
June 2009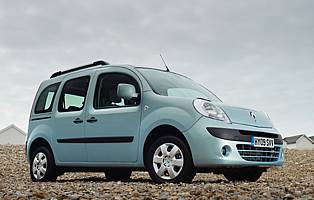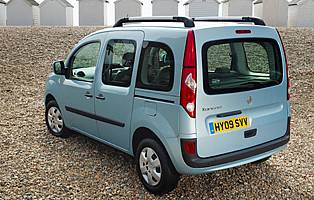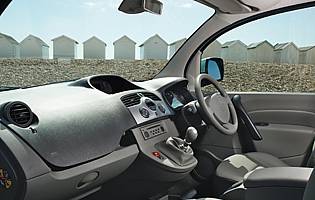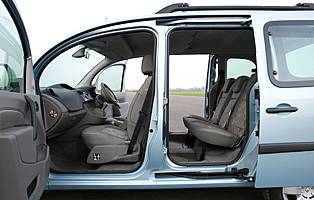 Overall rating

Likes:
Sharpened exterior is understated but appealing
Updated cabin hugely practical and of decent quality
Remains good value for money
Low running costs are a plus point
Gripes:
Biggest diesel is powerful but suffers from lack of low-rev torque
Steering wheel adjustment could be greater
Sliding doors clever but occasionally reluctant to move
Long tailgate requires considered parking
Renault can claim to be one of the pioneers of turning a commercial product into a family car with the original Kangoo, and the success of that first version has inevitably led to an all-new Kangoo. Aiming to distance itself further from commercial origins but without abandoning the key principles of value and ease of use, the new Kangoo has a tough act to follow.
The original Kangoo has been something of an underground hit, a car that is popular with buyers, particularly those spending their own money, and also a car that doesn't benefit from the high-profile exposure that its stablemates enjoy. However, the car's relatively low price and almost classless image means it has instant appeal for those who may not have preconceived ideas about what they want to buy.
The external appearance of the Kangoo has been updated, bringing it into line with the more exclusive models in the Renault range. The most obvious is the smoothed front end, with larger headlights and a slim grille. The whole exterior is less utilitarian in appearance, but features like the sliding side doors and large tailgate tell their own story. It is certainly an appealing shape, if only because it hints at how much room is available.
Underneath the skin, the Kangoo benefits from some higher quality mechanicals. The platform itself is based on the Scenic, which as well as promising better refinement also aids ride and handling as well as crash performance. It also benefits from increased dimensions in every direction, substantially increasing the amount of space on the inside. It retains numerous storage cubbies and shelves, borrowed from the commercial version.
Although only available in two trim levels, Kangoo can be specified with a choice of three diesel and two petrol engine, with the smaller of the two diesels gaining Renault's eco2 badge for being under the 140g/km barrier for emissions. Inevitably the focus is towards economy and emissions rather than performance, but the highest output diesel is enough to pull much larger cars in the Renault range.
Our verdict on the Renault Kangoo dCi 106 Expression
The latest Kangoo takes an already-successful formula and simply adds to it. It now has the road presence to earn respect, while the improved cabin remains as practical as ever but with added quality. The driving experience is easy rather than entertaining, but for buyers who are more bothered about bills and space rather than image, there are few better buys.
Costs
The Kangoo, despite its low-cost commercial origins, works out around the same price as a high-end supermini. The beauty of the Kangoo is that you get much more for your money. Be warned; due to the Kangoo's modest level of equipment, any savings you make will be negated when you start ticking the options boxes. However, the strong economy and low insurance will mean smaller bills especially for a car of this size.
Space and practicality
Overall, the Kangoo is an accomplished family machine. It boasts a generous boot, the twin sliding rear doors are an invaluable feature and front seat occupants are well catered for. However, rear seat occupants could do with a little more legroom. All of which is fine if you only transport children, but adults will feel the pinch. Oddment storage space is good, though. Door pockets are deep and Expression models gain overhead lockers, which help keep possessions out of the sight of prying eyes.
Controls and display
The Kangoo doesn't bristle with gadgets, so it would be foolish to expect more than the essential instruments. What you do get is similar to what can be found in your average supermini. The main dials are clear and the secondary controls - ventilation, radio - are simple enough to master. The remote audio controls are also a big help.
Comfort
Unlike commercial vehicles of old, the van-based Kangoo is a refined and comfortable mode of transport. Its seats are distinctly car-like and therefore reasonably supportive, while the Renault's ride is surprisingly supple and refined - even when being driven just one-up and no luggage or shopping. If there is a criticism, it's that the seats could provide more lateral support.
Car security
Even on a car as humble as this, features such as an immobiliser and automatic door locking above five mph are welcome, although a proper alarm system remains an option.
Car safety
For a company that has a strong safety record, it's good to see that all models get twin front and front side airbags as standard. ESP is also an option.
Driver appeal
No car in the budget MPV sector will ever match the likes of Ford's Focus for driver involvement, but the Kangoo is not a million miles from more conventional opposition. The powerful diesel offers sprightly acceleration, although only once past the languid point without turbo boost at the bottom of the rev range. The slick gearchange is standard Renault and body roll, although more obvious than in a conventional car, is nowhere near alarming.
Family car appeal
For a family on a budget, or one who wishes to look beyond the default hatchback options, the Kangoo makes a sound case for itself. If you have young children and/or animals, you'll be glad that Renault put durability before aesthetics. The car's capacious boot makes hauling both shopping and pushchairs easy, which is not something you can say about conventional cars. The numerous cubbyholes dotted around the cabin mean the car can stay tidy and uncluttered - which is good from an anti-theft and safety perspective.
First car appeal
It's not inconceivable that a novice driver could be drawn to the Kangoo although young first timers would probably prefer a smaller, cheaper to insure vehicle. However, as a first family car, the Kangoo fits the bill perfectly. It's spacious, the cabin is trimmed in durable materials and there's plenty of space for all the clobber that comes with raising a young family.
Quality and image
The concept of a people carrier based on a van will never have buyers rushing to the dealerships, but the Kangoo does well to hide its commercial roots thanks to the sharp exterior styling and surprising cabin. Its image benefits from this, coming across as completely unpretentious and not a car for snobs. Quality is also a surprising strong point: considering its humble origins, the Kangoo offers a good quality cabin. The odd squeak of trim here and there may be in evidence, but it is nothing that will bother most owners.
Accessibility
The Kangoo is an easy car to live with, not least because of its twin sliding rear doors and positively huge tailgate. The former affords you easy access to the rear of the car's cabin and the ability to open the doors without worry in a cramped car park. The flip side is that parking too close to a wall or another car will prevent you from getting proper access.
Stereo and ICE (In car entertainment)
Even the cheapest version of the Kangoo gets a radio/CD with remote controls located on the steering column to make changing the volume or radio station safer and the centrally mounted display is also a good feature. An auxiliary socket is also standard.
Colours and trim
Although the price tag might suggest otherwise, the cabin of the Kangoo is a cheery place thanks to decent plastics, lighter colours and large windows. On the outside, brighter colours suit it best and, while metallic paint may be an option, it is not one that really suits the Kangoo.
Parking
From the Kangoo's lofty driving position visibility in general is good, making the act of parking straightforward. One benefit of being based on a commercial vehicle is the fact that the Kangoo comes with a pair of oversize mirrors - ensuring that rearward blind spots are greatly reduced. Factor in light power steering and slotting into a space is no harder than it would be in a conventional car.
Spare wheel
A standard spare is located under the Kangoo's boot floor.
Range information
Petrol engine options - 1.6-litre (90bhp and 105hp). Diesel engine options - 1.5-litre (70bhp, 85bhp and 105bhp). Transmission options: five-speed manual gearbox, six-speed manual gearbox, four-speed automatic gearbox. Trim levels: Extreme, Expression.
Alternative cars
Peugeot Partner Tepee Identical principal to Kangoo; little to separate in terms of ability
Fiat Doblo Poor relation to Kangoo, lags behind in most areas
Citroen Berlingo Citroen version of Partner Tepee, lacks its style
Hyundai i800 Ultimate version of the same idea gets you eight seats, but more expensive