November 2004
Renault Kangoo 1.5 dCi Expression
Kangoo's exterior design couldn't be further from that of a regular van
November 2004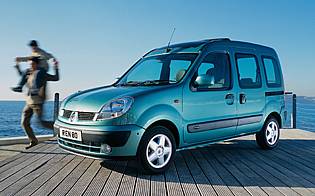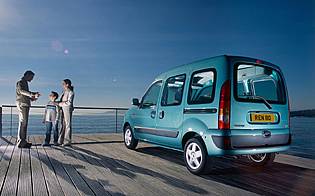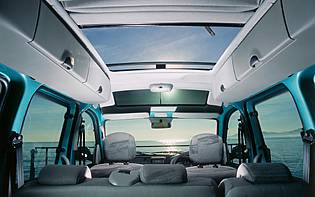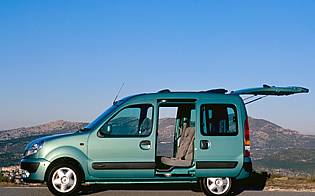 Overall rating

Likes:
The car's successful utilitarian approach to motoring - minus the rough edges
Jaunty exterior styling is a refreshing alternative to that of conventional MPVs
Cabin storage options are numerous and ingenious - the overhead lockers being especially impressive
Ride and handling is good for this type of car - pitch and roll is kept to a pleasing minimum
Gripes:
Overall cabin build quality could be better
Despite the Kangoo's size, rear legroom is disappointingly average
Rattles and squeaks in the cabin can prove irritating thanks to all the various plastic fittings present
Tailgate is heavy and requires considerable strength to close
Simply thinking that Renault's Kangoo and its rivals are nothing more than van-derived people carriers is to miss the point. Unlike their more upmarket counterparts, these cars discourage owners from wrapping their purchases in cotton wool - thus allowing families or small business to exploit the vehicles' utilitarian roots to the full. However, refinement is often comparable to that of a family car and, in the Renault's case, the driving experience is an enjoyable one.
As van spin-offs go, Renault's Kangoo is a fine effort. After some initial public resistance to all the cars in this sector, the passage of time has seen buyers embrace these vehicles. On the Kangoo's side, among other things, is its styling. Renault's decision to make its light commercial offering more than just a box on wheels was a good move, and helped to raise the Kangoo's profile.
Until the likes of the Kangoo came along, anyone torn between a less than completely versatile family hatch and a traditional people carrier had to make a difficult choice. The former couldn't offer the flexibility of the latter, but at least it drove well. And yet, unleashing kids and pets into the refined confines of a conventional MPV wasn't an exercise for the faint hearted as the upholstery was always at risk.
Enter the Kangoo and its ilk. Basic interior trimmings made the cars more suitable - and appealing - to buyers with busy or active lifestyles, and messy pets. On a serious note, with the Kangoo devoid of all the plush trimmings associated with regular MPVs, its price is attractive to people seeking a roomy and versatile holdall who would otherwise be unable to afford an estate car or large people carrier.
The Kangoo makes perfect sense if purchased with Renault's willing 1.5-litre diesel motor. Economical, plenty powerful and refined, this combination is the true embodiment of budget motoring. Further reinforcing the utilitarian side of the Kangoo is an all-wheel drive 'Trekka' variant, which could be viewed as the perfect antidote to a soft-roader.
Our verdict on the Renault Kangoo 1.5 dCi Expression
It may be descended from a van but Renault's Kangoo is anything but rough and ready. Granted the cabin is decked out in plastics that would be viewed as second grade in a traditional family hatch - or MPV - but that's part of the Kangoo's charm. Its sliding rear doors, huge tailgate and boot, lofty driving position and aircraft-style cabin overhead lockers combine to deliver a surprisingly enjoyable ownership experience.
Costs
The Kangoo, despite its low-cost commercial origins, works out around the same price as a high-end supermini. The beauty of the Kangoo is that you get much more for your money. Be warned; due to the Kangoo's modest level of equipment, any savings you make will be negated when you start ticking the options boxes. That aside, pick the front-wheel drive diesel variant and you'll soon forget what a filling station looks like. The car's simple underpinnings should see only modest garage bills along with real-world insurance quotes.
Space and practicality
Overall, the Kangoo is an accomplished family conveyance. It boasts a generous boot, the twin sliding rear doors are an invaluable feature and front seat occupants are well catered for. However, rear seat occupants could do with a little more legroom. All of which is fine if you only transport children, but adults will feel the pinch. Oddment storage space is good, though. Door pockets are deep and Expression models gain overhead lockers, which help keep possessions out of the sight of prying eyes.
Controls and display
The Kangoo doesn't bristle with gadgets, so it would be foolish to expect more than a basic set of instruments. What you do get is similar to what can be found in your average supermini. The main dials are clear, and the secondary controls - ventilation, radio - are simple enough to master. The model dependent remote audio controls - located next to the right-hand column stalk make life much easier, and the radio's oversize display located on top of the fascia is a welcome nod to safety.
Comfort
Unlike commercial vehicles of old, the van-based Kangoo is a refined and comfortable mode of transport. Its seats are distinctly car-orientated and therefore reasonably supportive, while the Renault's ride is surprisingly supple and refined - even when being driven just one-up and no luggage or shopping. If there is a criticism, it's that the seats could provide more lateral support during cornering manoeuvres.
Car security
For a car this simple and straightforward, don't be too disappointed by the lack of fancy ant-theft measures. The Kangoo is hardly a desirable target, but this should work in your favour as the practical Renault won't cost the earth to insure. You do get remote central locking and an immobiliser, though.
Car safety
For a company that seeks to promote its safety record at every available opportunity, it's good to see that all models get twin front airbags as standard, with the option of front side airbags. Unlike some more costly MPVs, the Kangoo can't be had with rear passenger airbags.
Driver appeal
No car in the budget MPV sector will ever match the likes of Ford's Focus for driver involvement, but the Kangoo is head and shoulders above Citroen's Berlingo and Fiat's Doblo. Although a tall car, roll is well controlled, which makes even the simple things like negotiating roundabouts a less tiring experience. And for all-round performance, the 1.5 dCi diesel engine is a willing yet frugal performer. The petrol options are fine, but the diesel is much better.
Family car appeal
For a family on a budget, or one who wishes to look beyond the default hatchback options, the Kangoo makes a sound case for itself. If you have young children and/or animals, you'll be glad that Renault put durability before aesthetics. The car's capacious boot makes hauling both shopping and pushchairs easy, which is not something you can say about conventional cars. The numerous cubbyholes dotted around the cabin means the car can stay tidy and uncluttered - which is good from an anti-theft and safety perspective.
First car appeal
It's not inconceivable that a novice driver could be drawn to the Kangoo, although young first timers would probably prefer a smaller, cheaper to insure vehicle. However, as a first family car, the Kangoo fist the bill perfectly. It's spacious, the cabin is trimmed in durable materials and there's plenty of space for all the clobber that comes with raising a family.
Quality and image
The concept of a people carrier based on a van will never have buyers rushing to the dealerships, but the Kangoo does well to hide its commercial roots under the veil of above average levels of versatility. It also helps that the van the Kangoo is based on is something of a looker to begin with. Things aren't so rosy on the quality front, as Renault's reputation isn't as strong as, say, Honda's. And it's not just trim that can prove a little flaky but also electronics - an area of technology that dogged early batches of the Megane. Most problems are small, however, but can be annoying.
Accessibility
The Kangoo is an easy car to live with, not least because of its twin sliding rear doors and positively huge tailgate. The former affords you easy access to the rear of the car's cabin and the ability to open the doors without worry in a cramped car park. The latter isn't just the barrier between you and a capacious boot but also a useful shelter when it's raining. Sadly, Authentique trim models have to make do with van-style 180-degree opening rear doors. Don't forget, though, that there's a pronounced step up into the Kangoo, which could cause older or infirm passengers some trouble.
Stereo and ICE (In car entertainment)
While not quite a frill-free approach to entertainment, Kangoo buyers are limited to either a cassette or single CD player - depending on whether you choose the base model Authentique or Expression/Trekka 4x4 models respectively. Both perform well but, obviously, the cassette option is starting to become an outdated concept. At least the remote controls located on the steering column make changing the volume or radio station safer, and the centrally mounted display saves your eyes from wandering.
Colours and trim
Light, jolly exterior colours suit the Kangoo best, and are likely to boost resale values when you decide to sell on your Renault. And while the car is positioned at the budget end of the MPV market, there is a pleasing lack of black plastic cladding - something that always smacks of bargain basement motoring. Inside, you'd be foolish to a expect plush interior like that of Honda's FR-V, but the Kangoo's cabin is a reasonable effort. With so much glass, the car's cabin already possesses a light and airy feel, allowing you to pick a dark coloured fabric to hide the predictable wear and tear.
Parking
From the Kangoo's lofty driving position visibility in general is good, making the act of parking straightforward. One benefit of being based on a commercial vehicle is the fact that the Kangoo comes with a pair of oversize mirrors - ensuring that rearward blind spots are greatly reduced. Factor in light power steering and slotting into a space is no harder than it would be in a conventional car.
Spare wheel
A standard spare is located under the Kangoo's boot floor.
Range information
Four engine options - 1.2-litre (75PS) petrol; 1.6-litre (95PS) petrol; 1.5-litre (82PS) diesel; 1.9-litre (80PS) diesel. All units come with five-speed manual gearboxes except 1.6 petrol, which is auto only for the regular Kangoo. 1.9 diesel is exclusive to Trekka variant. Trim levels are Authentique and Expression for regular Kangoo. Trekka is a trim level in its own right.
Alternative cars
Peugeot Partner Combi Identical principal to Kangoo; little to separate in terms of ability
Fiat Doblo Lacks excitement of the Kangoo and makes no real attempt to hide its van-based roots
Citroen Berlingo Another popular van-based MPV. Dynamically inferior to the Kangoo but just as practical
Kia Sedona Similar money gets you a full-size MPV with all the trimmings. To some the badge lacks the right image, though