February 2006
Proton Savvy Style
Cheeky looks are a big part of the Savvy's appeal
February 2006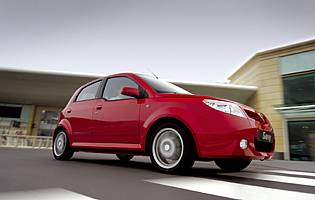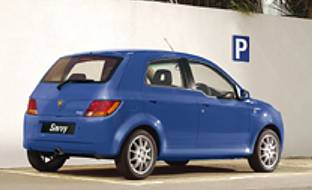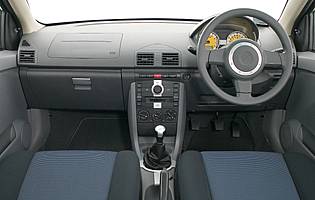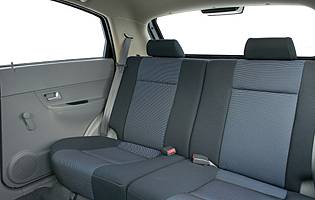 Overall rating

Likes:
Styling is unusual and appealing
Handling and ride are excellent for a car in this class
Excellent value for money
Decent room for front seat passengers
Gripes:
Engine is noisy and lacks punch
Rear headroom is poor
Interior plastics are low quality
Gearchange is slow and sticky
The Savvy is Proton's first entry into the city car market. The Savvy is also targeting younger buyers, rather than the traditional older buyers that have made up the largest share of its sales. The competition is strong in this sector however, with budget brands competing with small cars from the large manufacturers.
Starting with a clean sheet, Proton has created the five-door Savvy as a traditional city car. It boasts compact dimensions but with distinctive styling, such as the stepped window line, centre exit exhaust and chunky front end. It is available in only a few colours, but most of these are bright and cheerful, and therefore more likely to appeal to younger buyers.
The five-door hatchback configuration means easy entry to the rear seats for passengers, as well as a practical boot. Mechanically the Savvy uses a conventional layout, with a front-mounted petrol engine and front-wheel drive. The wheels are pushed towards the corners of the car to maximise interior space, but this also has a benefit for handling and ride. Its practical nature means it can provide interior space while still retaining the compact external dimensions which are so useful in city driving.
While some aspects of the Savvy are very encouraging, other elements may be something of a disappointment. Understandably, a manufacturer of Proton's size has to buy in technology, which in this case is the engine and gearbox. Although the engine is quite peppy and efficient, the amount of noise that comes through into the cabin is excessive, and highlights the ageing nature of the powerplant. This is compounded by the gearbox, was has a sticky shift action.
While few buyers will be looking at the Savvy because of its dynamic capabilities rather than its price, it can be an enjoyable car to drive in the right conditions. The steering is blessed with good feel and responds accurately to inputs, while the suspension does a good job of smothering bumps while delivering decent body control. Whether nipping through urban gaps or enjoying an open B-road, the Savvy is a fun car, despite the excessive engine noise.
Our verdict on the Proton Savvy Style
Judged on its own merits, the Savvy is so nearly a very good car. It does all that could be expected of it and a little bit more, with a fun element that is often desirable in a budget city car. It is the engine's noise and the interior penny-pinching that let it down, but at the prices it commands it is still a worthy rival to the mainstream city machines.
Costs
With a small petrol engine, low insurance grouping and a low initial purchase price, running costs should be one of the Savvy's key strengths. Even driven enthusiastically, it is unlikely to return anything other than good fuel consumption, and servicing costs are likely to be low for this uncomplicated car.
Space and practicality
Generally speaking the Savvy is impressively spacious for a car of this size. Leg and elbow room for front and rear passengers is good, with only poor rear headroom counting against it. Boot space is also respectable, although the boot is deep rather than long.
Controls and display
The layout of the Savvy's controls is fine in principle, with an uncluttered dashboard and simple layout. However, the yellow dials can be a little hard to read, and some of the buttons feel flimsy, particularly on the audio unit.
Comfort
A big plus point for the Savvy is the good ride, which is surprisingly smooth and controlled for a car of this size and price. The seats are also well bolstered, holding the occupants in place and offering good support. The only issue is with engine noise, which is often gruff when accelerating. When cruising it is less of a problem.
Car security
With a standard fit alarm, engine immobiliser and central locking, the Savvy should remain impressively secure for a car of this size. The oversized stereo would also be more difficult to install in another car, while the internal releases for the fuel filler flap and boot are an extra security feature.
Car safety
All versions of the Savvy come with a good range of safety equipment as standard. Twin airbags, seat belt pre-tensioners and ABS are all included, while items such as reversing sensors on all models are a useful addition.
Driver appeal
Although driver satisfaction is not the highest of priorities, the Savvy has some positive attributes. The steering, although not very quick, responds well and has a good level of feel. The suspension gives a very good compromise between ride and handling, and the Savvy copes with broken roads and bends taken at speed with ease. On the downside, the engine is gruff in tone, and requires plenty of revs to make respectable progress. The gearbox is also sticky and difficult to shift smoothly,
Family car appeal
Despite its compact exterior, the Savvy has enough interior space to make it a viable family car. Unless those seated in the rear are adults, there is enough room to accommodate a pair of child seats and sufficient boot space for a pushchair.
First car appeal
The Savvy has the prefect credentials for a first car. It has enough exterior style, a small engine and low running costs. The purchase price is also low, putting it within reach of buyers new to the marketplace.
Quality and image
From the outside the Savvy projects a good level of quality, as the exterior design is attractive and finished to a respectable standard. Inside however the Savvy is less impressive, and the quality of the plastics and the standard of finish is relatively poor. Even at a low price such as this, many rivals manage a higher standard of finish. The Savvy's image is helped by its sharp exterior looks, but the Proton badge is largely regarded as purely price and reliability focused.
Accessibility
With five doors as standard, gaining access to the Savvy is simple, and the high body shape gives a wide door aperture. The boot also benefits from a well-shaped hatch, and the low loading sill makes it easy to lift and extract heavy items.
Stereo and ICE (In car entertainment)
A Clarion CD and radio unit is fitted to both versions of the Savvy as standard, and it provides a respectable level of radio reception and CD sound. With just four speakers the unit does struggle with higher volumes, and the controls feel a little flimsy.
Colours and trim
Inside the Savvy the majority of the dashboard is grey, and although there are flashes of colour on the instruments and the seat fabrics, the overall feel is relatively dark. The fabric itself is adequate, but the plastics used are of a poor standard, with some rough edges and an insubstantial feel.
Parking
In a parking situation the Savvy is in its element, thanks to compact dimensions, good visibility and light steering. It can fit into spaces that only the very smallest cars can use, which would be a useful feature in frequent city driving.
Spare wheel
Space saver spare wheel fitted underneath the boot floor.
Range information
One engine option: 1.2-litre petrol (75bhp), mated to a five-speed manual transmission as standard, automatically operated manual gearbox available as an option. Two trim levels, Style and Street.
Alternative cars
Kia Picanto Cute looks and excellent value makes a good package
Ford Ka Old engines and cramped interior, but great to drive
Hyundai Getz All-round competence at a good price
Chevrolet Matiz Compact and useful around town, but less capable on open roads