October 2004
Proton Gen-2 1.6-litre GSX automatic
The Proton Gen-2's best point is its exterior appearance
October 2004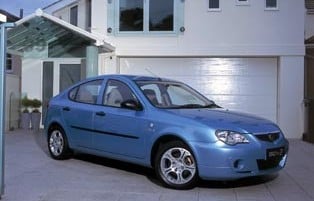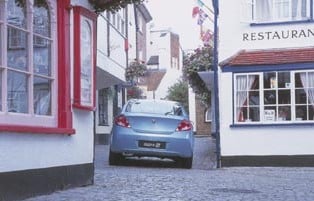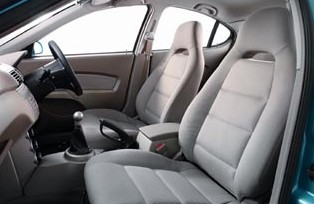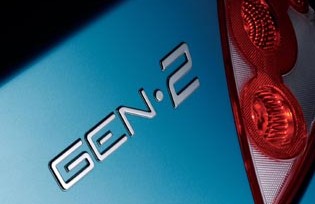 Overall rating
Likes:
Low asking price will allow those on a very tight budget to buy a new car
Six-year manufacturer warranty on the powertrain should keep costs down
Looks modern and reasonably stylish from the front and side
Standard specification on some models is generous for the money
Gripes:
Interior looks dated and is available in an unattractive shade of beige
Automatic gearbox is unresponsive, sluggish and feels archaic
Fuel consumption is high even when driving on the motorway
All fit and trim feels cheap, flimsy and poorly assembled
Proton's latest attempt at delivering a more European ownership experience is the Gen-2. Aimed at bargain basement buyers the Proton is cheap, and it feels it. Some models feature decent kit levels and it certainly looks a lot better than the Wira, but this car is only for people with no interest in driving.
All manufacturers have their 'thing'. Hondas are reliable, Alfa Romeos are attractive and Protons are cheap. Although the car is styled in a more European manner, the Gen-2 small family hatchback, is, you've guessed it, cheap.
Unfortunately for Proton, the game has moved on in leaps and bounds at the bargain basement end of this fiercely contested market. The likes of Kia and Hyundai all make equally cheap (sometimes cheaper) models, which are superior to its products.
While the Gen-2 looks reasonably attractive from the outside, the standard of the interior engineering and drivetrain is poor. It does go someway to redeeming itself with good levels of standard equipment, but its major competitors also feature lots of kit, often without these major drawbacks.
Buyers will often forego style and an engaging drive if they are offered good levels of reliability and affordability. However, despite an excellent mechanical warranty and wallet-friendly price tag, the Gen-2 experience is so devoid of fun and enjoyment that even the most budget conscious buyer are sure to look elsewhere.
Our verdict on the Proton Gen-2 1.6-litre GSX automatic
Cheap, but mostly not cheerful: the Gen-2 looks all right from the outside and has a good warranty, but that is where the compliments stop.
Costs
There are better ways of investing GBP10,000. The Proton may be cheap compared to the more established European brands, but there are plenty of Far Eastern companies who offer better products at lower prices. A six-year warranty should keep maintenance costs down. Insurance premiums won't break the bank, the depreciation, however, just might.
Space and practicality
50 litres of boot space isn't very much, so you'll have to travel fairly light. There are a few cubbyholes and trays in the cabin in which smaller items can be stowed, but in general those looking for a load lugger had better look elsewhere. Roof bars would have been a sensible item for the options list, but they fail to make an appearance.
Controls and display
The Gen-2 is a bit of a mixed bag in this department: it features (dependant on trim level) most mod cons, but the controls and switchgear to operate them are flimsy and cheap looking. For example, the Blaupunkt CD player stereo comes with steering wheel-mounted controls, but these don't feel substantial and rattle around in their sockets. Similarly, the indicator stalks feature plenty of functions, but they are made of shiny black plastic. The instrument binnacle is clear enough and the central control console is well laid out.
Comfort
A comfortable driving position isn't easy to find, as the front two seats don't offer enough lumbar support. Wind, road and tyre noise above 50mph is very loud and can become irksome after a while. The squared off design of the steering wheel rim is also quite unpleasant to grip for long periods of time. A driver's footrest goes some way towards remedying the situation.
Car security
Security levels are acceptable. A multi-function alarm and engine immobiliser are the Gen-2's main defence against theft, but it is hard to imagine that it will be a car high on thieves 'to steal' lists. Visible VIN plates will help identify your car should the worst happen.
Car safety
Standard features include twin airbags (GSX models benefit from side bags, too), front seatbelt pre-tensioners, child locks, Isofix anchors and side impact protection. However, only GSX models get ABS and EBD, which is surprising given the presence of these systems in the majority of modern cars.
Driver appeal
Lotus may well have had something to do with the engineering of the suspension, but you certainly wouldn't know it. It isn't that it's an exceptionally bad handling car - it just isn't particularly good. The Seat Ibiza, one of the cars that the Gen-2 will be up against, handles far better. The other major flaw is the automatic transmission. Sloppy, slow, confused, bad; pick a negative and you won't be too far off. The transmission struggles to find the correct gear and as a result, the 1.6-litre engine drinks fuel. Mid-range torque levels are feeble, which means that you constantly have to kick down. This action is followed by a two second pause and then a massive amount of protestation from beneath the Proton's bonnet. A driver's car it certainly is not.
Family car appeal
Small hatchbacks are never the first choice for family buyers, so it is no fault of Proton's that the Gen-2 doesn't score well here. It isn't that the Gen-2 is particularly cramped on the inside, but families will require more room. The boot is small though, and struggles with large objects. The lack of ABS as standard across the range will also put off buyers with precious bundles to transport.
First car appeal
From the point of view that it is cheap and not likely to break down all the time, the Gen-2, in principle, would make a very good first car. Insurance premiums are low and repair and running costs will be manageable thanks to the excellent warranty. It is questionable whether or not the Proton badge will generate any street cred, but the initial 'what's that?' factor should help in this department.
Quality and image
Proton is obviously confident about the quality of its powerplants if it is willing to give out generous warranties. Mechanical reliability shouldn't be too much of an issue, but the robustness of the interior trim may be a different story. Image, as with most of the Far Eastern firms trying to break into the European market, presents a problem for Proton. Largely unheard of as a manufacturer, the Malaysian company is trying to sell 'affordable' cars without getting a reputation for being a purveyor of 'cheap' products. The fresh exterior appearance of the Gen-2 will help to convince a few people of the firm's credibility.
Accessibility
Being a smallish hatchback, the Gen-2 isn't the easiest thing for the less limber or the tall to get into. That said, it is a four door and even the rear apertures are sensibly sized (although the larger of foot will have to perform some mild contortions). Front passengers may find the seats slightly uncomfortable, but getting into the cabin itself presents no specific problems. Head and legroom is ample in the front, not so ample in the back where taller folk will suffer.
Stereo and ICE (In car entertainment)
A Blaupunkt stereo with CD player and radio is a good find in a car of this price. A 10-disc changer even makes an appearance further up the range. The sound produced by the four-speaker system is sufficient to drown out the wind, road and tyre noise, if not quite hi-fi in the literal sense.
Colours and trim
From the outside the Gen-2 is a marked improvement over the Wira that it replaces. It has a contemporary, fresh face that certainly turns a few heads. 'Angel Blue' and 'Energy Orange' are two of the more vibrant colours available. They both compliment the cars lines and add a little something to its character. However, things take a bit of a nosedive upon entering the cabin. Somebody, somewhere thought it would be a good idea to make the dashboard from beige-coloured plastic (other colours are available). Much of the trim feels loose and flimsy and doesn't feel as though it will stand up to much punishment. The steering wheel appears to have been carved out of some form of solid rubber that is uncomfortable to hold.
Parking
For a car of this size, the Gen-2's turning circle is feeble. Three-point turns can quickly become time consuming manoeuvres. While it is easy to judge the length of the bonnet, a high tailgate obscures rearward visibility. Reverse parking sensors come as standard, which tells you more about the poor visibility than it does about Proton's generosity. They do make life a lot easier, though.
Spare wheel
Space saver fitted as standard across the range.
Range information
Only one engine option is available: a 1.6-litre petrol unit featuring either a five-speed manual transmission or a four-speed automatic. Trim designators are: GL, GLS, and GSX.
Alternative cars
Rover 25 British hatchback is very popular with more mature drivers
Seat Ibiza Attractive Volkswagen group model is well screwed together
Kia Rio Fellow Far Eastern offering is cheap, and a little more cheerful
Hyundai Accent Great warranty, iffy styling but reliable