September 2011
Porsche Panamera S Hybrid
Distinctive design is difficult to miss
September 2011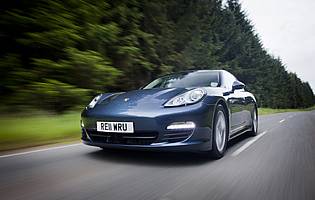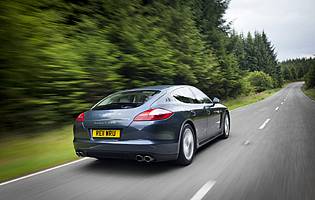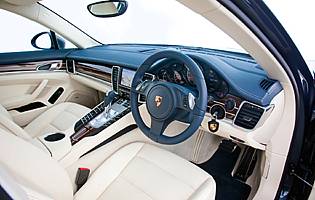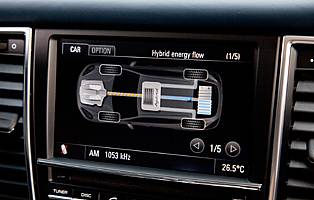 Overall rating

Likes:
Hybrid drive technology works seamlessly on the road
Cockpit-like, wraparound cabin feels upmarket
Rapid acceleration from the combined power sources
Good body control for such a big car
Gripes:
Range on electric power is modest
More expensive than the V8 S
Ancillary stalks lack a quality feel
Can be difficult to keep on electric power alone in town
Following the Cayenne, this is Porsche's second car to feature hybrid technology, and although the electric motor does increase efficiency and reduce fuel consumption, its main function is as a performance aid. It adds a useful amount of extra thrust to the petrol V6, particularly at lower engine speeds, which translates into instant, smooth acceleration from any speed.
The S Hybrid isn't a modified version of the existing S. The S has a V8 engine, more power and is quicker to 62mph, whereas the S Hybrid is powered by a supercharged V6 in conjunction with an electric motor between the rear wheels. It's more economical and less polluting than the normal S.
The advanced S Hybrid is not a cheap car, even by Porsche terms. In its favour, the current tax system gives Panamera S Hybrid owners significant benefits compared to the V8 S, as well as nearly double the fuel economy. The S Hybrid makes a good case for itself to potential owners who prefer lower running costs to a lower purchase price.
Many Porsche traits are present in the S Hybrid, from the surge of power to the incredible levels of grip. Despite being a little slower than the S, it's still a performance car. It's not as deft or nimble as some of the smaller Porsches, but it's a far better grand tourer. Long distances disappear with incredible comfort and refinement, even on its large standard alloy wheels.
In town, the hybrid system is capable of powering the car purely on electric power for 1.25 miles, which isn't much but is still useful in certain circumstances. In efficiency terms, the electric components mainly function like an expanded start/stop system, cutting in every now and again to save fuel when it would otherwise be wasted. The performance gains are more significant, though, and together the supercharged engine and electric motor send ample power to the rear wheels.
Our verdict on the Porsche Panamera S Hybrid
The S Hybrid is more of a technical exercise than any other Panamera, perhaps even the Turbo S. The way the company has integrated the technology means that it has more appeal in some ways than any other Porsche, particularly for long-distance cruising from city to city. It's a supremely accomplished car, but arguably a little detached; a little too quiet and clinical to really capture drivers' hearts.
Costs
Running costs are comparatively cheap for the S Hybrid, representing significant improvements over the S and 4S models. It is more expensive to buy, though, potentially negating the financial advantage. The diesel Panamera offers even cheaper running costs while costing a significant amount less than any S derivative.
Space and practicality
The sheer size of the Panamera prevents it from being a truly practical car in a built-up area. Out of town it makes much more sense, offering plenty of leg, shoulder and headroom to front and rear passengers. The boot doesn't look particularly big and is a slightly impractical shape, but with careful arrangement a lot will fit in.
Controls and display
The highlights of the S Hybrid's displays are the pictorial readouts that show how the powertrain is working at that moment. It can be displayed on the small screen by the speedometer and rev counter, or on the main satellite navigation screen. Some people may not like the large quantity of buttons on the centre console, but others will.
Comfort
For a car that runs on 20-inch wheels, ride quality and comfort is impressive. Bumps are smoothed away with surprising ease with the Porsche Active Stability Management suspension system set to 'Comfort'. The seats are also supportive in every way, offering more than enough adjustment for any driver.
Car security
The car is protected by an alarm and immobiliser system that secures all opening body panels, the ignition and any trailer that may be attached. In addition, as soon as you remove the key, an electromagnetic lock secures the steering column, making the Panamera a very difficult car to steal without the key.
Car safety
As well as a comprehensive collection of airbags to protect the interior passengers, the S Hybrid makes use of a pop-up bonnet to protect pedestrians in the event of a collision. It also has very large brakes, which aside from being necessary because of the Panamera's weight, help to stop the car very quickly.
Driver appeal
The S Hybrid is a quick car, but it's also heavy. There are hot hatchbacks that are as quick or quicker, while being a lot smaller and lighter. The Porsche will master just about any road it will fit down, but it lacks the nimbleness of smaller cars, and that costs it in terms of outright driver pleasure. What it does offer is the satisfaction of precision engineering.
Family car appeal
With four large seats the Panamera would be a luxurious way to transport up to three passengers. Very few cars would be able to offer the same combination of passenger thrills and comfort, but the S Hybrid would only be accessible to those buyers with large enough budgets, limiting its appeal.
First car appeal
Under no circumstances would a Panamera S Hybrid make a good first car, and nor is it likely to appeal to teenagers dreaming about one day owning a Porsche. Not only is the cost far beyond the reach of almost all first time buyers, but the power and size of the Panamera would be very intimidating to inexperienced drivers.
Quality and image
Porsche has an image that is almost beyond question, and for a car with some measure of green credentials the S Hybrid is holds an important advantage. Its quality is almost exclusively excellent, too. Its leather seats are sumptuous, and everything that needs to feels tactile and inviting.
Accessibility
Such big cars tend to have no problem with accessibility as long as passengers can bend down low enough. The doors open wide, but the sloping roofline cuts into the headroom at the back, particularly on entry. At the rear, heavy bags have to be lifted up quite high before they can be dropped into the car's boot.
Stereo and ICE (In car entertainment)
The standard Bose stereo system is good, especially when tweaked with the built-in menu system.. The satellite navigation system is generally clear, though. Its touch screen operation is immediately intuitive, while the large screen makes navigating on the move straightforward.
Colours and trim
The Panamera is a big car with a lot of bodywork so paint choice is important, but its design is divisive enough to mean that colour choice will not change anybody's mind about whether they like it or not. Combining a paint colour with a complementary interior shade for the expansive and high-quality leather trim will create a car that, if not pretty, at least looks stylish.
Parking
Parking is not the Panamera's strong suit. Its size and high shoulder line all the way around the car mean that seeing where corners are is often tricky. Rear visibility is poor in car parks. There are parking sensors fitted as standard, but finding a space large enough to fit the Panamera on a busy shopping day will be difficult.
Spare wheel
Emergency tyre repair kit as standard.
Range information
Petrol engine options - 3.6-litre V6 (296bhp); 3.0-litre supercharged V6 (375bhp); 4.8-litre V8 (395bhp); 4.8-litre turbocharged V8 (493bhp, 542bhp). Diesel engine options - 3.0-litre V6 (247bhp). Transmission options: 6-speed manual, 7-speed PDK double-clutch gearbox and 8-speed Tiptronic automatic, all standard according to model. Trim levels: trim level dependant on engine choice.
Alternative cars
Maserati Quattroporte The stylish option also has the best sounding engine
BMW 750i Not the best handling of BMW's cars, but very quick
Mercedes E 63 AMG Smaller, faster and more expensive to run than the Panamera
Audi S8 Cylinder shut-off system saves fuel, plus it's a potent machine