January 2014
Porsche Panamera S E-Hybrid
The latest Panamera styling is accented with unique acid green details
January 2014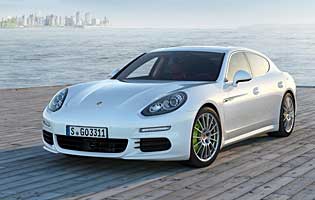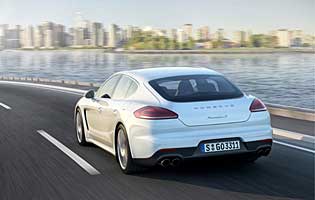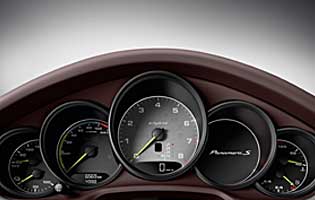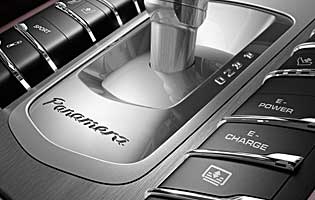 Overall rating

Likes:
Extremely high materials quality
Vast and relentless acceleration
Wonderfully quiet and smooth in electric driving
Smooth interplay of electric and petrol power
Gripes:
Styling still raises eyebrows
Quoted fuel economy often hard to match
Handling dented by additional battery weight
Physical size remains a barrier to low-speed manoeuvrability
The Panamera is no stranger to controversy, having caused something of a stir when it was originally released. Back then its styling made the headlines, but now it's a new plug-in hybrid propulsion system that's the main talking point. Using powerful electric motors, this Panamera can drive completely independently of the engine.
Of course there had been a Panamera Hybrid before this car, but it was a fully enclosed system that recharged on the go and could only use electric-only power for short distances. The S E-Hybrid can, depending on a number of variables, travel more than 20 miles per charge. It can still reclaim electrical energy for quick bursts of use, though.
Backing the motors is a 3.0-litre V6 petrol engine, but together the drivetrain still officially qualified as 'ultra-low emission' at the time of its launch. For those reasons it presents numerous tax advantages against traditionally powered rivals. Porsche fans will nonetheless be happy to hear that performance has not been neglected, with vast reserves of power and torque on tap.
As a plug-in hybrid, this version of the Panamera is best paired with a home-charging station, where the batteries can be recharged at leisure. At the same time the car can be pre-programmed to achieve a user-selected interior temperature, ready to welcome the driver and potentially even defrosting any icy glass surfaces.
Despite its performance capabilities, the Panamera S E-Hybrid features a selection of unique adaptations to make it as fuel-efficient as possible, including a new tune for its eight-speed automatic gearbox that allows the engine to shut down sooner when coming to a stop, theoretically saving more fuel. This 'extended stop-start' system is a standard feature.
Our verdict on the Porsche Panamera S E-Hybrid
The Panamera has sold in such vast numbers that its place within the Porsche range can no longer be doubted. It also holds a developmental advantage over the firm's core sports car lines, because hybrid technology can be introduced without outcries from owners or the media. The S E-Hybrid is astonishingly effective in every driving mode, and although its extra weight bears a handling penalty, the overall result is remarkable.
Costs
Focusing on running costs alone, if your driving patterns involve around 20 miles per day, mostly at low speeds, the S E-Hybrid can be run for very little money. However, the purchase price, insurance costs and inevitable depreciation will all take their toll. However, companies could well be interested in the myriad tax advantages that the ultra-low-emission Panamera S E-Hybrid offers.
Space and practicality
The E-Hybrid's boot is inevitably smaller than its non-hybrid cousins', because of the presence of the large battery. It's still big enough for everyday use, but would need to be tried for size before a purchase to make sure. The cabin offers plenty of space to store oddments, mobile phones and the like. Rear headroom in the strict four-seater is surprisingly good thanks to a high roof line that doesn't significantly slope until behind the rear passengers' heads.
Controls and display
As in all Panameras, a button-filled centre console dominates the cabin, and in this case there are buttons unique to this model. It looks more complicated than it is, despite illustrating Porsche's mantra that there should be a button for every major function. The main display screen and the instruments are an object lesson in clarity. The manual gearshift is slick, while the PDK 'auto' lever is intuitive. Gear change paddles behind the steering wheel are not necessary, as the relaxed hybrid prefers to be driven in fully automatic mode.
Comfort
The comfort benefits of electric drivetrains cannot be overstated, as they remove all vibration from the steering wheel, pedals and seat. Fatigue is a much-reduced issue in this car, and it's also sincerely quiet around town in electric mode. At speed the optional large wheels on this car do make a bit more noise, but perhaps less than you might expect. The large seats are supportive and comfortable, with varying degrees of electrical adjustment available on the options list.
Car security
Porsche has equipped this model with a comprehensive array of security systems. Apart from the extremely secure engine immobiliser and alarm there is a sophisticated tracking system equivalent to Thatcham category 5. If the car is stolen, an act that almost always has to involve theft of the key first, the police can track it immediately before it's either sold on or destroyed.
Car safety
The Panamera has a host of electronic aids designed to keep you safe when travelling at almost any speed. Airbags are scattered throughout the cabin, there is relatively little glass area and the chassis has built-in crumple zones to absorb some of an impact's energy. Active safety systems including advanced stability, traction and skid controls are standard, with plenty more optional. The lithium-ion battery has been certified crash-safe by independent experts.
Driver appeal
A lot of Porsche fans are also technophiles and adore the latest technology. These early-adopters will be the first to praise the benefits of the hybrid Panamera's drivetrain, but it's difficult not to be won over by the combination of silent, emissions-free running and instant, monumental acceleration. The down-side is that the S E-Hybrid's extra weight versus the regular Panamera does compromise the handling and the outright bulk is easily noticed on winding roads.
Family car appeal
If four seats are enough, the Panamera could make a very fast, safe and prestigious family car. Thought must be given to boot space, though, because it's entirely possible that the S E-Hybrid's simply isn't big enough. Added to the fact that its finely appointed interior is not a good match for potentially messy toddlers, and the car starts to look like an unwise choice to fulfil family bus duties.
First car appeal
While something this expensive, powerful and large might have a lot of showroom appeal to an aspiring driver, their sights might have to be set a little lower. Not only is the Panamera expensive to buy and insure, but it's also far faster than a new driver should be able to deal with safely. It's doubtful that Porsche makes any models at all that would be suitable as a first car, but even among its stablemates the Panamera is a poor option.
Quality and image
Porsche's brand image is very strong and is generally closely associated with engineering precision. Time spent in the Panamera S E-Hybrid certainly reinforces that feeling, especially with the drivetrain, but there are signs appearing that corners are being cut in some production processes. The fit and finish of the exterior panels is not what it once was, with inconsistent panel gaps a concern.
Accessibility
The Panamera is low, but not so low that it becomes unduly difficult to get in and out of it. Long doors give a wide aperture once open, but can be problematic in bay parking spaces. The slightly raised roof line is maintained far enough back along the car to facilitate entry and exit from the spacious rear passenger area. The boot lip is high, though, making lifting heavy baggage into it a chore.
Stereo and ICE (In car entertainment)
Buyers of cars in this sector of the market expect high-end audio equipment and should be satisfied in the S E-Hybrid. The standard stereo unit has Bluetooth connectivity and a USB input, allowing both wireless and wired music playback. It can be upgraded to a Bose surround sound system as an optional extra, which adds audio quality and power rather than any specific usability benefits. Either way, the system can be controlled through the main, central display screen.
Colours and trim
There is a wide range of standard colours available on this model, most with expensive-sounding names like Yachting Blue, Mahogany Metallic and the striking Amethyst metallic. White is a bad choice and cheapens the car's look. Leather upholstery is standard, with single-colour and two-tone interior finish combinations available. The quality of the surface materials is, even at a glance, absolutely top-notch.
Parking
As standard front and rear parking sensors are fitted. The relatively poor visibility to all four corners means that although the steering becomes pleasantly light at low speed, parking must be attempted with care. A reversing camera can be added to the specification for a hefty cost, but doesn't make the car appreciably easier to park. The most vulnerable aspects are the wheels, which if ordered in the larger sizes are vulnerable to kerbs.
Spare wheel
Puncture repair kit fitted as standard.
Range information
Petrol engine options - 3.6-litre V6 (306bhp); 3.0-litre V6 turbo (414bhp); 3.0-litre hybrid (410bhp); 4.8-litre V8 (434bhp); 4.8-litre V8 turbo (513bhp, 562bhp). Diesel engine options - 3.0-litre (296bhp). Transmission options: seven-speed PDK dual-clutch automatic or eight-speed Tiptronic S automatic. Trim levels: Panamera, S, 4, 4S, Diesel, S E-Hybrid, GTS, Turbo, Turbo S.
Alternative cars
Maserati Quattroporte Turbocharged engine is peerlessly characterful but thirsty
Mercedes S-Class Hybrid option available in a car biased more towards luxury than fun
Audi A8 Petrol-electric hybrid can't match the Panamera on any count
Jaguar XF Surprisingly agile British-built option is comparatively expensive to run