February 2014
Porsche Macan S Diesel
The Macan's streamlined profile is a big hint as to its performance abilities
February 2014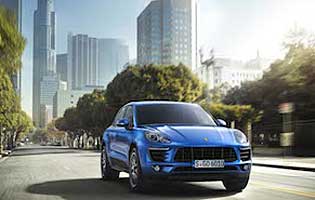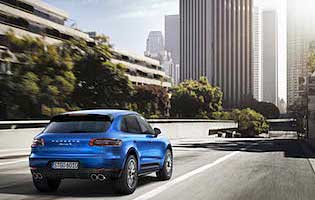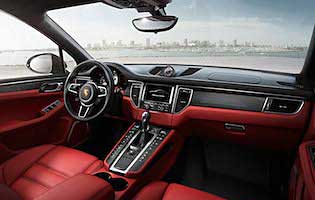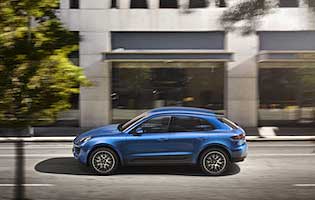 Overall rating

Likes:
Exterior look commands a lot of road presence
Usual excellent Porsche build quality
Enjoyable and engaging driving experience
Practical and versatile everyday transport
Gripes:
Can prove expensive once options are added
Don't expect budget running costs for the Turbo variant
Switchgear layout in cabin can prove confusing at first
Despite appearances, Macan isn't a fully-fledged off-roader
Porsche is familiar with breaking out from its traditional sports car template with the Cayenne. Despite criticism from the purists, the large SUV went on the be a global hit and bring in much needed funds. With the medium size SUV market expanding rapidly, it was only a matter of time before Porsche attempted to repeat its success with the Macan.
It might share its basic layout with Audi's Q5, but Porsche's Macan offers a more sporting character backed up the firm's considerable engineering experience. The Macan's potential is most obvious from its exterior looks - for an SUV it's noticable streamlined.
This focus on performance continues under the Macan's skin, with a range of six-cylinder petrol and diesel engines plus the default inclusion of Porsche's seven-speed PDK dual clutch gearbox.
Key to the Macan's abilities is its sophisticated all-wheel drive system, which is capable of directing all the power to whichever axle needs it. Factor in a comprehensive suite of electronic aids and the Macan delivers an almost effortless driving experience. Yet it's one that remains more engaging than its many rivals.
Alongside the Macan's above average performance is the car's premium character. Such cars need to also satisfy the needs of buyers seeking an above average ownership experience, and may be switching from more conventional executive class transport. The Macan mirrors the refined cabin ambience of the Cayenne and Panamera, and does this with ease.
Our verdict on the Porsche Macan S Diesel
For keen drivers seeking the all-rounder approach of the modern breed of compact, premium SUVs, the Macan could be viewed as being close to perfect. Irrespective of engine choice it's dynamically superior to its main rivals yet also manages to deliver a classy and refined experience akin to that of an executive class saloon.
Costs
Prices for the Macan are not cheap and adding attractive options can quickly see the purchase price escalate. Regular running costs won't be at the value end of the scale, either. That said, diesel buyers will see meaningful savings at the pumps and all engines are surprisingly frugal given their focus on performance.
Space and practicality
There's no shortage of head or leg room in the Macan despite its streamlined profile. The boot is large and versatile thanks in part to the folding rear seats. Cabin oddment storage space is also generous.
Controls and display
The Macan adopts Porsche's now familiar approach to the controls layout, which is mostly intuitive and easy to use once you've learnt the location of various minor controls. Dials are large and figures easy to read on the colour screens.Â
Comfort
For all the Macan's sporting pretensions, comfort is one of the car's aces, offering a ride that's extremely refined even when you're pressing on. A well equipped interior, including climate control, means both front and rear occupants should be able to get comfortable. Seats are supportive, especially so if the optional multi adjustable chairs are chosen.
Car security
Naturally, for a prestige vehicle such as the Macan, a fully featured alarm and immobiliser is standard. Items kept in the boot can be shielded from view with a sturdy load cover and there's additional covered storage in the cabin.
Car safety
The Macan is big on both passive and active safety with numerous airbags and the usual array of electronic safety aids. Crucially these can also be turned off if you know what you're doing. The car's all-wheel drive system is, apart from being a performance aid, can also help when conditions are tricky underfoot.
Driver appeal
Although based on Audi's Q5, Porsche's engineers have thoroughly reworked the basic structure to deliver an SUV capable of demonstrating sports car levels of agility and driver involvement. The flagship Turbo is rapid, while both 3.0-litre petrol and diesel variants prove brisk and rewarding to drive. The Macan's off-road talents are more than superficial, although it can't match a dedicated SUV.
Family car appeal
The Macan would make an excellent family vehicle while doubling as a suitably upmarket business tool. The rear will comfortably seat three children and there's also room for plenty of luggage. Due to the plush nature of the its cabin, the Macan is probably better suited to a more grown up family though.
First car appeal
The Macan will be too expensive and performance orientated for the vast majority of young drivers and first time new car buyers.
Quality and image
Porsche might be famous for sports cars but its Cayenne has done much to boost profits if not always goodwill among the purists. No matter, as the compact SUV market is growing globally and the Macan's arrival should see a widening of Porsche's customer base.
Accessibility
The Macan has few issues with accessibility, with a tall body, large doors, good access fore and aft and generous ride height. The full width rear tailgate, which is power operated, also allows generous ingress for the boot.
Stereo and ICE (In car entertainment)
Central to the Macan experience is the car's large colour touchscreen, which proves easy to use and gives access to audio, navigation, trip computer and telephone functions.
Colours and trim
The Macan works well in both bold and more sombre, premium hues. The car's various exterior trim details do much to accentuate its sporting potential. Inside, the largely dark cabin boasts a premium ambience.
Parking
The Macan is not a small vehicle, but it is a very manageable shape and has a good turning circle. Parking sensors obviously help as does the rear view camera. Visibility is good thanks to the large windows and high driving position, and the mirrors are a good size and fold in.
Spare wheel
Tyre mobility kit fitted as standard
Range information
Petrol engine options - 3.0-litre (340bhp); 3.6-litre (400bhp). Diesel engine options - 3.0-litre (258bhp); 3.0-litre (236bhp). Transmission options: seven-speed PDK twin clutch gearbox. Trim levels: equipment levels dependent on engine choice.
Alternative cars
BMW X3 Desirable badge and a solid all-rounder on the road
Range Rover Evoque Stylish alternative lacks Macan's dynamic finesse
Audi Q5 Direct relative of Macan is polished performer but not for keen drivers
Jaguar XK Sportbrake Premium, lifestyle alternative choice lacks all-wheel drive but rewards keen drivers