March 2006
Porsche Cayman Cayman S
The Porsche family resemblance is obvious in the Cayman S
March 2006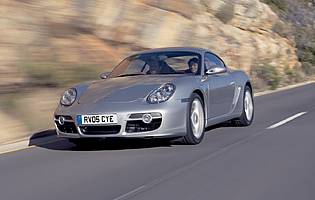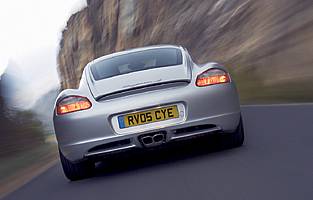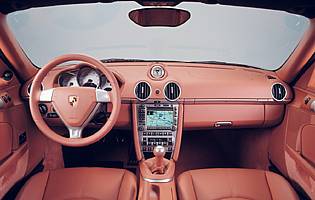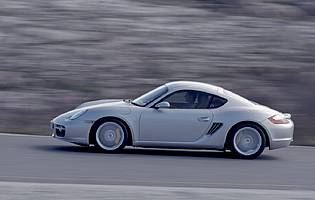 Overall rating

Likes:
Good driving position and well laid out cabin
Practical thanks to storage areas behind the engine and in the nose
Supremely accomplished all-rounder - supple around town yet feisty enough at speed to please serious enthusiasts
Powerful and flexible engine a perfect foil to the Cayman's talented chassis
Gripes:
Price is too close to that of Porsche's well established flagship 911 range
Low ride height means Cayman can suffer over aggressive speed bumps
Although attractive, larger than standard wheels can compromise the car's ride
Porsche newcomers might find the Cayman's on-the-limit behaviour a little intimidating
The arrival of any new Porsche is an serious occasion. After all, the German firm doesn't do it very often. Its Cayman is a return to what it does best - the traditional rear-wheel drive sports car. Based on the popular entry-level Boxster, the Cayman is a coupe for people seeking an old-style, involving driving experience but who don't want to completely sacrifice their creature comforts.
Evolution is a wonderful thing; Porsche has been tinkering with the iconic 911 formula for what seems like an eternity. The current car is possibly the easiest and least challenging supercar around when it comes to driving quickly.
And that was Porsche's dilemma: with the Boxster a good all-round roadster and the 911 all grown up, what could be done to fill the middle ground and please the old-school enthusiast. What better than a Porsche with old-school driving dynamics?
The result is the Cayman S, a car that blends styling elements from across the Porsche range with a less forgiving chassis and just enough power to get you into trouble if conditions allow. The formula - rear engine, rear-wheel drive, two seats - might be a familiar one, but the Cayman's harder edge is immediately noticeable once you leave the city limits.
Performance-wise the Cayman successfully combines the ability to do all the mundane things well with attributes that put it firmly in the supercar league. Powered by an engine based on the Boxster unit but with 911-influenced upgrades to improve performance and response, the car's thoroughbred character puts it in a different league to the competition.
Our verdict on the Porsche Cayman Cayman S
Critics who will claim that the Cayman is nothing more than a Boxster with a fixed metal roof are wrong - the car is a very different experience to Porsche's affordable convertible. Clearly influenced by Porsches from the last fifteen-odd years, the Cayman sounds and drives like an old air-cooled 911. Refinement and equipment levels are naturally better, but the car delivers a gritty, more communicative drive than either the forgiving Boxster or more mature 911.
Costs
Running a Porsche is never a cheap exercise. Things like insurance, fuel and servicing will amount to a sizeable annual sum. That said, you never buy a Porsche and then complain about its fuel consumption. On a positive note, residual values are routinely high as supply rarely meets demand.
Space and practicality
A strict two-seater, the Cayman's cabin easily accommodates two large adults. The low seating positions mean that headroom is good, while the door bins are useful lidded compartments that conveniently hide valuables from prying eyes. The Cayman's hatchback bodystyle allows for a reasonable amount of space aft of the engine compartment, while the rear engine layout means there's a deep space available in the nose.
Controls and display
Things have changed enormously for the better in recent years. Once famed for its dodgy cabin ergonomics, Porsche is now one of the best proponents of clear instruments and intuitive switchgear. The Cayman's main dials are good, and there's the added bonus of a digital speedometer. The same ease of use attributes are true of the centre console controls. Other thoughtful touches include front and rear boot releases down by the driver's seat, and a light and short gearshift.
Comfort
For a car tuned to impress on challenging roads, the Cayman is surprising comfortable. Granted, large surface imperfections can trouble the car's suspension, but most roads are confidently dealt with. The sports seats are supportive but you never feel squeezed or clamped in place. Road and wind noise is modest by performance car standards. The main cabin intrusion is the engine, which is behind you. But if you're buying this car for its abilities this is hardly going to be a distraction.
Car security
Remote locking is standard on the Cayman, along with an alarm and immobiliser package. Given the car's high desirability factor, a tracking device would make a sound investment. Don't be surprised to find some insurance companies making it a mandatory addition before they agree to cover you.
Car safety
All the usual airbags are present, making the Cayman a safe car if the unfortunate happens. Helping to prevent that happening is a range of intelligent traction and stability programmes. While you can switch them off for total control on, say, a racetrack, they offer a sensible balance between keeping you pointing the right way and allowing you the opportunity to safely exploit the car's abilities.
Driver appeal
The Cayman might share visual clues with the forgiving Boxster and more mature but staggeringly rapid 911, but it has a personality all of its own. Around town it's docile and well behaved, but away from the city it can display an ability to make you feel more involved than any rival. Boasting a firmer ride than the Boxster, the Cayman can be driven harder and faster for greater reward. Grip levels are high in the dry and steering feel exceptional, resulting in a mature, challenging and entertaining drive. Much praise should be heaped on the engine, as the rear-drive Cayman's 'flat six' motor is flexible, tuneful and never short of urge. Thankfully the car's brakes are also impressive, and there's the option of Porsche's expensive ceramic set-up for even better stopping power.
Family car appeal
Unless you're contemplating using the Cayman as a second car, it's not going to do the job. Luggage space fore and aft won't be enough, and that's before you factor in the car's two-seater layout.
First car appeal
Unless you're extremely rich and/or super-confident, the Cayman is not a good car for the novice driver. It's a powerful machine and doesn't boast the same levels of fore and aft visibility as a regular car. These are mere niggles though in the face of a considerable purchase price and potentially astronomical insurance bills for newly qualified driver.
Quality and image
What can you say that hasn't already been said regarding Porsche's strong and illustrious image? Realistically, recent years have seen a slight but noticeable slip in interior build quality, but the Cayman appears to be the car that has halted any further slide. Unlike the Cayenne, the Cayman's interior materials feel and look good, and are a notch above that of the cheaper Boxster.
Accessibility
There's no hiding the fact that the Cayman's driving position is very low. If you're not limber or flexible, you will struggle to exit and enter the cabin - especially the former as you fight gravity. The car's doors open wide, which is good for access but less helpful when in a tight car park.
Stereo and ICE (In car entertainment)
The standard set-up is a good one - as you would expect for a car of this calibre. You don't get any steering wheel-mounted controls, though. Moving up to the colour sat-nav means a large screen and more control options for the audio unit. The optional mobile phone unit also works well, but you'll need to insert a SIM card - there is no Bluetooth function.
Colours and trim
As with its other models, Porsche offers a modest palette of exterior colours, although personalisation is available at a price. Yellow is good if you want to stand out, but silver is better if you don't want to turn heads or lose any of the car's appealing details. Inside it's a similar, modest story. The standard cabin is predominantly black, although customisation (carbon fibre, coloured leather) is possible.
Parking
Despite not being a large car, care is required when parking the Cayman. Not all of its long nose can be seen from the cabin, making it important that you get to know the car's extremities well. At the rear your over the shoulder view is partially blocked by the thick rear pillars, while the car's wide arches and expensive wheels means care needs to be taken to avoid kerbing the attractive alloys. At least the Cayman's steering lock is generous, which is unusual for a performance car.
Spare wheel
Tyre foam is supplied in lieu of a spare wheel.
Range information
Engine option: 3.4-litre, six-cylinder petrol engine. Standard fit is a six-speed manual gearbox; a five-speed Tiptronic auto is optional. No specific trim designator.
Alternative cars
Nissan 350Z Cheaper to buy and it shows. Cost aside, 350Z delivers similar, enjoyable performance
BMW M3 Convertible Iconic E46 M3 now showing its age but is far from outclassed in this company
Mercedes-Benz SLK 55 AMG Latest SLK better to drive and AMG model is blisteringly quick. Lacks finesse in the corners, though
Audi RS4 Cabriolet RS4 offers slightly different approach to performance. More practical but less involving than the Cayman