October 2014
Porsche Cayenne S E-Hybrid
Revised Cayenne boasts subtle visual tweaks and a host of engineering changes
October 2014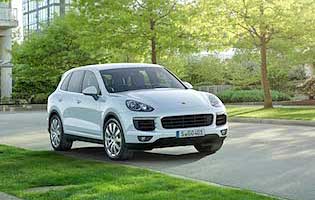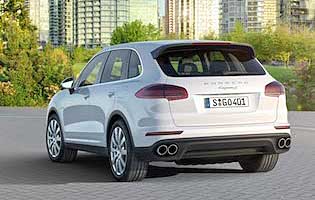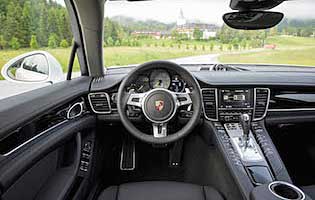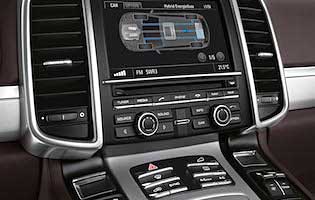 Overall rating

Likes:
Rapid, flexible performance from a well-sorted engine and electric motor package
Ability to travel far and fast on electric power alone is big plus
Spacious, practical and luxurious ownership proposition
Strong brand image
Gripes:
Still feels like a big car despite its impressive agility
Bluff exterior remains a polarising attribute
Menu-based infotainment system feels and looks dated
In real world use Diesel S variant can be a better choice for some
Porsche ruffled a few feathers when it launched the Cayenne, and it's still challenging conventions today. This latest generation of the firm's best-selling SUV is a full-on plug-in hybrid, offering a double-digit CO2 rating and supermini levels of fuel economy. That it only takes a few hours to charge from a domestic electrical supply is an added bonus.
It's standard form to expect Porsche to incrementally improve its cars. In recent years the focus has been not just on performance but also economy and emissions. This has been most evident in the Cayenne SUV range, and with the addition of a plug-in hybrid variant Porsche hopes to offer the best of both worlds: performance and economy.
Low CO2 and fuel consumption are not the attributes associated with a premium SUV, but Porsche hopes to change perceptions with its Cayenne S E-Hybrid. The combination of supercharged V6 petrol engine and electric motor-battery combo allows you to drive engine-of around town and sprint at sports car pace without any compromise.
Key to this level of flexibility is the ability to charge the Cayenne's battery when at home, work or at a public charge point. You can also do it on the move if you wish to preserve battery range for extended urban driving time. And unlike with a pure electric vehicle, charging takes only a few hours.
The end result is a flexible approach to motoring; the pace of a performance car and the economy of a supermini. And all the while you're sacrificing nothing in terms of the Cayenne's familiar premium ownership experience. It'll off-road as well as any other Cayenne, and is capable of motorway speeds in electric-only mode.
Our verdict on the Porsche Cayenne S E-Hybrid
Porsche's original hybrid Cayenne was a nice idea but hugely compromised, offering only a mile or two in electric-only running mode. This E-Hybrid variant borrows heavily from the similarly powered Panamera, delivering 20-odd miles on battery power, the ability to charge on the go and boast Boxster-level acceleration. And it does it while being VED and Congestion Charge exempt.
Costs
In plug-in hybrid guise the Cayenne is a compelling proposition if you don't want to pay out too much at the pumps or in tax. Realistically, this Cayenne is a top choice for businesses - double-digit CO2 rating and supermini fuel economy - although the V8 Diesel S variant is a compelling alternative if you're a private buyer and don't have somewhere to charge a vehicle at home.
Space and practicality
Porsche has been clever with the packaging of the hybrid Cayenne's battery pack. It's located under the car's boot floor, but doesn't impact on load space. Overall, there are no complaints here as the Cayenne is a usefully large car with a spacious cabin, wide load space and ample cabin oddment storage.
Controls and display
Despite boasting an in-depth menu based system for operating a lot of the controls, the Cayenne still features a large spread of buttons around the cockpit and can prove daunting at first glance. Thankfully the hybrid-related controls are easy to understand, and Porsche remains a master at devising clear and easy to understand dials and displays.
Comfort
On optional air suspension the Cayenne S E-Hybrid can be a plush riding companion one minute and firm sports car the next. The supportive front seats work well and the driving position offers plenty of adjustment. It's only when in electric mode is tyre rumble obvious as there's no engine to mask the noise.
Car security
With an immobiliser, alarm and tracking system fitted as standard, such measures should prove reassuring, as the Cayenne is also a highly desirable car for the wrong reasons. Day-to-day measures include plenty of covered cabin storage spaces and a sturdy rear load cover.
Car safety
Alongside the various airbags and electronic stability aids it's easy to forget the Cayenne's all-wheel drive system. This alone has the ability to boost stability in the wet or when you're pressing on, ensuring you stay on the right side of the road.
Driver appeal
As a plug-in hybrid this Cayenne performs well across the board. Its rapid thanks to both power units joining force, and can be quiet around town on electric power alone. Motorway speeds on electric-only power is possible, as is charging the battery pack on the move. The car's flexible nature is impress, while it behaves like any other Cayenne which means a driver-focused approach when making progress without the pitch and roll common with rival SUVs.
Family car appeal
Offering generous accommodation and high levels of comfort, the Cayenne is an obvious choice as a premium family wagon. It's best suited for grown up families though, as the car's plush interior isn't really compatible with dogs, toddlers, sharp claws and sticky fingers. The added bonus is that the Cayenne remains fun to drive even when the whole family is aboard.
First car appeal
It might be an easy car to drive at modest speeds, but no Cayenne is really an appropriate first car, due in the main to performance and running costs issues.
Quality and image
From a rocky start the Cayenne brand has gone from strength to strength. It's Porsche's top seller, and the big SUV is more capable on and off-road than many give it credit. A solidly built machine, that Porsche badge carries a lot of weight in premium SUV circles.
Accessibility
Cabin access is better than most big SUVs thanks to the Cayenne's default, sporty low ride height and its large doors. It's still possible to muddy trousers against the sills when exiting, however. Opt for a car with a powered tailgate if you're of short stature and all your problems will be solved, otherwise it'll be a bit of stretch to reach.
Stereo and ICE (In car entertainment)
The Cayenne's infotainment and navigation features are accessible through the colour touchscreen system, although some of the units' functions are buried deep in the menu-based system. The system is starting to look and feel dated, and some of the otherwise basic features can be found in the cost options list.
Colours and trim
Predictably, silvers and dark shades work best on the Cayenne's sizable form, while the LED running lamps are distinctive details. The dark cabin ambience is lifted by a combination of subtle brightwork and lighter upholstery shades.
Parking
An excellent turning circle belies the car's four-wheel drive configuration and manoeuvring is relatively easy. Even though the Cayenne's exterior mirrors look small, their position and size are fine for parking and a parking sensor system helps enormously. It remains a sizeable vehicle, however, so spaces must be chosen with care.
Spare wheel
Tyre mobility kit fitted as standard.
Range information
Petrol engine options - 3.0-litre hybrid (416bhp); 3.6-litre (300bhp); 4.8-litre (520bhp). Diesel engine options: 3.0-litre (262bhp); 4.2-litre (385bhp). Transmission options: eight-speed automatic gearbox. Trim levels: Cayenne S, S E-Hybrid, Turbo, Diesel, Diesel S.
Alternative cars
Mercedes ML-Class Refined ML is god all-rounder but lacks hybrid option
Range Rover Sport V6 diesel is impressive and a popular choice
BMW X5 Similarly driver focused but no clever powertrain offered
Lexus RX 450h Conventional petrol-electric hybrid majors on refinement not performance