August 2014
Porsche 911 Turbo Cabriolet
Oversize air intakes give notice this is the fire-breathing Turbo variant
August 2014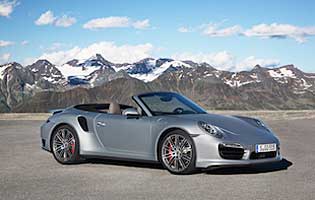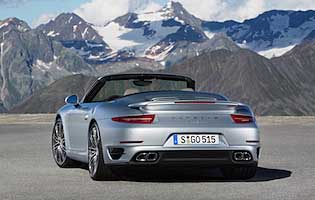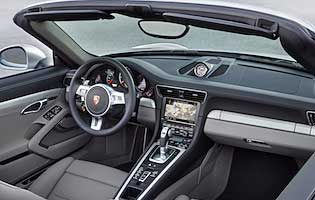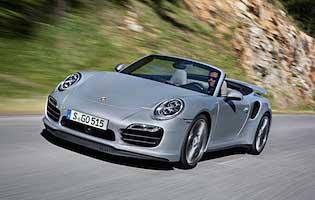 Overall rating

Likes:
Exhilarating driving experience
Hugely responsive and flexible engine
Comfortable cabin is easy to live with
Roof down refinement is impressive - even at speed
Gripes:
An expensive car to buy, insure and run
Lacks the clean, uncluttered lines of the base models
Despite hefty price there's still potential to spend more on options
Direct shift PDK gearbox only option - no manual available
This 991 generation 911 has evolved to offer buyers a wide choice of variants. From a basic coupe to fire-breathing Turbo models, there's a 91 for everyone. And if you want supercar-fast wind in your hair experience, the Turbo Cabriolet is a good place to start.
If you want a fast-paced open top experience, there's nothing like 520 horsepower to get the party started. In Turbo guise, 911's popular Cabriolet offers buyers an exhilarating driving experience that's knocking on the door of supercar territory.
And this is no wild rollercoaster ride either, but a refined and measured performance rom a car that, in tin-top guise, boasts limits way higher than your average driver.
Boasting all-wheel drive, a host of electronic stability and traction aids plus a standard fit PDK dual clutch gearbox, there's enough hi-tech hardware to keep you pointing in the right direction. However, turn it all off and this 911 is a complete hooligan.
The best bit is that you can do all this with the roof down. The powered hood sits conveniently out of sight when retracted, yet does much to boost cabin refinement when raised. And with the compact wind deflector raised, cabin refinement is equally impressive when you're racing along with the wind in your hair.
Our verdict on the Porsche 911 Turbo Cabriolet
Make no mistake, for all the lifestyle and lightweight connotations surrounding super premium convertibles, Porsche's 911 Turbo Cabriolet smashes them to pieces. It's as capable as its coupe cousin, while real world compromises are negligible. Granted, it is a car for buyers with deep pockets, but if you have the means it's something to be enjoyed.
Costs
It might seem strange to be praising a 911 Turbo for its fuel economy, but Porsche has done a good job in improving the car's eco credentials in recent years. That said, you don't buy a 911 Turbo based on mpg figures, and the reality is a costly ownership experience, with insurance and fuel the main outlays.
Space and practicality
It might be a deep, rectangular space but the 911's front boot remains a decent size for most things. It can't compete with a Ford Focus for space, but it's adequate. There's also a small space between the rear-mounted engine and cabin but it's really a token offering. More useful are the car's rear seat, which are pretty useless as seats. Elsewhere, oddment storage space is reasonable.
Controls and display
The main cluster gauges offers drivers all the information they need at a glance. A digital readout gives a wide choice of information to display, like the next sat-nav instruction, average fuel economy or even an instant G-force meter. Porsche's family digital speed readout is also appreciated, although the infotainment's small controls are starting to look dated.
Comfort
For a car so fast and capable it seems unlikely that it could be comfortable, the 911 Turbo Cabriolet successfully manages to combine both. Roof up, the car is refined and composed, while with the roof down the car's retractable wind deflector does a good job of minimizing buffeting at speed.
Car security
Some insurers will always load a premium in the face of a fabric roof - it's not viewed as secure as a metal one. With Porsche's own tracker system present you do have some peace of mind, although the 911 Turbo is a distinctive car that will always attract some attention.
Car safety
The lack of a metal roof doesn't seem to impact on the 911 Turbo Cabriolet's appeal, and the various countermeasures to combat inverting the car should prove sufficient. Elsewhere, all-wheel drive isn't just for performance but can help stability in poor conditions. And don't forget the usual array of airbags and Porsche's well-developed electronic stability and traction aids.
Driver appeal
No longer the poor relation to the equivalent Turbo coupe, this Cabriolet variant is almost equal in terms of body stiffness and driver thrills. The standard fit all-wheel drive, turbo motor and PDK dual clutch gearbox combine to deliver massive grip, brutal acceleration and seamless shifts respectively. As fast and engaging as you want it to be, it's also no more challenging to drive around town than your average family hatch.
Family car appeal
There's no meaningful legroom in the back of the 911 but Porsche has included child seat mounting points, meaning the Turbo Cab could double as a second or third family car if needed. You'd need the roof down to improve access to the rear seats, and plan carefully regarding where you'd store a pushchair and other family-related clobber.
First car appeal
In a word, no. The 911 Turbo Cabriolet - or Coupe - might be easy to drive but there's no escaping the issue of a 500 horsepower-plus car in the hands of a novice. And that's before you factor in the running costs and insurance.
Quality and image
Although a long-lived and successful car, convertible models have often ben viewed by purists as second rate - especially the further up the range you travel. This latest Turbo 'Cab' is closer to that of the coupe than anything previously performance-wise though.
Accessibility
The 911 is a low-slung car and is not ideal for people who aren't that flexible. Getting in and out requires you to lower yourself down into the car's sports seats, while long doors also require an ample amount of space beside the car to be opened wide enough. This all becomes much easier with the roof down, however.
Stereo and ICE (In car entertainment)
The standard unit is very good and includes CD, radio, auxiliary and USB inputs. For extra power and a fuller, more balanced audio experience there is an optional Bose surround sound hi-fi system. Porsche's Communication Management system includes satellite navigation and built-in telephone operation, and the system works well.
Colours and trim
Several solid finish choices are joined by metallic and special paints, which cost extra. Inside the trim choices span an equally wide spectrum, thankfully more subtle shades are plentiful if so desired.
Parking
Excellent wing mirrors help when reversing, but long doors sometimes make it difficult to get in and out of the car in tight spaces. Thankfully, the car's variable power steering lightens enough to allow easy manoeuvring. Parking sensors also take the guesswork out of reversing.
Spare wheel
Tyre inflation kit fitted as standard.
Range information
Petrol engine options - 3.4-litre (350bhp); 3.8-litre (400bhp, 520bhp and 560bhp). Transmission options: seven-speed manual as standard, seven-speed PDK twin-clutch automatic - standard on Turbo and Turbo S models. No specific trim levels.
Alternative cars
Audi R8 Spyder Impressive all-rounder that, in this company, doesn't break the bank
McLaren 650S Spider A technical masterpiece and a genuine supercar
Ferrari 458 Spider A scintillating full-on supercar with a price tag to match
Lamborghini Gallardo Spyder Still fast and attractive but showing its age