December 2007
Porsche 911 GT3
Classic 911 silhouette is enhanced in GT3 form
December 2007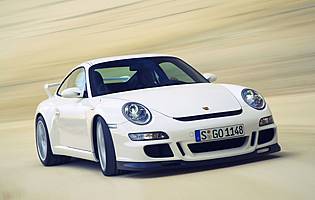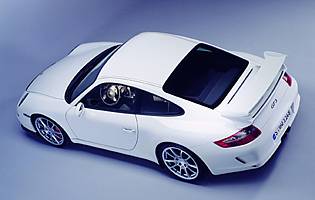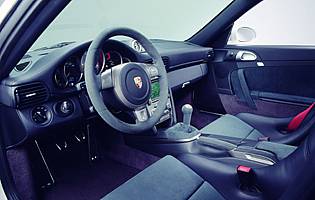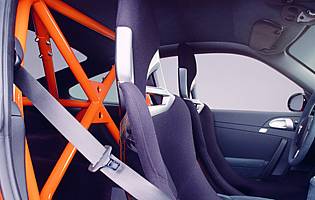 Overall rating

Likes:
Aerodynamic changes add to the visual appeal
Tuned engine is a thrilling device
Handling is razor sharp
High quality finish throughout
Gripes:
Tyres are optimised for dry weather
Roll cage means two seats only
Gearbox and clutch can be hard work in traffic
Fixed seats will not be comfortable for all
Porsche's iconic 911 model has remained at the pinnacle of the sports car sector for decades, thanks to a sound basic formula and a consistent programme of updates and improvements. There is also a model to suit the most demanding buyers, and the track-ready GT3 represents one of the most extreme versions available.
The 997-series Porsche 911 is already an exceptional performance car, offering the unmistakable silhouette which has remained a firm favourite with sports car buyers without looking outdated. A series of wheel and exterior styling packages allow further tailoring, but the inherent proportions and details are simple and attractive. The GT3 is instantly distinguished by a large rear wing, unique alloy wheels and an extensive aerodynamic bodykit, which befits its racing heritage.
The GT3 is available in two versions, GT3 and GT3 RS. The RS is the most extreme version, with further reductions in weight thanks to carbonfibre seats and the removal of soundproofing. The regular GT3 is more suitable for road use however, as it retains the Porsche Communication Management system found on regular 911 models and has more comfortable seats, although they are still 'bucket' seats designed for maximum support.
Aside from the visual differences, there are a number of mechanical alterations to the GT3 model over a regular 911. As well as a reduction in weight, the 3.6-litre flat-six engine receives a substantial power boost, with features such as an increased rev limiter and a dry-sump lubrication system, all of which are usually found on racing cars. The gearbox also has different ratios for better performance, and the suspension is lowered and stiffened.
The GT3's track-biased nature means that, although it is civilised enough to be used on a daily basis, there are some compromises that any user would have to cope with. The high specification tyres are optimised for dry weather, so in wet conditions grip is reduced. The seats have a fixed backrest which may be uncomfortable for some, and the optional rear roll cage restricts rearward visibility.
Our verdict on the Porsche 911 GT3
There may be a substantial increase in price over the already-entertaining standard 911, but the GT3 is worth every extra penny. Although there are sacrifices it remains usable enough for an enthusiast, and in the right conditions it delivers mesmerising performance and handling. It is also suffused with character, and should prove to be a very reliable high performance machine.
Costs
Running costs for the 911 are likely to be high. Fuel economy is relatively low, while insurance and running costs will be at the highest end of the scale. Servicing isn't cheap on a car like this, but as this is a thoroughbred performance car that's always going to be one of the downsides.
Space and practicality
Front seat passengers have plenty of room in all directions, and are unlikely to have any quibbles. Storage space in the cabin is relatively good, although the front boot is only suitable for carrying a couple of soft bags. With the optional rear roll cage additional space is available in fixed nets, although these are designed mainly for crash helmets.
Controls and display
The layout of the 911's cabin is impressive. It retains the classic five-dial set-up for the instruments, supplemented by changeable digital displays. As well as being attractive it is informative and easy to use. Some of the smaller buttons on the dashboard are quite small, but otherwise the cabin is faultless.
Comfort
The 911 does a good job of delivering respectable comfort levels. The seats are very firm but also very supportive, although the fixed backrest will not suit all. Noise levels are relatively restrained, the engine subsiding when on a light throttle. The ride is firm, and bigger potholes will jar the occupants.
Car security
All Porsche 911 vehicles are fitted with a tracking system as standard, making it very difficult for the car to be successfully stolen. In addition it has an immobiliser and alarm as standard.
Car safety
With such high dynamic limits and sharp responses, the GT3 has a high level of active safety. Passive safety systems include airbags, while the option of a roll cage and four-point harnesses instead of seatbelts increase safety levels.
Driver appeal
The driving appeal of the 911 is the key reason for purchasing one. Although having the engine at the rear is not inherently ideal in terms of dynamics, the Porsche engineers have honed the set-up to the point where it delivers an impeccable degree of balance, grip and enjoyment. The steering, brakes, suspension, gearbox and engine combine to make every burst of acceleration, braking and turning an immense pleasure. Despite all this, it can still cruise comfortably and cope with traffic jams.
Family car appeal
The 911 is not an ideal family car, although it could carry two adults. The front seat would probably not accept a child seat either. Insufficient boot space would be the key issue, as is access to the rear seats.
First car appeal
The 911 is much too powerful and expensive for a first car, and would be too great a challenge for an inexperienced driver.
Quality and image
The 911's reputation is founded on high quality, and almost without exception it delivers. It feels thoroughly engineered throughout and robust, with the only demerit being the slightly flimsy nature of some of the minor switches. The 911's image is even stronger, remaining one of the most desirable sports cars ever despite strong competition, and its reputation as a superb performance car is well known.
Accessibility
For a sports car, the 911 is relatively easy to get into. The doors are long and open wide, though the seats have high sides and are low set. Access to the rear is difficult, as the fixed front seats can only slide forward.
Stereo and ICE (In car entertainment)
With the optional Bose stereo system fitted, the 911 boasts a superb sound system. Radio, CDs and MP3 CDs can be played, and the sound quality is of a high standard. Steering wheel controls make it easy to operate, and unlike many cars these controls are small so they do not interfere during spirited driving.
Colours and trim
The 911 is available in a range of mostly subtle colours, with brighter hues like red, yellow and white for the outgoing. Inside the cabin is understated and sombre, but can be brightened by choosing different cabin colours and materials.
Parking
Because of its unique shape, parking the 911 can be a little tricky. Visibility all round is generally good, but the sloping rear can make it difficult to judge and the optional rear roll cage all but obliterates the rear view.
Spare wheel
Tyre inflation kit fitted as standard.
Range information
Petrol engine options: 3.6-litre petrol (325bhp and 415bhp), 3.6-litre turbocharged (480bhp), 3.8-litre petrol (355bhp). All are fitted with a six-speed manual gearbox as standard, with a Tiptronic automatic also available. There are no specific trim levels.
Alternative cars
Ferrari F430 Incredibly rapid and desirable, less of an everyday car
Lamborghini Gallardo Most usable Lamborghini ever is highly competent
Aston Martin V8 Vantage Attractive and good to drive British offering
BMW M6 High-tech masterpiece with an incredible engine