March 2012
Porsche 911 Carrera S Cabriolet
Familiar looks hide a wealth of technical improvements
March 2012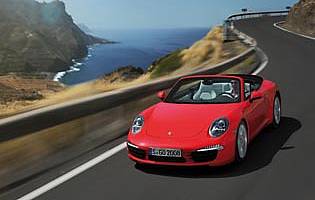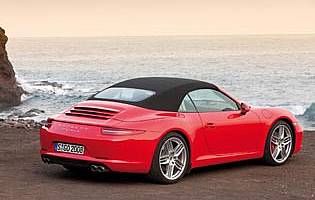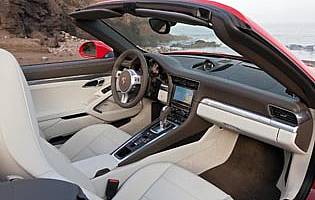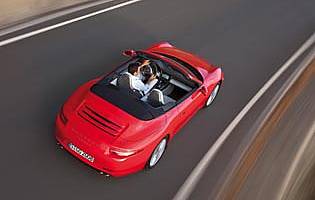 Overall rating

Likes:
Remains a sublime dynamic package
Well-engineered roof offers security and comfort
Spectacular performance, particularly from S variant
New car delivers significant eco improvements yet retains driver-focused character
Gripes:
Seven-speed manual gearbox requires a bit of practice to master
Purists might struggle to adjust to new electric power steering
Too easy to spend six figures on a regular 911 Cabriolet now
Sports exhaust option a little too loud and artificial-sounding
A 911 line-up is never complete with out the ubiquitous Cabriolet model. Once derided for being the poorer relation in terms of driving dynamics, recent years have seen Porsche engineers close the gap between tin-top and drop-top variants. For the '991' model series, the other big news is the switch to energy saving electric power steering and the inclusion of a seven-speed manual gearbox to compliment the optional seven-speed DSG unit.
Cynics might bemoan the fact that this 911 doesn't look much different from the last one. As Porsche has focused more on the fine details of each new 911 variant, its looks have evolved at a glacial pace. In reality, wholesale changes to the car's appearance would do more harm than good, as it's the 911's distinctive silhouette that has served it so well for so many years.
What has changed is a host of technical details. The Cabriolet's roof is an outwardly simple unit but is surprisingly complex solution to boost refinement and rigidity. Also, the car has grown slightly in size and this is most obvious in the more spacious cabin.
Power is another value that's increased over the previous 911, although Porsche has again succeeded in reducing fuel consumption and CO2 emissions despite the performance hikes. The car's engine's retain Porsche's trademark 'boxer' layout and come in 3.4 (350bhp) and 3.8 (400bhp) flavours. A sports exhaust option remains if you wish to boost the car's aural impact, along with a predictably long, tempting and sometimes costly list of extras.
Fans of the car will initially groan at the prospect of electric steering appearing on such a performance car icon, but Porsche has done much work to dial in as much feedback and communication to the driver as possible. Such systems are more plentiful on family hatchbacks where such issues are mute, but this fuel saving measure appears to strike at a happy balance between boosting efficiencies and delivering a first class driving experience. The seven-speed manual gearbox, on the other hand, is an acquired taste and it's hard to ignore the increased popularity of Porsche's excellent (and optional) DSG semi-auto gearbox.
Our verdict on the Porsche 911 Carrera S Cabriolet
With this 991 version of the popular 911, Porsche has succeeded in closing the gap between coupe and convertible models to a level that will be imperceptible to all but the keenest of keen drivers. With compromise now a dirty word in Cabriolet circles, it's possible to focus fully on the car's abilities. As such, the ride, handling and performance properties of this 911 Cabriolet reach new heights of driving enjoyment. It still pays to pick your cost options carefully and resist the lure of the largest wheels if you value ride comfort over aesthetics, but finally there's no real world stigma to be had if you pick the drop-top 911 over its tin-top cousin.
Costs
Running costs are inevitably high with a car like this, although improvements in engine efficiency have resulted in small but useful reductions in fuel consumption and CO2 emissions. Also, restrained driving behavior can result in respectable levels of economy.
Space and practicality
With the rear seats in the 911 merely a token addition, front seat occupants shouldn't have any complaints about any available space. Oddment storage - open and covered - is in good supply, though luggage space is restricted to the surprisingly capacious front compartment unless you call the rear seats into use. Thankfully the roof doesn't intrude into the cabin when retracted.
Controls and display
Clarity is the key to the 911's controls and displays. The 991-model 911 has adopted a version of the Panamera's centre console, which has resulted in a more orderly location of the car's main controls, although at first it does take a little while to find everything. The car's touch screen unit remains intuitive, while the main dials are an object lesson in clarity.
Comfort
Of course, it's all relative with a car like the 911 but the 991 Cabriolet does a good job of delivering respectable comfort levels despite riding on large wheels and delivering a near-absence of roll when cornering at speed. The sports seats are firm yet supportive - even over long distances. Overall noise levels are quite restrained when on a light throttle opening even with the roof down, although that can change for the better when you push on. The optional sports exhaust, on the other hand, can prove intrusive.
Car security
The standard alarm and immobiliser system should be considered a minimum in a car such as this. With the relative vulnerability of the fabric roof and its desirability, the car's tracking system is a welcome addition.
Car safety
For a car as potent as the 911 - especially in 3.8 S specification - there's no shortage of safety kit. From stability control to numerous airbags, you're covered for most eventualities. That said, keen drivers will be pleased to know that the various stability control elements are progressive and can be turned off.
Driver appeal
This is where the 911 shines - even in Cabriolet form. Continual improvements under the hood have led to more power and the practical experience bears this out. For maximum thrills it must be the 3.8 S, but don't dismiss the 'lowly' 3.4 as this offers a sweeter, less intense experience and could be viewed as more of an all-rounder - especially if you want to divert cash to tempting cost options. In reality the electric steering usefully dials out the old car's sometimes tiring kickback when covering poorly surfaced roads, yet accuracy and confidence remains. The overall experience is a faster, more refined, more focused and more rounded one, which is reason enough to upgrade.
Family car appeal
At a push, the 911 Cabriolet could ferry two adults and two children of the right size on short journeys, but there would be little room for luggage and not much chance of covering a decent distance before the rear-seat occupants will start to complain. If you really want a family-friendly Porsche you'll need a Cayenne.
First car appeal
It's a predictable outcome but the 911 in any form is not a suitable car for first timers, given its unusual engine layout, dynamics and even simple things like the reduced visibility and heavy clutch. And that's before you explore insurance cover.
Quality and image
Porsche has always been something of a divisive brand but for those who really appreciate highly capable sports cars, its products and the 911 in particular are regarded as some of the best in the business. Quality has always been a strong feature of Porsche cars and this 991-generation car is no different.
Accessibility
Once you're aware of the 911's limitations the act of getting in and out is rarely a challenge. With the 911 being low to the ground, so is the seating position. The car's doors are big, but that's only an issue when parked in a tight space next to other vehicles. Only those of above average height will need to take more care when getting in when the roof is up.
Stereo and ICE (In car entertainment)
The car's new centre console design plays a significant part in ensuring the standard fit audio unit is easy to use. The default unit sounds good and, in typical Porsche style, can be upgraded to include touch screen sat-nav, Bluetooth and MP3 player connectivity. The result is a costly but exceptionally easy to use system.
Colours and trim
The 911 Cabriolet is available in a wide range of exterior colours, and even the brighter hues do much to compliment the car's curves. Matching the choice of hood colour with the paint is also worth careful consideration. Inside there's plenty of scope for mixing and matching trim materials and colours to suit - with the only limit being your bank balance.
Parking
You sit low down in the 911, and that can make parking a little tricky at first due to the reduced visibility. It's a wide car and the side mirrors are small. Fortunately the car's steering is light and accurate at low speeds and, where fitted, the parking sensors make a big difference. With the hood folded rear vision is improved.
Spare wheel
Tyre inflation kit fitted as standard.
Range information
Petrol engine options - 3.4-litre (350bhp); 3.8-litre (400bhp). Transmission options: seven-speed manual gearbox, seven-speed PDK semi-auto gearbox. Trim levels: Carrera, S.
Alternative cars
BMW 6 Series Convertible Big BMW is rapid but not as agile as the 911
Aston Martin V8 Vantage Roadster Uprated V8 lifts the car's performance to new heights
Lamborghini Gallardo Spyder Most usable Lamborghini still not as user friendly as the 911
Mercedes-Benz SL-Class Strong mix of usability and performance with folding metal roof