Car Buyers Guide
Porsche 911 Carrera S Cabriolet
March 2016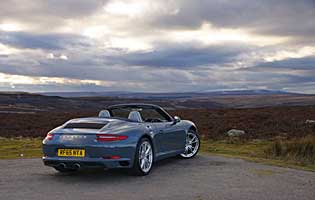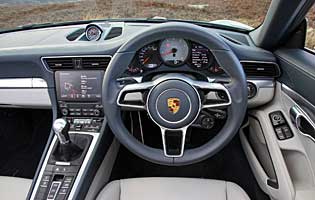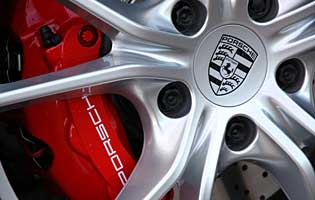 Overall rating

Likes:
Strong engine's increased torque makes everyday driving more relaxed
Classic looks are understated but elegant
Powered roof folds at up to 30mph
Many combinations of colour and trim
Gripes:
Hard ride on rough roads, even on standard wheels
Poor rearward visibility
Purchase price close to six figures before adding options
Rear seats useless for passengers
Porsche has been making convertible sports cars since its very beginning, and there's no model with more success to look back on than the 911. The latest generation has moved to turbocharged engines, in line with the Coupe and Targa models that share so many of its parts, and while that brings more performance, it sacrifices character.

The 911 is a wonderfully accomplished sports car but much about it has grown over the years; its dimensions, its power output and most definitely its price. The convertible costs many thousands more than the hard-top 911, but for some the extra sense of style and the open-air experience is enough to warrant the extra outlay.

This Carrera S version is powered by the more potent of the two versions of Porsche's new 3.0-litre horizontally-opposed six-cylinder turbocharged engine, with 414bhp and a vastly-expanded torque figure of 369lb/ft delivering extreme acceleration despite the Cabriolet technically being the heaviest and slowest of the 911 Carrera S trinity.

There is still a seven-speed manual gearbox fitted as standard, but most buyers pay extra for the PDK dual-clutch automatic, complete with paddle-shifters behind the steering wheel and much faster gear shifts. The manual ensures a certain degree of driver involvement but the engine noise simply isn't as inspiring as it used to be, compounded by a false-sounding Sports Exhaust.

Huge grip at both ends means that very few drivers will have the necessary skill to find the limits on the road - and still fewer who could do so safely. The car maintains a 2+2 seating layout with little real concession to practicality, while the styling is almost unchanged versus the predecessor car.


Our verdict on the Porsche 911 Carrera S Cabriolet
The 911 is doubtless a highly capable car, and relishes being able to prove just that on the road. It's exceedingly grown up, feels solid and potent, and yet it doesn't tug the heartstrings like it once did. More efficiency is a welcome by-product of turbocharging, though, with gains of 25% versus the old model easily possible. But, on the whole, the 911 has just become a little cold.