December 2012
Porsche 911 Carrera S
Familiar styling has actually changed in many ways
December 2012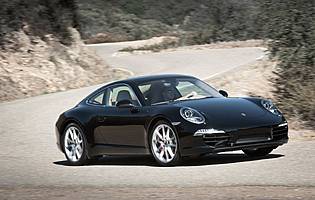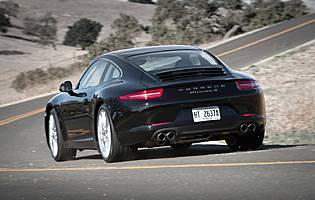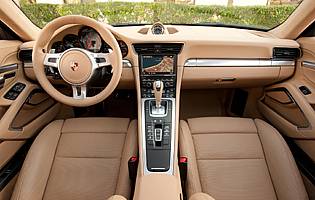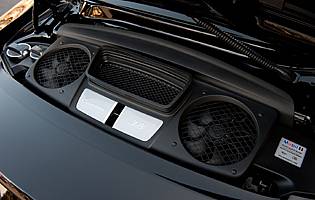 Overall rating

Likes:
Powerful engine gives breathtaking acceleration
Extremely high quality and luxurious interior materials
Involving driving characteristics and excellent chassis
Comfortable but carefully controlled ride quality
Gripes:
Engine sound could be more dynamic and engaging
Steering lacks the detailed feel of previous 911s
Many options are expensive
Hardcore fans might bemoan the car's increase in length
The Porsche 911 has always been marketed as a supercar that can be used every day. Previous generations have mastered the art of going fast, but the latest model, denoted the 991 generation, has been designed to increase the performance still further while being a better everyday car. Efficiency is an area that has been specifically targeted.
It's a developmental obstacle that few cars in the modern age can escape; not least high-performance supercars like the 911. As some of the worst polluters over any given distance, producers of large and powerful cars are under pressure to clean up their cars' emissions. This car comes with a seven-speed manual gearbox, complete with a very tall top gear to help keep cruising revs down to around 2,000rpm at motorway speeds.
In recent years most buyers have specified the optional - and excellent - PDK twin-clutch automatic transmission, but the slick-shifting and perfectly weighted manual offers more involvement and transfers a truer sports car experience from the horizontally-opposed six-cylinder engine. The noise from the rear-mounted unit isn't as dramatic as might be expected or hoped, but the power output, particularly from the Carrera S, is enough to make the relatively lightweight car feel very fast.
One of the key changes for this model was a 100mm longer wheelbase, which makes it more stable than of old but it does dim a little of its old eagerness to turn into a corner. Fortunately it's still responsive to throttle input mid-corner and will swap from understeer to power oversteer with a modest squeeze of the accelerator.
The interior is made from exceptionally high quality materials, although several of the trim options should be ordered carefully according to taste. The seats are supportive both vertically and laterally, and until cornering forces get very high they offer enough grip to allow the driver confidence to push harder. There is a great deal of technology in this 911, for both safety and luxury, but the options list is expansive too.
Our verdict on the Porsche 911 Carrera S
This 911 is faster, more stable and more economical than its predecessor, and in that regard it's a complete success. Whether it's as much fun as older versions is such a fine distinction that the answer will differ from person to person. However, judging it purely on the aims of Porsche's engineers, which were to make it better value to own while maintaining the driving involvement, overall they've done well.
Costs
Despite fuel efficiency improvements and reductions in some running costs like road tax, the 911 is still a very expensive car to own. Predictions of close to 30mpg are beyond reach for the vast majority of buyers, but over 20mpg is realistic. Depreciation is among the lowest of any sports car thanks to its reputation for balancing quality and performance.
Space and practicality
Increased safety requirements initially led to a reduction in the size of the storage area under the bonnet, but the chassis dimension changes allowed this model to retain the same amount of luggage space as the one it replaces. It's not a great deal but with careful packing it's enough for a weekend away or a trip to the shops. Considering the 911's performance and image, though, it's relatively practical.
Controls and display
A cluster of five round, overlapping gauges offers a thorough assessment of the car's condition, not just the normal aspects like oil and coolant temperature. A digital readout gives a wide choice of information to display, like the next sat-nav instruction, average fuel economy or even an instant G-force meter. Some might find it a bit too geeky, but others will undoubtedly love it.
Comfort
Thanks to advanced technical systems the 911 rides very well, offering well-controlled damping and balanced spring rates. Several options lower the ride height by 20mm, which reduces the available suspension travel and increases harshness slightly, but the difference is small on the road. The seats are highly adjustable to suit a wide variety of heights and leg lengths, offering good support for occupants' backs as well.
Car security
All 911s are secured with an advanced immobiliser with an in-key transponder, an alarm and a radar-based interior movement detection system. Together they secure the doors, bonnet, ignition lock and passenger area to make sure any intrusion or use of force sets off the system. There's also a tracking system, which can locate the car in most European countries.
Car safety
As Porsche's principal model range, the 911 is fitted with every safety aid possible in addition to cleverly designed passive structural safety features. The traction control and braking systems are especially sophisticated, allowing the 911 to find grip where it otherwise might not. None of the safety gear is intrusive when called upon, either, retaining the car's sense of driver involvement.
Driver appeal
With several major chassis changes, this 911 was always going to feel different to its predecessors. A longer wheelbase and wider track at the front mean that it feels slightly less eager to turn in to tight corners, but it still feels like a 911 and is huge fun to drive on twisty roads. The six-cylinder engine delivers thrilling pace, even though it should really sound more dramatic at high revs.
Family car appeal
As a two-plus-two with child seat mounting points, Porsche clearly designed it to be used as a family car if an owner chose to do so. The long doors allow access to the rear seats more easily than might be expected, and the amount of legroom once seated is plenty for young children. It's a very safe car, too, with a great deal of active and passive safety technology.
First car appeal
While it's one of an elite group of cars that are objects of pure desire for learner drivers, the obvious factors of excessive power, cost and insurance are impassable obstacles.
Quality and image
The 911 is a remarkably successful car and has built up a large fan base worldwide. Its multi-talented nature means that its image changes according to opinion, from iconic and beautiful to merely tame and sanitised. Its quality is beyond dispute, however, with luxurious materials and finishes throughout the cabin and the kind of precision engineering under the skin that you'd expect Porsche to give to its flagship.
Accessibility
Although it's more practical than many supercars on the market, the 911 is still a low-slung car and is not ideal for people who aren't that flexible. Getting in and out requires people to negotiate their way past a prominent seat back side bolster that gets in the way, particularly on entering the car. Long doors also require an ample amount of space beside the car to be opened wide enough.
Stereo and ICE (In car entertainment)
As befits such an expensive car the standard stereo is very good, although a six-CD multichanger is not standard. For extra power and a fuller, more balanced audio experience there is an optional Bose surround sound hi-fi system. Porsche's useful Communication Management system is standard on the Carrera S along with a satellite navigation system.
Colours and trim
The 911 is bought by people from all sorts of backgrounds with a variety of tastes, and as such there is a wide selection of colours from the very obvious to the very subtle. Several solid finish choices are joined by metallic and 'special' paints, which cost extra. Inside the trim choices are exclusively subtle, but light and dark options are available and the quality is very high.
Parking
For a car intended as a practical supercar, the 911 is a mixed bag when it comes to parking. The variable power steering lightens enough to allow very easy manoeuvring, but the high dashboard, rear window and door shoulders reduce visibility. Excellent wing mirrors help when reversing, but long doors sometimes make it difficult to get in and out of the car in bay spaces.
Spare wheel
Emergency tyre repair kit as standard.
Range information
Petrol engine options - 3.4-litre (345bhp); 3.8-litre (395bhp). Transmission options: seven-speed manual as standard, seven-speed PDK twin-clutch automatic optional.
Alternative cars
Aston Martin Vantage V8 Coupe More expensive but better looking with a sonorous V8 engine
Maserati GranTurismo One of the best engine notes produced, but more conspicuous
Audi R8 V8 Obvious and extrovert, but a fantastic driving experience
Mercedes-Benz E 63 AMG A more practical four-door option with huge performance