December 2015
Porsche 911 Carrera
As usual, few visible changes are evident between the old and new 911s
December 2015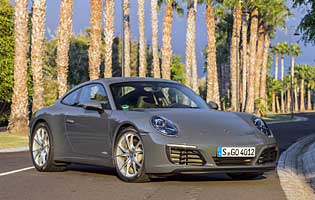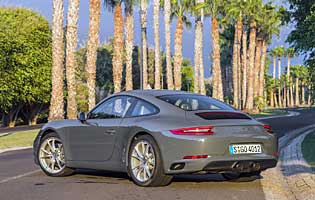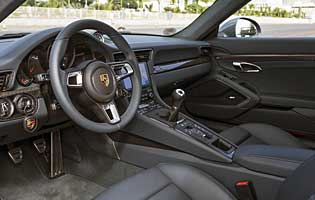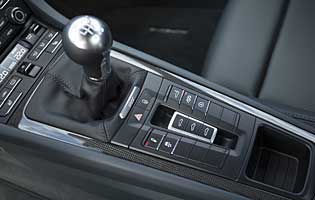 Overall rating

Likes:
New engine does not disappoint in terms of performance
Slick manual gearbox is the driver's choice
Snug seats offer high levels of grip, support and comfort
Good chassis balance and impressive comfort
Gripes:
Engine note loses some of the soul of its predecessor
Steering a little light at speed
Standard spec level forces expensive upgrades
Expensive purchase prices
For the first time in its illustrious history, the Porsche 911 range is fully turbocharged. The move comes as Porsche bends to the will of European regulators, who have continually pushed for lower emissions from all mass car makers. A smaller engine means more efficiency when driven gently, but turbocharging means more torque when called for.
This major change has arrived during the middle of the model's life cycle, meaning that apart from some minor visual tweaks the 911 shape and profile is the same as it has been since the 2012 model year. The mechanical changes are major, though, including an all-new clutch for the manual model in order to handle the extra torque.
The new car is faster than the old one like-for-like. A correctly-specified Carrera S can reach 62mph from rest in just 3.9 seconds; the first time any Carrera has been able to do so. Even this base model, in manual guise, manages the feat in 4.3 seconds - very little slower in the real world.
As prices rise the 911 has become a very expensive sports car, potentially undermined by competitors both outside the company and within its own ranks. Its list of direct and indirect rivals grows every year, but such is the strength of the 911 brand and its omnipotence in the sector that any and every sports car between GBP40,000 and GBP140,000 will ultimately be compared to it.
Porsche has engineered the new car to be more relaxed at a cruise than before, without giving up too much of the character that made the 2012-2015 991 such a hit with buyers. The noise is a little different; softer and deeper, but it will still rev to 7,500rpm. The fact that it performs better with upshifts at 6,500rpm is, to the target audience, almost academic.
Our verdict on the Porsche 911 Carrera
There is no denying that this generation of 911 is less pure and less satisfying for keen drivers. But the margin by which it loses out is much smaller than many newly-turbocharged cars do versus their predecessors, and after a few minutes the previous car is all-but forgotten. The huge torque adds new character to a car that was already praised for its chassis balance, style and build quality.
Costs
The price of the 911 creeps ever upwards with each new generation, and the gap between the base Carrera and the Carrera S is already huge. It's so good at what it's designed for that it's always difficult to call it bad value, but there are cars that offer as much satisfaction, more character and no less practicality for a lot less money. Depreciation will be a major factor in running costs.
Space and practicality
There has been no improvement made to the luggage bay between the front wheels, or to the room available at the rear seats. It's not a great deal of space compared to a family hatchback but with careful packing it's enough for a weekend away or a trip to the shops. Considering the 911's performance and image, though, it's relatively practical.
Controls and display
Porsche has employed its favoured five-analogue dial layout for the 911's instruments, with a digital gear indicator present and correct as well. The rev counter is central, while LCD digital displays occupy the otherwise unused space beneath two of the needle hubs. The driving controls are well-weighted around town but the steering needs less assistance at higher speeds. The main screen is clear and bright, simply looking after its duties without fuss.
Comfort
Porsche Active Suspension Management is standard, with a revised and broader range of characteristics for more comfortable comfort. Although the roads of the test route were largely very smooth, it's clear the 911 Coupe stays flat through corners and absorbs all but the worst bumps. A 10mm lower chassis option is available. The standard seats are only four-way adjustable via electric power with further tweaks possible manually. Fully electric seats are expensive options alongside Sports Seats Plus, which have bigger bolsters for more cornering support.
Car security
Remote central locking is standard, along with an immobiliser for the engine. The central locking is two-stage, so the driver's door can be separated from the other side. The bonnet can be opened from the key fob, but the engine bay lid has to be released from inside the car. The fuel cap secures with the central locking and, as it's on the front wing, is harder to leave open unnoticed.
Car safety
Automatic post-collision braking helps reduce the chances of the car rolling into other traffic. The front brakes are new, with larger 330mm discs that are also 6mm thicker and linked to brake pads 17% larger than before. Ceramic brakes are optional. In its default mode the Porsche Stability Management is tuned to ensure maximum safety in all weathers, but this can be backed off if desired.
Driver appeal
Most of the appeal of the old normally-aspirated 911 Carrera is intact in this new engine. It doesn't quite have the same angry bark, delivering a softer roar through the midrange and a slightly strained-sounding shriek towards the rev limiter. In combination with great chassis dynamics, strong brakes, generous corner-exit punch and very little turbo lag, the car acquits itself with confidence and balance. Drivers will love it.
Family car appeal
The German firm is keen to point out that Isofix child seat mounts are available, and the front passenger-side airbag can be switched off. On the other hand the rear seats are vertical-backed and uncomfortable even for children. The high level of safety equipment is a welcome boost for parents, even if the relatively small amount of boot space could be prohibitive.
First car appeal
There won't be many young learner drivers, particularly teenage males, who don't like the idea of a 911 Carrera as their first car. However, not only is the financial reality beyond the reach of a first-time buyer but the prospect of controlling temptation with so much power on tap is unrealistic too. Would-be owners are better to gain experience in something smaller and easier to manage.
Quality and image
The 911 has a strong image, if perhaps an increasingly divisive one. Some people are not happy with its move to turbocharged engines and others criticise owners for making their choice based on image rather than driving performance, however much of the latter the car may actually have. The truth remains that the 911 is a desirable car. It always has been and it's likely that it always will be. Materials quality is first-rate, but small mechanical or electrical problems are not uncommon.
Accessibility
Low seats and a two-door layout mean that the 911 feels every bit the sports car to get in and out of. The sills are low, though, which helps, and somehow it manages to feel quite easy to get along with; certainly no harder than any other sports car. The bonnet can be released electronically and is lightweight to lift on its two rams.
Stereo and ICE (In car entertainment)
The standard stereo is below par for this price of car, with just 150 Watts of power dealing with eight speakers. It does have DAB radio and an iPod interface, but it is put in the shade by the two expensive upgrade options; a 555-Watt Bose system with subwoofer and 11 other speakers in the cabin, and a Burmester High-End system with 12 individually-controlled speakers and a more powerful subwoofer for a total of 821 Watts of power.
Colours and trim
There are some wonderful colour choices for the 911, stretching from the sober greys and blacks to new, much brighter shades like Miami Blue. Red, yellow and blue are well covered and the brighter shades help to lift what is ultimately a sober and somewhat reserved design. The interior trim is open to changes according to taste, with black, grey, beige and brown leather - which covers most surfaces - available at no extra cost. Bolder blue, red and two-tone options are available for a price.
Parking
Despite being billed as the everyday supercar, the 911 still doesn't have particularly good visibility. Forward lines of sight are generally fine, but wide rear wheel arches and the high window forced by the rear-engined layout mean that reversing finesse needs parking sensors, which, disappointingly, are not standard. Even better is the reversing camera, which can only be added after specifying parking sensors at both ends.
Spare wheel
Emergency tyre repair kit supplied as standard.
Range information
Petrol engine options - 3.0-litre turbo (365bhp, 414bhp); 3.8-litre (424bhp, 469bhp); 3.8-litre turbo (533bhp, 572bhp); 4.0-litre (493bhp). Transmission options: seven-speed manual gearbox, plus PDK twin-clutch auto. Trim levels: Carrera, Carrera S, Carrera GTS, Turbo, Turbo S, GT3, GT3 RS.
Alternative cars
Jaguar F-Type More power and bombastic character, plus unbeatable good looks
Porsche Cayman Much more affordable and at least as good to drive
Maserati Granturismo Stunning Italian style with cool to match
Mercedes AMG GT Large and distinctive coupe with V8 engine character, but much pricier