September 2008
Peugeot Expert Tepee
Peugeot's Expert Tepee is an attractive proposition for both private and commercial use
September 2008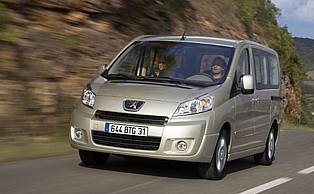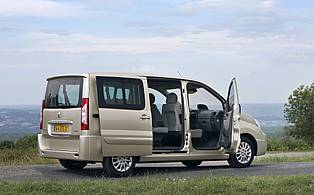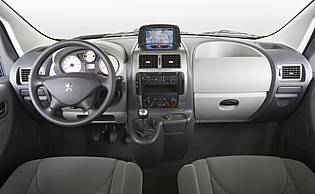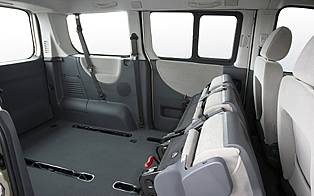 Overall rating

Likes:
For a converted commercial vehicle the Expert Tepee is easy on the eye
Lofty driving position makes driving safer and more relaxing
Performance form diesel engines is impressive
Spacious, flexible cabin strikes sound balance between refinement and versatility
Gripes:
When driven empty it can feel noisy and it?s easy to pick up the occasional rattle
Despite the space available, you will need to be reasonably agile to get in or out of the third row
The rear seats may slide, but there are no fancy table options or swivelling seats
The Expert's tailgate is big and requires a considerable effort to close
Although it might appear to be a small market, the one concerning large people carriers is an important one - especially if carrying passengers and their belongings is a business. Owners, or even owner-drivers, are obviously keen to minimise costs, but that shouldn't have to come at the expense of cabin space. It's no good if you can carry seven people but only five suitcases. Peugeot's Expert Tepee aims to solve that problem by being able to accommodate both.
For all the fuss over conventional people carriers, they are not always good at accommodating people and their belongings at the same time. And if you're planning on putting the vehicle to use professionally, space, comfort and refinement are all very well so long as the chosen model doesn't cost a fortune to run.
Van derived people carriers have for some time now plugged an important gap in the market. Space is, obviously not an issue with these vehicles, but refinement sometimes has been. As commercial products have improved, the likes of Peugeot's Expert Tepee offer a surprisingly comfortable experience as a passenger and driver.
In the case of the Expert Tepee, it offers a slightly different experience to that of similar models from the likes of Volkswagen and Mercedes. The German models tend to be more luxurious, and this is reflected in the pricing structure. The Peugeot might lack the fancy kit of its pricier rivals, but it offers no-nonsense comfortable seating. Three rows can be specified over the standard two, and with enough room in the back for luggage or personal belongings it's certainly versatile.
Anyone considering the Expert Tepee for commercial use is unlikely to be disappointed. Ownership costs are modest and, for the driver, the big Peugeot is easy and relaxing to drive. Diesel performance is impressive, and the ability to vary the seat-to-load space ratio should help accommodate varying cargos with the minimum of disruption.
Our verdict on the Peugeot Expert Tepee
With German rivals trading on the luxurious character of their executive people carriers, Peugeot has opted for a more down to earth approach. Comfortable seats, a spacious cabin, refined driving manners and the ability to accommodate plenty of luggage without encroaching on cabin space are all worthy attributes. Yes, it's still very much styled in the fashion of a van with windows, but it's a look worth living with in return for the Expert Tepee's many welcome features.
Costs
As it stands, the Expert Tepee is a sensible proposition; it's spacious and refined, which should please buyers seeking to put the Peugeot to work. The 120 horsepower diesel variant strikes a good balance between sensible running costs and performance. Equipment levels are modest by car standards though, which means you'll have to spend some money if you want to match the mainstream people carriers.
Space and practicality
Where do you start? The Expert Tepee is a big vehicle, and this ensures that there's plenty of room in the cabin for passengers. The seats are laid out in conventional rows, so people will have to fill the rearmost seats first if it's going to be a full house. Oddment spaces are plentiful, with the front door bins especially capacious. Overhead locker-style bins also prove useful. At the rear there's enough boot space for regular-size loads, although the rear bench can be slid forward to maximise carrying capacity.
Controls and display
Life for the driver is straightforward, as the main controls are familiar Peugeot items. Clear, easy to read displays are matched by solid controls. The high level gearlever makes life easy, and where fitted the sat-nav display is right in the driver's eye line.
Comfort
Despite being a large vehicle with its roots firmly in the commercial world, the Expert Tepee a surprisingly comfortable. As with all modern Peugeot's, the individual seats are comfortable and supportive. Cabin space is not an issue, so there's no chance of bumping elbows. And on the move the Expert Tepee is reasonably refined. Yes you can hear the engine, but it's never intrusive.
Car security
There's not a lot to report on the security front, as the Expert Tepee mirrors that of a regular car with its remote central locking and immobiliser. With such an open cabin, it's not advisable to leave valuables lying around in the open. Fortunately the glovebox is a good size, although the boot space is exposed - the tinted glass does help, though.
Car safety
Predictably, the main focus is centred on the front cabin. Airbags are present, although you do have to pay extra for ESP and traction control, which is a shame for something that could be used in a professional capacity.
Driver appeal
For something with its roots in the commercial world the Expert Tepee proves to be an easy vehicle to drive. The car-like driving position is a refreshing change, while all-round visibility is very good. The car-like controls ensure fatigue on long journeys is non-existent, while ride quality is more than acceptable - especially when the vehicle is empty. And despite its size, the Expert Tepee is easy to manoeuvre around town so long as you're aware of car park height restrictions. Predictably, diesel power is way to go, and the 120 horsepower unit strikes a good balance between performance and economy.
Family car appeal
There's no question that the Expert Tepee would make the perfect family vehicle if you have a large brood and plenty of space to accommodate it. With either two rows of seats or three, there's plenty of room for passengers and, crucially, their belongings. Active types will love the cabin's flexible nature, and there are plenty of regular storage options dotted around the place.
First car appeal
Ignoring the Expert's size for a moment, all the major controls are surprisingly car-like. As such, the people carrier is easy to drive. Forward visibility is also good, which is largely due to the lofty driving position. Such good news is unlikely to help a novice though, as the Expert is a large vehicle. Parking and general town driving could prove tricky if all you've been used to is something the size of a Peugeot 207.
Quality and image
On the image front, Peugeot doesn't have much of a history in the executive carriage market. It does make some very good regular size people carriers, which should bode well for the Expert Tepee. The big Pug might not be able to match the glossy cars from VW and Mercedes in the image war, but the Expert is well built and equipped and, crucially for business users, good value for money.
Accessibility
With its twin sliding doors, the Expert Tepee makes rear cabin access and egress straightforward. You'll still need to be pretty agile to reach the rearmost seats, but it's something that is unlikely to trouble most people. Those sliding doors are heavy though, and need a good push to close. At the front, cabin access is also straightforward. With a low mounted driver's seat, there's no need to climb up and in like you do in a conventional van. And like the sliding doors, you'll need to give the Expert's tailgate a good pull to close as it's large and heavy.
Stereo and ICE (In car entertainment)
The standard fir unit works well and delivers a pleasing sound. For business use this is probably all you'll need. Certainly, justifying anything more expensive could be difficult. That said, the high-end sat-nav system is a good one. Boasting a big colour display, easy to use controls and quick route guidance, it might prove useful for anyone routinely working in unfamiliar territory.
Colours and trim
With a wide choice of exterior colours available, the likes of silver should prove popular if the Expert Tepee is to be pressed into business - it's easy on the eye and implies a certain level of refinement. The vehicle's interior is pure Peugeot, with a lot of dark plastic and plush and stylish seats.
Parking
Make no mistake; the Expert Tepee is a big vehicle. Fortunately the car's mirrors are a generous size, while the parking sensors make the job much easier. Light and accurate steering help matters, although with the Tepee fully loaded you might have a problem seeing over your passengers' heads.
Spare wheel
Regular spare wheel fitted as standard.
Range information
Diesel engine options - 2.0-litre (90 and 120bhp). Transmission options: five-speed (90bhp) and six-speed manual gearbox. Trim levels: Comfort and Leisure.
Alternative cars
Volkswagen Caravelle Noticeably more plush and available with a table for true executive luxury - more expensive, though
Hyundai i800 Great value, good to drive, economical and spacious. Badge snobs might not approve
Chrysler Grand Voyager Traditional large MPV - can't match the van-based models for space
Ford Galaxy Popular large people carrier offers acres of refinement and a surprising amount of space