December 2004
Peugeot 206 1.6 HDi GTi
HDi GTi versions of the 206 are stylish and economical
December 2004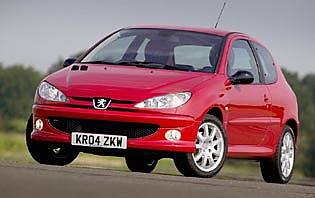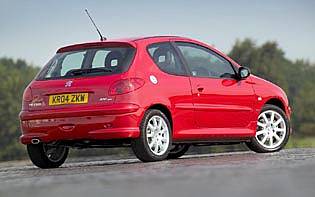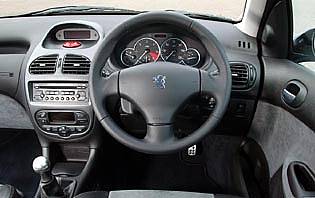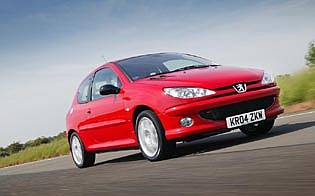 Overall rating

Likes:
Stylish looks are a common sight but continue to seem fresh
Typically agile Peugeot chassis makes for an engaging ride
Extensive choice of petrol and diesel powerplants
Good, affordable choice for the first time buyer
Gripes:
Mainly black interior can be oppressive on hot days
Some modern rivals are more sophisticated
Fact that it is a best seller limits exclusivity
Peugeot's reputation for reliability problems not entirely unjustified
Peugeot seems to have stumbled across a winning formula with its 205 replacement, the 206. We aren't talking about a few meaningless industry awards here; rather this is a car that has been among the most popular in its class for over half a decade. It may not go down in history in the same way as its forebear but this small hatchback continues to be a hit with British buyers.
The UK-built 206 comes with three or five doors as a hatchback, in Coupe Cabriolet guise or in estate form, known as the SW. Its appeal spans all age groups, classes and demographics, which was something Peugeot hadn't managed since the discontinuation of the 205.
The Coventry charmer comes with an impressive choice of powerplants and there should be something to suit all driving styles, budgets and tastes. There are also more specification levels than you can shake a stick at, ranging from the base level Independence up to the top of the range GTi 180.
While it looks good and comes well equipped, the hot hatch model isn't as sharp as the old 205 GTi. A cheaper diesel hot hatch is available in the form of the HDi GTi. While this is something that would have been unimaginable in the 205's era, the poky little oil burner actually makes a lot of sense in today's climate of high fuel prices and insurance premiums.
That even today the 206 doesn't give much away to its more modern competitors is testament to how sorted the original design from 1998 actually was.
Our verdict on the Peugeot 206 1.6 HDi GTi
It may be older than much of the competition but the Peugeot 206 still has a fresh and contemporary look that strikes a chord with UK buyers. An extensive powerplant line-up and nimble chassis make it one of the most entertaining small hatchbacks on the market.
Costs
Good fuel economy from the diesel unit and right across the 206 range (with the exception of the GTi 180) will make pump rendezvous mercifully infrequent. Although the 180 has a high insurance grouping, the rest of the line-up is much lower, which should keep premium costs down. Average service and repair costs shouldn't price many potential buyers out of this market.
Space and practicality
There is a surprising amount of legroom in the back, although headroom is rather limited. Being a small hatchback it would be unfair to expect MPV-like practicality from the 206. That said, there is enough stowage to meet the needs of a couple of adults with up to two small children. A small glovebox and limited in-cabin storage are inconvenient, however.
Controls and display
The chunky leather steering wheel in the HDi GTi is nice to hold. The alloy gear knob and rally-style pedals bring a little racecar chic to the party. The central instrument binnacle is unfussy and easy to read, as is the air con/stereo control console. All buttons and dials have a robust and chunky feel to them that alludes to durability.
Comfort
Noise, vibration and harshness levels are well controlled for a car of this age. Only at higher speeds does wind noise become intrusive. Unsurprisingly, there is also a fair amount of tyre noise when the 206 is shoed with wide wheels. The ride quality also suffers somewhat in the GTi 180 model with its harder suspension. The air con system works well keeping occupants cool on hot days and warm on cold ones.
Car security
An immobiliser, fascia integrated stereo, alarm, deadlocks and a visible VIN number are charged with the task of keeping the 206 safe from any unwanted attention. This is no bad thing, as if history has taught us anything it's that thieves love a hot hatch.
Car safety
Dual front airbags with passenger bag cut-off switch, curtain airbags, ABS, Electronic Brake Force Distributor (EBFD), EBD, ESP, ASR, side impact protection, seat belt pretensioners and ISOFIX seat anchors are all standard fitment on the HDi GTi model. Lesser models feature slightly reduced safety kit. Of particular interest to those with small bundles of joy to transport will be the passenger airbag cut-off switch and ISOFIX anchors, which make the fitment of child seats possible.
Driver appeal
Over the past three decades Peugeot has developed a reputation as a purveyor of fine handling cars. The 206 with its supple chassis has done little to tarnish this reputation. Driving enthusiasts would be well advised to go for one of the larger powerplants if they're after real exhilaration although most would agree that the GTi 180 206 has failed to emulate the 205's former glories.
Family car appeal
Being a small hatchback the 206 isn't exactly designed for lugging around a tribe of kiddies and all their stuff. While there is enough room for two adults up front and two children in the back, the stowage space on offer is far from cavernous. It is better suited to either a young single person or couple.
First car appeal
While a majority of young drivers would probably still prefer the full fat GTi 180 petrol model, the HDi's lower insurance classification and better fuel economy make too much sense to be ignored. The big alloys and bodykit certainly stand out in a crowd making it an ideal car for those seeking a little extra attention.
Quality and image
The Peugeot badge is slightly more desirable than many in the small hatchback segment, although even the staunchest Pugphile would be hard pushed to label the French firm a prestige manufacturer and keep a straight face. Commendably, the guys behind the Lion Rampant have largely managed to shake-off the 'Peugeot equals unreliable' perception, as the firm's products are far better made today than ever before.
Accessibility
Gaining access to the rear seats is, obviously, easier in the five-door than in the three. The wide bases of the front seats are accommodating and comfortable and positioned so that even the less limber will be able to take up residence. In five door guise all four door apertures are wide enough to make climbing aboard contortion-free.
Stereo and ICE (In car entertainment)
Base models are fitted with a cassette player to entice buyers to trade up. From S onwards the 206 is fitted with a CD player, with GTi and GTi 180 versions benefiting from a five-disc changer. The sound quality is good, if not quite among the best. Monochrome sat nav is an option on models from SE upwards.
Colours and trim
The HDi GTi looks particularly fetching in either Flamenco red or Aegean blue. For other non-performance models Peugeot offers a wide range of snazzy and bizarrely named hues. The half-leather interior in the diesel GTi looks classy and pays homage to its 205 GTi forebear. Alcantara door inlays are also a welcome change from hard, black plastics.
Parking
Parking sensors aren't available with the 206 but this shouldn't pose any problems, as it is an easy car to park. A stubby tail and short snout afford the driver a good view of the car's extremities. The speed sensitive steering system becomes nice and light at reverse parking speeds.
Spare wheel
Space saver fitted as standard on all models except GTi 180 (repair kit).
Range information
Seven engine options (four petrol and three diesel). Line-up in full is: 1.1-litre petrol (60bhp); 1.4-litre petrol (eight and 16-valve, 75 and 90bhp respectively); 1.6-litre petrol (110bhp) and 2.0-litre petrol (138 or 180bhp). Diesel variants include: 1.4-litre HDi (70bhp); 1.6-litre HDi (110bhp) and 2.0-litre HDi (90bhp). Trim designators include: Independence (base), Style, Zest, S, SE, Quicksilver, XSi, GTi and GTi 180 (top of the range).
Alternative cars
Renault Clio Fellow French offering is equally endearing
Ford Fiesta Solid offering from the Blue Oval is a little dull
Skoda Fabia Affordable Czech is a great pound-for-pound offering
Volkswagen Polo Prestigious badge is accompanied by large price tag