November 2014
Nissan Pulsar 1.2 DIG-T Tekna
Then Pulsar's bold styling is a considerable attraction
November 2014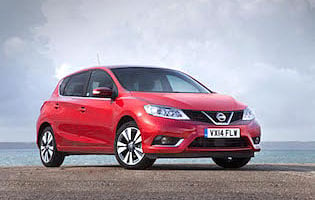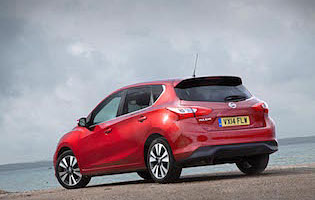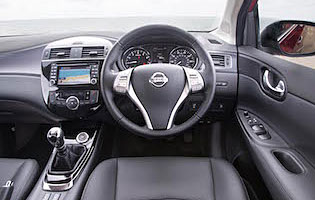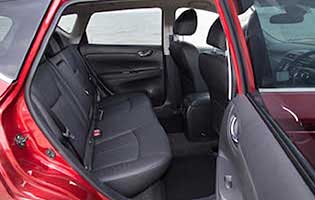 Overall rating

Likes:
Spacious cabin boasts above average rear legroom
High level of standard equipment
Promise of high levels of on the road refinement
Easy to drive and good level of economy
Gripes:
Return to hatchback market is full of more mature rival choices
Petrol variant can feel lacklustre when pushed hard
Keen drivers will be disappointed by the Pulsar's dynamic performance
Modest engine line-up at launch
The Pulsar marks Nissan's return to the family hatchback market after a considerable absence. Since dropping its Almera, the firm has experienced considerable success with its growing range of crossover activity vehicles. However, there are still plenty of buyers who prefer the likes of Ford's Focus and Vauxhall's Astra, hence Nissan's decision to produce a regular five-door hatch.
There's no escaping the success of Nissan's Qashqai and Juke crossover models, and this is also the case with the Pulsar's exterior design. From the front the five-door hatch borrows heavily from the Qashqai, and while its cabin is more restrained there are some obvious and similar styling cues present.
This is where the similarities end, however. In contrast to Nissan's extrovert SUVs, the Pulsar behaves in a more conservative manner. Even by its own admission, the car isn't targeted at keen drivers - think Ford Focus - but at a broader range of customers who might otherwise migrated toward Hyundai's i30 or Toyota's Auris.
That said, the Pulsar offers drivers a pleasant and refined cabin environment, with plenty of space and creature comforts. And it's Nissan's focus in cabin space that should help it stand out from its rivals. In a welcome move, Nissan has designed a car with well above average rear legroom, allowing it to compete favourably with cars in the sector above.
And it's the Pulsar's practical side that shines the brightest here, with the car offering good levels of space and an easy going driving manner. Also, the modest engine range at launch - two petrol, one diesel - certainly takes the guesswork out of the buying decision. They're both pretty clean and economical although neither will put a smile on the face of a keen driver. But to be too critical is to miss the point, as the Pulsar in regular guise isn't meant to be a pocket rocket.
Our verdict on the Nissan Pulsar 1.2 DIG-T Tekna
Anyone seeking Ford Focus-like thrills probably won't be impressed by Nissan's Pulsar. It's a stylish offering in a fiercely competitive market, but even Nissan admits that it's not been developed for super-keen drivers. What the Pulsar does well is offer occupants a refined, polished and, crucially, spacious cabin, plus a generous level of equipment. If convenience, ease of use, space and looks are a priority, the Pulsar is has to ignore.
Costs
While not a bargain basement proposition, the Pulsar's value comes in the form of a generous level of standard kit, decent fuel economy and modest emissions. Furthermore, the options available - multimedia and safety related - are competitively priced if you're tempted.
Space and practicality
The Pulsar easily trumps its peers for rear legroom and ease of access, while there's also no shortage of space up front plus well thought out cabin oddment storage. At the rear there's a good size boot plus the all-important low loading lip to aid with the transport of large or heavy items.
Controls and display
There are no surprises here but the good news is that everything works as it should. The main dials are easy to read while the main controls offer plenty of assistance. The infotainment system is mostly intuitive from the start but it's worth taking the time to understand the more detailed features.
Comfort
With the cabin offering well above average space - especially in the rear - and the materials used of a high standard, there's little to fault the Pulsar here. Road and engine noise are modest, although the petrol motor can sound coarse when pushed hard.
Car security
There's nothing out of the ordinary here, although it's good to see a sturdy-looking load cover to ensure your valuables remain hidden. Keyless ignition is a welcome bonus, allowing you to keep your key out of sight when it's dark.
Car safety
As with the rest of Nissan's range, the Pulsar boasts a generous level of standard safety kit, from the numerous airbags to the electronic stability systems you're covered. Unusual in this sector is Nissan's decision to offer a brace of intelligent systems such as auto brake and blind spot warning - items usually found on more expensive cars.
Driver appeal
Nissan doesn't make bold claims about the Pulsar's dynamic qualities, and the car is happiest when bowling along at a modest pace thanks to a well-sorted ride. Light controls offering plenty of assistance are geared more towards ease of use anyway, plus the basic engine range has been developed with refinement and economy in mind.
Family car appeal
If a compact people carrier or crossover doesn't appeal, the Pulsar offers a decent amount of cabin and boot space for a growing family. You sacrifice the raised ride height and chunky looks, but you gain a decent driving experience and none of the stigma associated with urban 4x4s. Might want to steer clear of upmarket upholstery for all the obvious reasons associated with small children.
First car appeal
Being easy to drive there's no reason why you wouldn't consider the Pulsar, although if size matters a smaller model such as the Note strikes a better balance if you still require a versatile package.
Quality and image
After a considerable time away from the family hatch market, Nissan's return with the Pulsar might surprise a few prospective buyers unfamiliar with the brand's values. The Pulsar does benefit from the association with the firm's Qashqai and Juke, and a common design theme should ensure better than average brand awareness.
Accessibility
Nissan's focused heavily on cabin versatility with the Pulsar, with the result that rear cabin access is well catered for and pleasantly above average. It's pretty good up front too, while boot access is also straightforward. Folding the rear seats requires little effort to boost load space.
Stereo and ICE (In car entertainment)
The standard provision offers a comprehensive range of features and connectivity options, and it proves easy to use. Opting for the premium navigation kit enhances the user experience, although some of the controls could be more intuitive.
Colours and trim
Visually the car mirrors the design formula adopted by Nissan's successful Qashqai, which ensures the Pulsar is a distinctive sight on the road. This look is best paired with a bold exterior colour choice, while the cabin's dark ambience helps create an high quality experience.
Parking
In family hatchback terms the Pulsar is no more challenging to park than its rivals. The available parking aids are a welcome addition, while the main controls offer a good level of assistance. Good-size mirrors and decent rear three-quarter also help.
Spare wheel
Emergency tyre mobility kit supplied as standard.
Range information
Petrol engine options - 1.2-litre (115bhp); 1.6-litre (190bhp). Diesel engine options - 1.5-litre (110bhp). Transmission options: six-speed manual gearbox plus CVT auto gearbox on selected models Trim levels: Acenta, n-tec, Tekna, Visia,
Alternative cars
Hyundai i30 Rounded and pleasant to drive experience is good value
Toyota Auris Conservative dynamic performance match by solid build quality
Vauxhall Astra More engaging driving experience and company car favourite
Ford Focus Dynamic benchmark offers high quality ownership experience