October 2004
Nissan Primera 2.0-litre SVE hatchback
Nissan's Primera has a modern, contemporary look
October 2004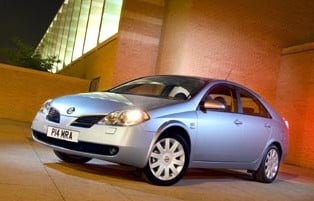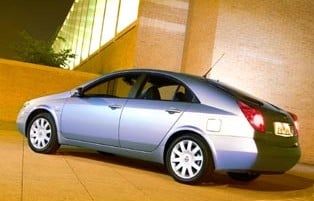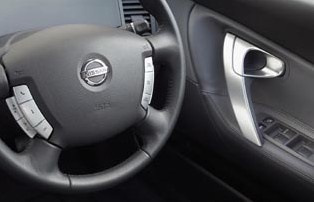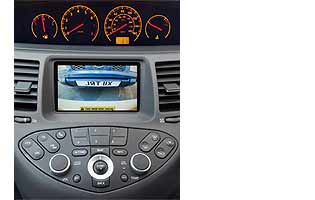 Overall rating

Likes:
Contemporary looks make the Nissan Primera an attractive proposition
Roomy, spacious cabin creates a relaxing and comfortable environment
Competitive pricing should lure buyers away from European competitors
Colour rear view camera makes parking a lot less demanding and stressful
Gripes:
Metal effect trim used in interior looks out of place and cheap
Rear is Japanese looking and doesn't appeal to European tastes
The car fails to involve the driver with overly assisted steering
High tailgate on the hatchback makes reversing tricky (without camera)
The Nissan Primera is a large hatchback in the same mould as the Ford Mondeo and Vauxhall Vectra. Like these two European offerings, the Japanese model has been designed largely with motorway and long distance cruising in mind. But will the Primera's contemporary styling and generous specification lure people away from its more established rivals?
Of all the large hatchbacks on the market, the Nissan Primera is certainly one of the most individual looking. Its feline headlights, slab sides and tall roof mean that it certainly won't be mistaken for anything else.
What it does have in common with the competition, namely the Ford Mondeo, Vauxhall Vectra and Mazda 6, is its ability to dispatch large stretches of motorway in a very comfortable and civilised manner. It is definitely a car designed with long distance cruising in mind, as one jaunt down a bendy B road will testify.
Any car entering this segment has the unenviable task of taking on the Ford Mondeo - a car so popular in the UK that politicians even named a social demographic after it. Also lurking in the shadows waiting to spoil Nissan's party is the uber rep mobile, Vauxhall Vectra.
The Primera is certainly well equipped and well made, but will the lure of gadgets and affordability be enough to tempt British buyers away from the eternal 'safe bets'?
Our verdict on the Nissan Primera 2.0-litre SVE hatchback
The Nissan Primera is a well-equipped motorway muncher, but fails to provide an engaging ride the rest of the time.
Costs
The Primera is a very good value for money car, which isn't likely to cause owners too many problems when it comes to running and repairing. Fuel economy is acceptable, as are the insurance groupings. Nissans also benefit from slightly longer service intervals (note: initial service for petrol models is set 9,000 miles). This should also help to keep costs down.
Space and practicality
What the dimensions of the boot lack in height, they more than make up for in depth, as the Primera's rear stowage cavity will swallow a couple of full sized suitcases or sets of golf clubs. There are also several conveniently located cubbyholes and bins in which your various bits and indeed, bobs, can be stowed.
Controls and display
The LCD 'Birdview' sat nav display is clarity itself. Only the completely confused and naturally disorientated could lose their way with the system on board. The stereo and aircon controls are neatly laid out on a centrally located shelf and the main instrument binnacle is easy to read. Steering wheel-mounted stereo controls are always a good idea and they make a welcome appearance here.
Comfort
Noise, vibration and harshness (NVH) levels have been improved over previous generation models. Aural intrusions into the cabin are well suppressed and only above the motorway speed limit do they become a mild irritation. Even then it is mainly wind noise, rather than tyre or engine. The seats are wide and offer good lumbar support, eradicating any outbreaks of numb bumitis on longer journeys. A couple of armrests aid your comfort still further.
Car security
All models get an engine immobiliser, remote central locking (with internal switch) and security lamp indicator. S, SX and SE models get a basic anti-theft alarm system, while SVE and T-SPEC variants get a Thatcham approved set-up with internal sensors. However, even the more basic of the two alarms will probably suffice as neither professional car thieves nor joyriders are likely to be after a Primera.
Car safety
Standard safety features include: ABS, Brake Assist, EBD, driver, passenger, side and curtain airbags, three-point seatbelts front and rear, audible seatbelt reminders, active head restraints, Isofix child seat anchors and child safety locks. Top of the range T-SPEC models also benefit from ESP and a tyre pressure monitor.
Driver appeal
If you are going to be covering 30,000 or 40,000 motorway miles each year, then the Primera should be well up on your 'to buy' list. Not only is it an exceptionally comfortable cruiser, it is also economical and reliable. Stick on the standard cruise control, make yourself comfortable on the wide seat and watch the miles slip by. However, if you are after something capable of setting your pulse racing along country roads, then you'll have to look elsewhere. In Nissan's defence, it must be difficult to come up with a chassis/suspension combination that can sit sedately on the motorway and tear up the tarmac on a B-road.
Family car appeal
Although the estate version of the Primera would probably be a better bet for those with a large family, the hatch is spacious enough for a couple of adults and kids, as well as their personal effects. Isofix child seat anchorage points are standard across the range as are several airbags - all-important stuff when transporting children.
First car appeal
Younger buyers are likely to be put off by the executive image and large dimensions of the Nissan Primera. It wouldn't be the easiest thing for a new driver to have to manoeuvre in a tight space. Far more suited to the needs of the average teenager would be either the Almera or Micra hatchback.
Quality and image
Most people now accept that Japanese cars are the most reliable and the best built cars on the market. Look at the top of any reliability or customer survey table and there will be at least three or four Far Eastern manufacturers in the top ten. While Nissan does perhaps give a little away to Honda and Toyota, its products are still nigh on indestructible. Image, however, is a different matter entirely. Just as Toyota equals Corolla for many people, Nissan equals Micra. The success of the firm's everyday run-arounds has, ironically, done nothing to enhance its image when it comes to street cred.
Accessibility
Large door openings front and back and a high-level boot floor make getting into and loading the Primera mercifully straightforward. There are a couple of cavernous footwells in which the driver and forward passenger can stretch out and headroom is also generous. Rear occupants, too, have a good time of it with plenty of leg and headroom supplied courtesy of that tall roofline.
Stereo and ICE (In car entertainment)
A six-speaker single-disc CD player/radio system is standard fitment across the range. There isn't a great deal of wind and tyre noise to drown out, but the system deals with what slight intrusions there are admirably. SX, SVE and T-SPEC models get a six-disc changer, with the latter two trim levels also benefiting from an upgraded speaker and sub-woofer package. The excellent 'Birdview' satellite navigation system with seven-inch LCD screen is a fixture on all but the S and SX equipped cars. The overhead perspective offered to the driver is so easy to understand that even the most technophobic person should get to grips with it.
Colours and trim
A majority of the Primeras on UK roads seem to be silver (or 'Blade' metallic, as Nissan calls it). However, the car's bulbous haunches and high roofline seem better suited to darker, solid colours. 'Pearl' black, 'Cayman' blue and 'Techno' grey may have daft names, but they do compliment the Primera's lines. Likewise, the interior is at its best when festooned with black leather (SVE and T-SPEC only). Although this can be oppressive in some cars, the Primera's large windows and sunroof allow in enough light to avoid the 'Black Hole of Calcutta' effect.
Parking
The high tailgate on the hatchback would have made for a lot of neck straining and bumper denting were it not for the colour rear view camera. The inclusion of this type of driver aid on the standard kit list is always an admission of design fault rather than an act of unbridled generosity. Those of you who are a little timid when it comes to reverse parking and the like would be well advised to avoid base model Primeras, as they don't benefit the this nifty device.
Spare wheel
Models with steel wheels get a full-size replacement steel spare, while cars with alloys get a spacesaver.
Range information
Three engine options - 1.8-litre (115bhp) petrol; 2.0-litre (140bhp) petrol and 2.2-litre dCi (138bhp) diesel. 1.8-litre comes with either a five-speed manual or four-speed automatic gearbox. 2.0-litre is available with either a six-speed manual or six-speed Hypertronic CVT automatic. Diesel powerplant is mated to a six-speed manual. Trim designators are: S (base), SX, SE, SVE and T-SPEC.
Alternative cars
Ford Mondeo So popular it has its own social demographic
Vauxhall Vectra Rep mobile doesn't have much character
Toyota Avensis Japanese rival is well made and reliable
Mazda 6 Far Eastern offering handles extremely well