April 2016
Nissan Juke 1.5 dCi Tekna
Striking looks should help Juke stand out from the crowd
July 2010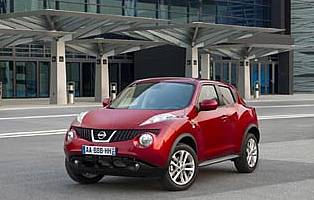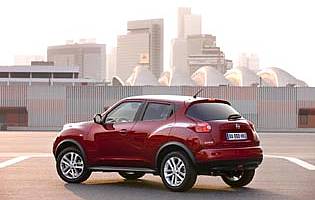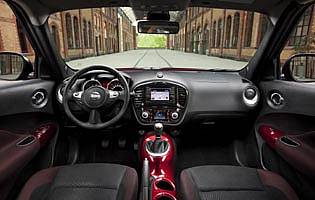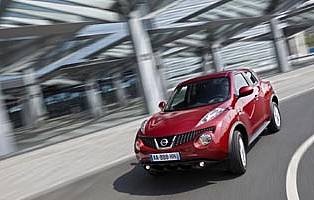 Overall rating

Likes:
Bold styling is brave - even for Nissan - but works well
Compact footprint makes Juke ideal for city motoring
Cabin quality up to Nissan's usual high standards
Ride and handling more like compact hatchback than tall supermini
Gripes:
Engine stop-start function would have been nice to further stretch fuel economy
Fashionable looks might prove a turn of for some
Economy-Sport mode is more of a gimmick than a genuine help, and display is hard to read
All-wheel drive option only available on flagship petrol variant
The search to find new, increasingly lucrative markets is an ongoing one for car makers. The four-door 'coupe' is a classic example, as is the compact crossover. The latter has proven especially popular with lifestyle-conscious buyers, and Nissan has already mined this rich seam with its Qashqai. Dropping a size, it's doing the same with the Juke.
How times have changed. Not so long ago Nissan was the maker of unexciting cars for the conservative masses. A recent complete change of heart has seen the Japanese maker take many bold steps. The Micra is a perfect example from a design perspective, while the niche-busting Qashqai proved to its critics that the urban crossover could sell.
The Juke aims to repeat this success. It's name alone is a sign that Nissan is has become a more confident entity in recent years. However, a fancy name isn't enough to guarantee success in what's become a fiercely competitive market. Nissan hopes the Juke's dramatic styling will be sufficient.
No question, the Juke is something of a head-turner. This high-rise hatchback boasts a clever blend of supermini and SUV styling cues. The subsequent lofty driving position is a bonus, as is the easy cabin access. Thankfully the car is also good to drive. A polished ride compliments the willing petrol and diesel engines, although there are marginally better alternatives elsewhere if CO2 and fuel economy are a priority.
Although Nissan pitches the Juke as a lifestyle car, there's little question that it will also double as a family vehicle. Anyone with a small family unit will find the Juke easy to live with. There's enough room in the rear for children, and the rear load space is surprisingly accommodating.
Our verdict on the Nissan Juke 1.5 dCi Tekna
Skeptics will maintain that the Juke is a niche too far, but Nissan's quirky little crossover possesses enough substance to easily make the leap from fashion item to family helper. Modest running costs and a versatile cabin back up this assertion. In reality the Juke is treading the same path as its bigger brother the Qashqai, and the success of that model forced all rival car makers to sit up and take notice.
Costs
Only you will know which engine will prove the better one for your particular routine, although the on-paper figures do favour the diesel if you plan on racking up the miles. That aside, the Juke is like so many compact hatchbacks and shouldn't pose any financial problems when it comes to running costs or insurance.
Space and practicality
Predictable for a compact five-door hatchback, front seat occupants fare the best. Two adults can travel in comfort up front, while those in the rear will have to compromise slightly when it comes to legroom - although less so than with some rivals. The wide rear load space plus the folding rear seats help boos the Juke's already versatile character.
Controls and display
Save for a rather fiddly-looking display low down in the central part of the car's fascia, there's noting to complain about in the Juke's cabin. Everything is easy to use, while the lofty, SUV-like driving position makes urban driving duties very easy indeed.
Comfort
Striking a good balance between sporty handling and a comfortable urban ride, the Juke performs better than many of its rivals. Supportive seats, wind noise that only becomes noticeable at high motorway speeds and a high overall level of quality belie the car's modest asking price.
Car security
It's a case of 'the usual' with the Juke in this department. The immobiliser anti-theft package should prove sufficient, although there's no harm in purchasing a visible deterrent such as a steering look - it should help deter the casual thief. Remote central locking and keyless ignition complete the package.
Car safety
Even without the all-wheel drive option Nissan's Juke offers all the usual safety kit that's expected on a modern car. From cabin-wide airbags to electronic stability control, it's all here.
Driver appeal
With its ride biased slightly towards a sporting character, most obvious the Juke's lack of pitch and roll. The trade off is a slightly firm urban ride. Direct steering, powerful brakes and good forward visibility complete the picture. The small capacity engines perform well, with the diesel unit surprisingly refined and predictably frugal. The CVT auto gearbox option is also a pleasant surprise, but it's questionable whether the all-wheel drive option is worth the extra expense for city dwellers.
Family car appeal
With superminis no long 'mini' in size, the Juke and its rivals are closer in size to regular family hatchbacks than ever before. As such, the quirky Nissan should easily cope with a small but growing family. Cabin materials certainly appear durable enough, and there's a good size boot at the rear.
First car appeal
With its quirky styling and easy to drive nature, the Juke fits the bill perfectly. Affordable for the novice driver yet practical enough to accommodate a growing family, the little Nissan is a good stepping stone to the firm's larger vehicles in the years to come.
Quality and image
Nissan has form when it comes to introducing niche models, and the Juke follows the successful launch of the Qashqai, Pathfinder and X-Trail. These models have been well received, and the combination of the Juke's looks, build quality and versatility is likely to appeal to a broad range of buyers.
Accessibility
With its slightly raised seating position and good forward visibility, the Juke offers drivers a rewarding and comfortable experience. The five-door hatch format means that, as with so many of this type, there's more room in the front than the back. However, rear access is more than acceptable even on a car of this size. The raised rear load lip makes it easy to unload heavy items.
Stereo and ICE (In car entertainment)
A conventional audio unit comes as standard and, as you'd expect, performs well. Connections for mobile phones and MP3 music players reaffirm the car's 'active' personality. Nissan's own brand sat-nav unit is also available for a modest outlay and is very good, too.
Colours and trim
Clearly a car that benefits from a bold colour choice, the Juke's bold styling fares well with Nissan's metallic red launch colour. The colour theme continues inside on selected trim surfaces, and cleverly compliments the car's largely black interior.
Parking
Although a small car, the Juke's bold exterior design does mean that rear visibility is modest - the small rear screen and thick rear pillars ensure you put your trust in the parking sensors. Elsewhere, forward visibility and the car's light controls help redress the balance.
Spare wheel
Tyre inflation kit included.
Range information
Petrol engine options - 1.6-litre (117bhp); 1.6 DiG-T (190bhp). Diesel engine options - 1.5-litre (110bhp). Transmission options: five-speed manual for 1.6 petrol, six-speed for 1.5 diesel. CVT auto optional for 1.6 petrol, standard on flagship 1.6 DiG-T AWD variant. Trim levels: Visia, Acenta, Tekna.
Alternative cars
Fiat Panda Practical and characterful alternative
Citroen C3 Picasso Fun-looking and practical offering from Citroen
Skoda Yeti Quirky styling hides a competent car for those with an active lifestyle
Suzuki SX4 Less glamorous than its rivals but no less capable