Morgan Roadster
Hand-built quality
May 2017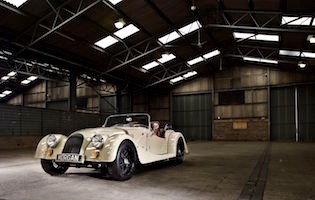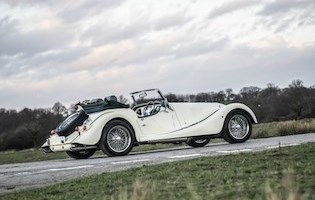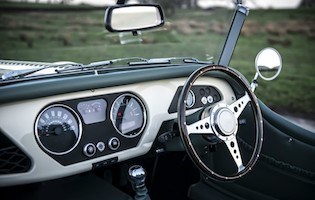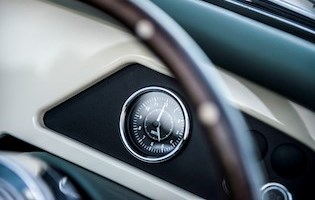 Overall rating

Likes:
Classic looks
Hand-built quality
Strong performance
Strong residuals
Gripes:
Poor economy
Rudimentary driving style
High running costs
Difficult location of dials
There are few British cars as instantly recognisable as those built by Morgan. Hand-made and completely bespoke, Morgan cars embody the spirit of craftsmanship. This car in particular is the Roadster, a V6-powered car that lies in the Malvern manufacturer's 'Classic' range of vehicles. That means traditional looks and traditional building techniques, with some modern touches thrown in for good measure.
The Roadster uses an ash-based chassis onto which are mounted aeroformed aluminium panels. Underneath the long, louvered bonnet sits a 3.7-litre Ford-sourced V6 producing a considerable 280bhp – in a car that weighs just 950kg. As a result, you'll hit 60mph in just 5.3 seconds and not stop accelerating until its top speed of 140mph is reached.
Inside you'll find a sense of craftsmanship that you simply cannot find in modern-day cars. Everything is beautifully hand-finished, from the leather-wrapped dashboard to the large wood and metal Moto Lita steering wheel. There's no denying that some of the layout is questionable – the speedo's location in front of the passenger makes reading it at speed a little tricky – but these foibles are quickly forgotten when you appreciate the Morgan's sheer sense of occasion.
Drive a Morgan and you'll quickly realise that it gets a welcome reception at almost every occasion. There's a smile on the face of anyone who sees it, and this is something which is hard to find in any car on sale today. It's also a car that feels just as alive travelling at 20mph as it does at motorway speeds, and this is down to the rasping V6 which has a huge amount of character.
The driving experience is pretty traditional, too. The six-speed manual gearbox is simple enough to operate, but the clutch remains heavy and the steering – though electronically assisted – still has a good amount of heft to it. It's a car that is surprisingly easy to drive over long distances thanks to the torquey engine, but the busy steering can make it a touch wearing should you push a little harder.
Our verdict on the Morgan Roadster
The Morgan Roadster is certainly an acquired taste. Its driving style isn't anything like that of current cars, but then if it was it would clash with the car's overall appeal. It's fast, make no mistake about that, and it makes all of the noises that you'd want from a classic sports car. Though expensive, it's hard to put a price on how the Morgan makes you – and those who you drive past – feel.
---
Costs
One of the best parts of owning a Morgan is its depreciation – or lack of. These cars hold their values exceptionally well, and this is down to their timeless nature as well as the everlasting demand for them. Elsewhere, costs will be relatively high. Tyres will be command a premium, while fuel costs won't be low either. As Morgans now use Ford engines, reliability shouldn't be an issue, while servicing costs shouldn't be more than expected for a sporty two-seater.
Space and practicality
Despite its size, the Roadster is actually a little bit more practical than you'd think. The boot is large enough for two soft weekend bags, and there are some reasonably sized elastic door pockets for the smaller items that you tend to find in the cabin. Okay, it can't offer nearly as much space as a modern day hatchback, but there's more than you'd expect.
Controls and display
All of the controls in the Roadster are well made and good looking. However, the positioning of the dials is somewhat strange, with the speedo and fuel gauge set more towards the passenger than the driver. This means you have to lean to the left in order to check your speed. The radio is an aftermarket unit, and isn't the easiest to operate – though in truth it's unlikely that you'll be using it an awful lot.
Comfort
Because of its stiff suspension, the Morgan isn't the most comfortable car. However, its well-cushioned seats offer plenty of support, the cocoon-like design of the cabin makes it a surprisingly calming place to be, even on longer journeys. There's a lot of sound generated by the tyres and engine, while little noise insulation means that the cabin can get quite loud, especially on motorways. That said, this is to be expected from a lightweight sports car.
Car security
Though fitted with a roof that attaches quite securely, the car's plastic sliding windows do away with any thoughts of security. The doors do lock, but this isn't remote-controlled, and must be done individually for each side. Morgan cars tend to be garaged, but if you do want to park it on the street, it'd be worth remembering that you can gain access to the cabin simply by sliding a plastic panel.
Car safety
The Morgan has never been crash tested, and comes without ESP traction control. There aren't any airbags either, so in reality the Morgan won't be one of the safest cars to get behind the wheel of.
Driver appeal
With its powerful engine and sporting exhaust note, the Morgan Roadster is a car which is immediately appealing. It's ideal for sporting drivers as well as those who prefer to take driving at a slightly slower pace and enjoy their surroundings. It's happy at lower speeds, though the suspension does send a significant amount of jolts through to the cabin should you drive over a pothole.
Family car appeal
With two seats and rather limited storage space, the Morgan isn't best for family use. It's ideal for families to use on the weekends, but it really won't be a fitting in-week runabout. There's no doubt it would be exciting, but in terms of practicality it simply isn't the best.
First car appeal
Thanks to its powerful engine, the Morgan Roadster isn't the best car for a just-passed driver. It's relatively tricky to drive, noisy, and firm too – all things that you don't tend to find in a learner car. Poor visibility will also make learning car positioning a bit trickier, and the small rear screen will only add to any fears about reversing. Insurance and fuel costs will be high, too.
Quality and image
The quality of the Morgan Roadster is immediately noticeable. The leather for the seats is impeccably stitched, and the wooden trim pieces are the real deal – no plastic imitations here. The overall design hasn't changed for years, but this is part of the Morgan's appeal. It's an image that has been built up over time, and one that the Malvern-based company has worked hard to preserve. There's no brand like it in the UK today.
Accessibility
The Morgan Roadster is a low-slung, two-seater sports car and as a result isn't the most easily accessible vehicle on the road. The small doors don't open too wide, and the large transmission tunnel in the centre of the car does separate you from your passenger quite a bit. Accessing the cabin is a little easier with the roof folded down, as you don't have to crouch down quite as much as you would with it raised.
Stereo and ICE (In car entertainment)
As you'd expect, there's not much in the way of in-car entertainment to be found in the Morgan. All cars come with a radio, and you can even plug in your MP3 player to play tracks through the Roadster's stereo. That would be all well and good if you could hear it over the noise of the engine and tyres at anything higher than 30mph.
Colours and trim
Thanks to its hand-built nature, there's a huge amount of customisation options available with the Roadster. Morgan can take pretty much any colour you can think of – even shocking pinks and electric blues – and apply them to your car. The same can be said of the interior, with a range of leather colours and wood finishes there to make sure your car is completely bespoke.
Parking
The Morgan Roadster is a very narrow car, but it makes up for this with length. This makes parking a little bit of task, but does mean that there's a lot of room for it in most parking spaces. Parallel parking it is another task altogether, as the car's large flanks and tiny wing mirrors make manoeuvres like this troublesome. The small rear window makes things even trickier, though this can be helped by lowering the roof.
Spare wheel
Emergency tyre repair kit supplied as standard.
Range information
Petrol engine option: 3.6-litre. Transmission option: Six-speed manual.
---
Alternative cars
Caterham Seven Similar build technologies, but even less usable day-to-day.
Ariel Atom An all-out racer, and not as comfortable as the Morgan.
Audi TT Roadster A world away from the Morgan, but has that soft-top appeal.
Lotus Elise Sharper to drive than the Morgan, but harsher too.