January 2015
Mitsubishi L200 Barbarian Double Cab
Smarter front end is the biggest change for this latest update
January 2015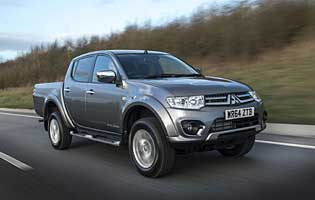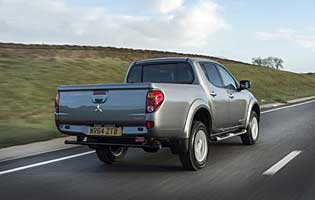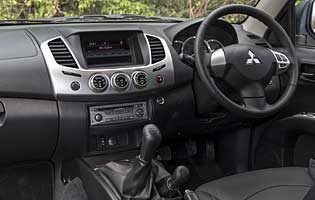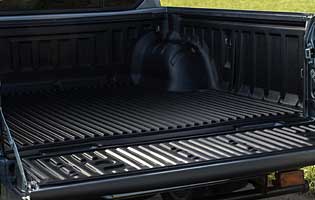 Overall rating

Likes:
Tough exterior still looks sharp
Strong diesel engine
Smarter interior is surprisingly well equipped
Excellent off-road ability
Gripes:
Heavyweight clutch and gearbox
Very slow steering makes for hard work at low speeds
Clunky disengagement of four-wheel drive system
Diesel engine noise penetrates cabin
It's one of the most recognisable shapes on UK roads and Mitsubishi's L200 pick-up continues to offer hardy, practical motoring for those who need something tough for business, pleasure or a combination of both. More recently it has received detail updates to keep it fresh and improve its kerb appeal.
The Mitsubishi L200 is a cornerstone of the range in the UK and continues to be one of the most popular pick-ups currently on sale. It delivers on the essential tough appearance and backs it up with rugged mechanicals, with a broad model range including single, double and Club cabs and a variety of specifications.
The most significant changes are at the front, where the front bumper and grille arrangement is all-new and gives the L200 a more modern face, although this is not fitted to the more commercial-focussed single cab. The new design incorporates the new specification headlights and daytime running lights that first appeared in 2010.
The single engine option remains although there are two power outputs depending on the specification chosen; either way there is a 2.5-litre four-cylinder diesel engine up front with the choice of a manual or automatic gearbox depending on the trim level. Four-wheel-drive is standard of course, but there are three different versions again depending on the trim level.
The standard specification of the L200 remains impressive, even in its most basic form. All models are fitted with features such as ESP, dual airbags, and an aftermarket audio system with auxiliary and USB inputs as standard. The 4Life model, which is aimed more at private owners than the commercial-biased 4Work entry-level model, adds the desirable electric windows and air conditioning.
Our verdict on the Mitsubishi L200 Barbarian Double Cab
Vehicles with a commercial origin like the L200 require a little acclimatisation for anyone only used to conventional cars; even though it is a good example of the breed the L200 has relatively slow steering and a bouncy ride. However it has a good deal of advantages, being very versatile, hardy and capable of dealing with tough off-road conditions. If it fits with your lifestyle it's a very practical machine.
Costs
Although the L200 is not a cheap vehicle it does offer a remarkable amount for the money. The higher specification models are packed with equipment and while there are compromises that go with it, there's no question that it is something of a bargain. The downside is the relatively high fuel consumption although this has been improved in recent years.
Space and practicality
The L200's cabin is spacious and practical with cubby holes and storage aplenty. The real practicality can be found in the load bay, however, which can be plastic or metal lined and have additional strap-eyes or any number of utility options added. The load bay is restricted in size by the double-cab but is still a very healthy size and perfect for trips to the tips or carrying bikes and outdoor equipment or heavy tools and machinery. The four-wheel drive transmission and low ration transfer box makes it a versatile vehicle, with lots of towing and off-road potential.
Controls and display
With the updated layout inside the L200 it has some advantages over a conventional car; the layout is very simple and easy to understand and the buttons are all clearly labelled. The aftermarket audio system has a touchscreen which responds accurately to inputs, the only downside being that sometimes the individual buttons are quite small and are hard to hit accurately on the move.
Comfort
The car-like seats in the L200 allow plenty of adjustment and prove very comfortable while the driving position is good and those in the rear seats benefit from a surprisingly generous amount of legroom. The ride is soft and absorbent, but the basic suspension set-up at the rear can make it a little bouncy. Tuned for more power and torque, the 175bhp 2.5-litre diesel engine can be rough especially when working hard, but is suitably refined on the motorway particularly as the five-speed automatic transmission brings revs down when cruising. Air-con and full electric windows are standard equipment as is cruise control, making the five-seater cabin a comfortable one to travel in.
Car security
Owners will need a cover over the load bay if they don't want to be constantly removing belongings from the L200; the optional lockable rear cover is probably a must. Internal storage is good, while higher specification models add an alarm and immobiliser.
Car safety
Anti-lock brakes and electronic brake-force distribution are both fitted and there's four-wheel drive to keep you safe in slippery situations. Twin front airbags are standard across the L200 range, while a pair of Isofix mounting points is present in the rear of double cab variants. All five seats get a three-point belt and the Barbarian benefits from traction control - a L200 first in the pick-up market.
Driver appeal
Once you accept that the L200 is more agricultural than a conventional car it offers a pleasing driving experience in many ways. The higher output diesel engine offers better performance than official figures would suggest, and can push it along well regardless of load. Body roll is reasonably well controlled for a tall vehicle and the brakes are reassuring, it is just the slow steering and bouncy ride that takes some adjustment.
Family car appeal
The double cab format means the L200 could happily serve dual roles as a work and family vehicle. To offer security in the rear families will want to opt for a hard top addition - one of these removable lockable units quickly turns the pick-up into a large SUV or van arrangement. Designed to take abuse from five work boot-wearing adults, it will easily cope with all that a family of three can throw at it. Although not the most refined family vehicle, it's a good trade-off off between a work truck and family car.
First car appeal
Large and with the potential to be cumbersome in the wrong hands, the L200 is not the kind of vehicle that will flatter a novice driver.
Quality and image
The L200 provides quality of build rather than high standards of luxury or the best materials. The more car-like features are welcome but are below that of a conventional mid-range car. However the overall sturdiness shines though. The L200's image is built on its reputation for ruggedness, even if the owner never goes anywhere a muddy field.
Accessibility
Like most high-rise off-roaders, the L200 requires you to climb up and into its cabin. If you're not that agile this could become something of a chore. The same is true of the rear seat in the double cab configuration, only more so as the rear doors don't open as wide. At the back, lowering the L200's tailgate requires a little strength as it is relatively heavy, and retrieving items from it may need some agility.
Stereo and ICE (In car entertainment)
In range-topping Barbarian model, the L200 boasts a level of entertainment equipment beyond the call of duty. A built-in screen offers a portal to the CD-changer, DVD-playing function, remote control operated sat-nav and radio. Bluetooth is also standard equipment - very useful in a work vehicle. Sound quality is average despite the high level of equipment but the visual and audio systems are simple to use and easy to navigate. An iPod connector in the glovebox is a smart addition and the sat-nav mapping is of excellent quality.
Colours and trim
Black is probably the most popular colour for L200s, particularly in this higher spec, otherwise the default choice of white looks a little too much like a working vehicle. On the inside the higher specification models like the Barbarian have a surprisingly plush interior with leather and chromed plastics.
Parking
Thanks to huge mirrors, a tinted rear screen that can be lowered like the side windows, light power steering and a standard reversing camera, manoeuvring the large vehicle is less stressful than it at first appears. The slow steering can be a chore, but the turning circle is surprisingly sharp.
Spare wheel
Full size steel spare wheel mounted under load bay.
Range information
Diesel engine options - 2.5-litre (134bhp); 2.5-litre (175bhp). Transmission options: five-speed manual gearbox with low ratio transfer box and selectable four-wheel drive, five-speed automatic gearbox with low ratio transfer box and selectable four-wheel drive. Trim levels: 4Work, 4life, Warrior, Walkinshaw, Trojan, Barbarian (single cab, club cab, double cab, long bed variants available).
Alternative cars
Mazda BT-50 Smartly styled and spacious pick-up
Isuzu Rodeo Recently restyled and value for money
Nissan Navara Chunky styling and large load bay
Toyota Hilux Internationally renowned and extremely reliable